Enjoy your lawn like you are supposed to
Get ready for a beautiful lawn
At Blue Jay Irrigation, we offer effective sub service solutions to address your drainage needs for your home or commercial sites.
Proper drainage:
Eliminates issues caused by rushing or standing water;

Reduce erosion from the side of your foundation from improperly drained down spouts

Promotes healthy lush turf;

Reduces energy costs due to continuous use of sump pumps
Blue Jay Irrigation has your drainage needs covered for your commercial & residential property. There are many drainage products options. Our expert staff will assist in finding the right solution for you and your property.


Properly installed gutters, and well directed downspouts that empty clear of the foundation are key components in removing surface water. At Blue Jay Irrigation, we can diagnose and install the best surface water solution for you including: specialty drainage and pipe fittings, channel drains, catch basins and grates, dry wells, and drainage emitters.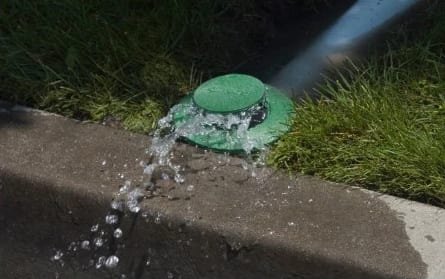 Do you have soil erosion?
Downspouts that are not properly drained away from the foundation can cause soil erosion. At Blue Jay, we can extend your downspouts with a drainage pipe and a pop-up emitter. Contact our team to get your quote on downspout drainage today.
Why Customers Choose Blue Jay as Their Commercial Drainage Experts
The benefits of choosing Blue Jay include:
Our expert irrigation services are backed by 35+ years of experience and over 5,000 projects.
Get a comprehensive project plan and custom proposal for free.
Blue Jay is recognized as a Rain Bird Select Contractor, Hunter Industries Preferred Contractor, Landscape Ontario Green for Life Company and over a dozen other accreditations.
Over 50 customer reviews online and have an average score of 4.7/5
What Customers Say About
Blue Jay Irrigation
I have always been very satisfied with the service from Blue Jay. From pricing to installation to maintenance they are superior.All of the personnel from the office to the field staff are very professional.I would highly recommend them for all our your Irrigation needs.
- Kelly Cahill
I wanted to personally say how impressed I was with Blue Jay and your staff's strong desire to fix a few issues when things went ary in June and July.
I was thoroughly impressed with technician Greg Sutherland and his ability to source out the complicated problems, fix past errors and get our system up and running. Greg was courteous, apologetic and showed great integrity. He has a heart for his customers - something we highly value here at Lovers AtWork! He sought me out after both visits and didn't leave until we were both satisfied - Great Customer Service!!
-Richard Kim