Central Elgin Lawn Sprinkler System Experts
Proudly serving Central Elgin & area
About Central Elgin, Ontario
Central Elgin, Ontario is located just south of London along Lake Erie and between Detroit and the GTA. Central Elgin is a quaint and charming beach town.
It's location gives way to the abundance of activities available to residents and visitors. Watersports and beach goers mark the shores throughout the summer months. The winter sees a variety of snowshoeing and hiking in Central Elgin and surrounding areas.
Hamilton and the Toronto area are approximately an hour and a half drive away. Individuals and family have easy access to these bigger cities for the afternoon, an evening, or a quick weekend getaway. Meanwhile, London, Ontario is less than an hour drive away, providing a nightlife or a more versatile place to dine for those that seek it.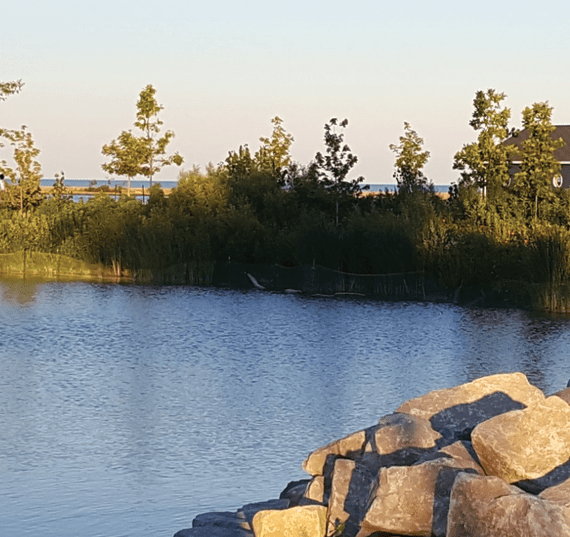 Port Stanley is also a notable nearby area with a harbour, beachtown, beach, and more. Elgin County Railway Museum further features plenty for the families, residents, and visitors to explore on a rainy day. The museum offers insight into a time when the railway was the main mode of long-distance transportation.
With Central Elgin providing a place for individuals and families to get away, Blue Jay Irrigation understands the importance of reducing lawn maintenance and needs. As such, our experienced and reliable team is proud to provide lawn sprinkler systems and services to the Central Elgin region. Our company provides both residential and commercial options, saving you time and money. That way, you can enjoy the beauty and all that this wonderful area has to offer.
Lawn Sprinkler Systems by Blue Jay Irrigation
At Blue Jay Irrigation, we pride ourselves on our commitment to using only the highest quality products, the latest technology, and maintaining the highest standards of workmanship. Our team considers ourselves stewards of our environment, making sure we take the necessary care when and wherever we can.
Operating out of London, Ontario, Blue Jay Irrigation opened its doors over 30 years ago. Since then, we've installed over 5000 lawn sprinkler systems in Central Elgin and surrounding area. The areas we service include Sarnia, Waterloo, Niagara Falls, Elgin, Guelph, Oakville, Burlington, St. Catharines, Wainfleet, and more.
If your looking to have a lawn sprinkler system in Central Elgin installed, look no further. Blue Jay Irrigation is the trusted, reliable, and experienced team you need. We're confident in all our services and our team proudly includes Certified Irrigation Contractors, Certified Irrigation Designers, Certified Irrigation Technicians, and Certified Landscape Irrigation Auditors. We are also an Irrigation Association Member, and are WSIB insured.
Our experts offer help through all stages of irrigation, from design and planning to install and maintenance. All our lawn sprinkler systems in Central Elgin also come with built-in timers. These timers are critical in watering your lawn at the appropriate time with just the right amount, minimizing water usage and consumption. This guarantees your lawn gets an effective watering each and every time.
At Blue Jay Irrigation, our team further prides ourselves on customer satisfaction and experience. We aim to deliver everything you need and more. We want you to walk away happy, with a flourishing lawn and the feeling that the job surpassed your every expectation.
If you're interesting in a lawn sprinkler system in Central Elgin, contact our team today. Fill out our form or call us for your free quote.
Why Central Elgin Residents Choose Blue Jay as Their Sprinkler System Installation Experts
The benefits of choosing Blue Jay include:
Our expert irrigation services are backed by 35+ years of experience and over 5,000 projects.
Get a comprehensive project plan and custom proposal for free.
Blue Jay is recognized as a Rain Bird Select Contractor, Hunter Industries Preferred Contractor, Landscape Ontario Green for Life Company and over a dozen other accreditations.
Over 50 customer reviews online and have an average score of 4.7/5
What Customers Say About Blue Jay Irrigation
Was working on modifying an existing irrigation system at home. Wasn't sure what size of pump should use. Trevor recommended a pump based on his professional knowledge. It turns out great result! Texted him many times night & weekend - Trevor answered every single question! Much appreciate Trevor! Would definitely recommend Blue Jay to anyone.
- Jerry Ju
Everyone we dealt with on the Blue Jay staff were very professional and patient with inquiries throughout the entire process. The installation team was prompt and very efficient in navigating around our yard and implementing our irrigation system. Great job. Thank you Blue Jay.
- Richard Kim
I have always been very satisfied with the service from Blue Jay. From pricing to installation to maintenance they are superior.All of the personnel from the office to the field staff are very professional.I would highly recommend them for all our your Irrigation needs.
- Kelly Cahill