St. Thomas Lawn Sprinkler System Experts
Proudly serving St. Thomas & area
About St. Thomas, Ontario
Located just south of London, the city of St. Thomas is one of a kind. St. Thomas was recognized as a city in 1881.
Known as the 'Railway City,' St. Thomas has a colourful history. During the railway boom, it became a major junction for several railways. At one point in time, around 26 railways intersected and passed through the city. However, as the railway system began to decline, the automotive industry and other businesses took over.
A major focal point in the city includes a giant elephant statue. This statue serves as a memorial to Jumbo the elephant. The circus elephant was part of one of the biggest circus shows of the time. Yet, the animal met its unfortunate end when it was hit by a locomotive in St. Thomas. The statue was erected in 1985 in his honour. It is life-size and hard to miss.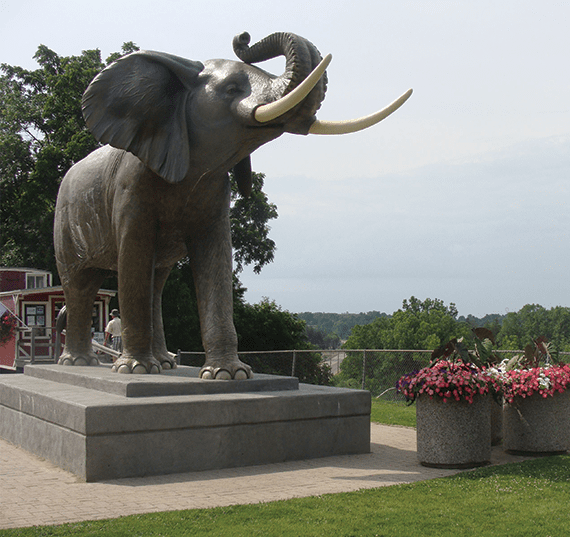 Residents continue to include these popular historical stories within today's society. The local brewery is named after the railway boom and includes many craft beers, including Dead Elephant Ale. Residents also enjoy a variety of annual events, including:
Arts Crawl
Canada Day in the Park
Day Out with Thomas
Light the Night
Great Lakes International Air Show
Iron Horse Festival
The Santa Clause Parade
Nostalgia Nights
And many more!
St. Thomas is also home to 2 major parks, Pinafore Park and Waterworks Park. The city also gets a piece of the Trans Canada Trail that runs through the region.
St. Thomas offers a small-town vibe close to the bigger city of London. Exposed to all 4 seasons, St. Thomas sees a variety of weather conditions. The summer months can see temperatures well into the high 30 degree celsius range. It can wreak havoc on your lawn - leaving it in a less than desirable condition. At Blue Jay Irrigation, we offer lawn sprinkler systems to the St. Thomas area. An irrigation system can ensure your lawn thrives.
Lawn Sprinkler Systems by Blue Jay Irrigation
Blue Jay Irrigation has been providing lawn sprinkler systems to the St. Thomas region for over 30 years. Since opening in 1982, our team maintains the highest standards when it comes to customer service and irrigation systems. We service many different cities in Southwestern Ontario, and are proud to be part of the beautiful St. Thomas community.
At Blue Jay Irrigation, we offer full service irrigation - covering all phases from planning and design to install and maintenance. We provide lawn sprinkler systems in St. Thomas for commercial and residential properties.
Our experience alone gives us confidence in providing the best irrigation services around. We've installed over 5000 irrigation systems. We also are committed to using the highest standards of workmanship and quality materials.
With a built-in timer, our irrigation systems ensure you won't have to worry about watering your lawn ever again. We further offer regular maintenance, which enables your system to run its best. Regular maintenance also reduces water consumption - only use the amount of water that your lawn needs. With a commercial or residential sprinkler system, you'll save time and money.
At Blue Jay Irrigation, we believe everyone deserves to be surrounded by natural beauty. Start enjoying your outdoor space today. Get your lawn sprinkler system installed in St. Thomas. Our professional team is ready to help you. Each irrigation is designed to meet your needs - big or small. Call us to start planning your professionally installed irrigation system today.
Why St. Thomas Residents Choose Blue Jay as Their Sprinkler System Installation Experts
The benefits of choosing Blue Jay include:
Our expert irrigation services are backed by 35+ years of experience and over 5,000 projects.
Get a comprehensive project plan and custom proposal for free.
Blue Jay is recognized as a Rain Bird Select Contractor, Hunter Industries Preferred Contractor, Landscape Ontario Green for Life Company and over a dozen other accreditations.
Over 50 customer reviews online and have an average score of 4.7/5
What Customers Say About Blue Jay Irrigation
Was working on modifying an existing irrigation system at home. Wasn't sure what size of pump should use. Trevor recommended a pump based on his professional knowledge. It turns out great result! Texted him many times night & weekend - Trevor answered every single question! Much appreciate Trevor! Would definitely recommend Blue Jay to anyone.
- Jerry Ju
Everyone we dealt with on the Blue Jay staff were very professional and patient with inquiries throughout the entire process. The installation team was prompt and very efficient in navigating around our yard and implementing our irrigation system. Great job. Thank you Blue Jay.
- Richard Kim
I have always been very satisfied with the service from Blue Jay. From pricing to installation to maintenance they are superior.All of the personnel from the office to the field staff are very professional.I would highly recommend them for all our your Irrigation needs.
- Kelly Cahill