Welland Lawn Sprinkler System Experts
Proudly serving Welland & area
About Welland, Ontario
Welland is located in the heart of the Niagara region and is an hour and a half from Toronto. Welland is home to just over 50,000 people and is continuing to grow.
The Welland Canal and Welland River played a significant role in the development of the area since its settlement in the late 1700s. The city is rich in history and is still referred to as 'where rails and water meet.'
Niagara College is located directly in the city, and Brock University is a short drive away. Many international students flock to Welland during the academic year to attend post-secondary studies. Welland is one of the most diverse cities in the Niagara region.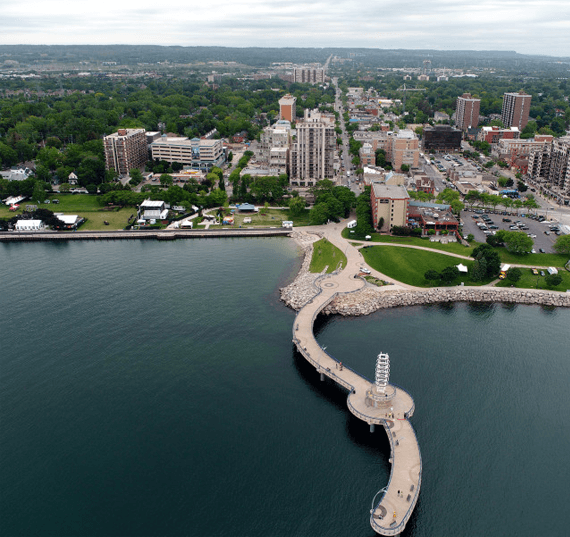 Welland has a lot to offer its residents. There is a thriving arts and culture community, recreation centres and activities to partake in, farmers markets, city parks, and numerous local attractions. There's plenty for residents and tourists to enjoy.
At Blue Jay Irrigation, we know how many of you take pride in Welland, as well as your home and property. Our team knows how important it is to do a great job of installing your new lawn sprinkler system without knowing we were ever there!
Lawn Sprinkler Systems by Blue Jay Irrigation
Blue Jay Irrigation has been a part of the Southern Ontario community for over 30 years, installing over 5,000 systems. We've worked in Welland, London, St. Catharines, Oakville, Guelph, Windsor, and the Toronto area.
The Blue Jay Irrigation team uses the best quality products and the latest technology to offer our customers the best solutions to their lawn care issues. The professional lawn sprinkler system services we provide in Welland are geared for both residential and commercial irrigation systems. No matter what your property is, we can help.
Hiring us begins with a planning and design process, where we ensure your property will be disturbed as little as possible, and the natural surroundings can be maintained. We then install your state-of-the-art system. We offer maintenance services throughout the year to ensure your system is always cared for.
We offer a full guarantee on all our systems installed at your Welland property. We're a reliable and trustworthy company that has the experience to get the job done right the first time. Along with being fully irrigation and working at heights certified, we are WSIB insured, and we only hire the best talent that Southern Ontario has to offer. We are passionate about the safety of our team and crew and our customer experience. We always leave your Welland home just as we found it.
Our cost-effective and energy-efficient systems are the best solutions for your lawn care needs. You can set it and forget it without ruining your lawn in the process. Set your new built-in timer and let your Welland lawn sprinkler system take care of your lawn without having to worry.
We've been in the Welland community for a long time, and we're proud to serve this fantastic community. Call us today or fill out our online form to get a free estimate!
Why Welland Residents Choose Blue Jay as Their Sprinkler System Installation Experts
The benefits of choosing Blue Jay include:
Our expert irrigation services are backed by 35+ years of experience and over 5,000 projects.
Get a comprehensive project plan and custom proposal for free.
Blue Jay is recognized as a Rain Bird Select Contractor, Hunter Industries Preferred Contractor, Landscape Ontario Green for Life Company and over a dozen other accreditations.
Over 50 customer reviews online and have an average score of 4.7/5
What Customers Say About Blue Jay Irrigation
Was working on modifying an existing irrigation system at home. Wasn't sure what size of pump should use. Trevor recommended a pump based on his professional knowledge. It turns out great result! Texted him many times night & weekend - Trevor answered every single question! Much appreciate Trevor! Would definitely recommend Blue Jay to anyone.
- Jerry Ju
Everyone we dealt with on the Blue Jay staff were very professional and patient with inquiries throughout the entire process. The installation team was prompt and very efficient in navigating around our yard and implementing our irrigation system. Great job. Thank you Blue Jay.
- Richard Kim
I have always been very satisfied with the service from Blue Jay. From pricing to installation to maintenance they are superior.All of the personnel from the office to the field staff are very professional.I would highly recommend them for all our your Irrigation needs.
- Kelly Cahill