Oakville Lawn Sprinkler System Experts
Proudly serving Oakville & area
About Oakville, Ontario
Oakville is the largest town in Ontario. Located in between Hamilton and Toronto, almost 200,000 people call Oakville home. Oakville has a humid climate with mild winters and warm summers.
Oakville is an affluent community in the Halton region. Many residents work for the government, in education or for Ford Motor Company of Canada.
There is a significant focus on sports in the community, with professional soccer, lacrosse, hockey, baseball and canoeing teams. The city is also home to Canada's largest skating club, which provides lessons and is where professional teams go to train. The Glen Abbey Golf Course is home to Golf Canada and the Hall of Fame. It's been the host of the Canadian Open several times since 1977.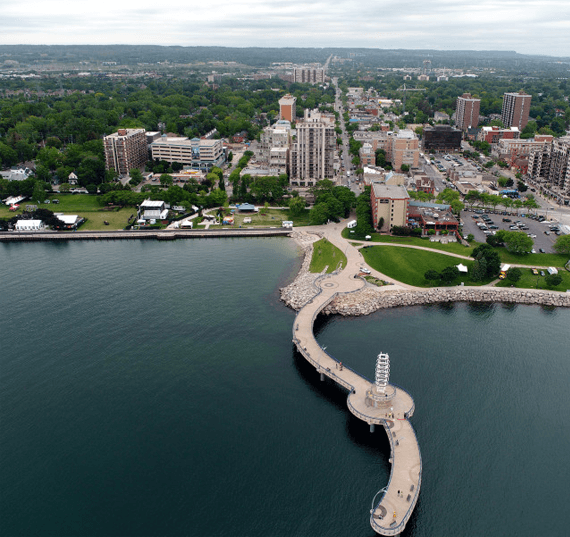 The budding arts and culture community holds many annual events. There is a jazz festival, Kerrfest, and For The Love of the Arts festivals that are all major attractions people look forward to each year. The Waterfront Festival has been around since 1982. It includes arts and crafts, amusement park rides, local eats, and Canadian musicians performing for everyone.
At Blue Jay Irrigation, taking pride in your home and community comes as second nature to us. Our team works tirelessly to do the best job so you can reach a new level of satisfaction with your lawn sprinkler system.
Lawn Sprinkler Systems by Blue Jay Irrigation
Blue Jay Irrigation has served Oakville, Guelph, London, St. Catharines, Windsor, the GTA and surrounding areas for over 30 years. We've installed over 5,000 irrigation systems, and we're proud to serve the communities in Southern Ontario.
We use the latest technology and highest quality products to ensure your new lawn sprinkler system is the best that you can get. Whether you're a homeowner and need a better solution for your lawn care needs, or you need a system for your commercial property, we can help!
When you hire Blue Jay Irrigation, we will begin the planning and design process. Our knowledgeable team will walk you through every step and answer any questions you may have. Once we've installed the lawn sprinkler system, you can count on our year-round maintenance services to ensure your system is always performing it's best.
Our systems are fully guaranteed, as we always stand behind our products and services. When you want to hire a trustworthy and experienced team to get the job done right at your Oakville home, look no further than Blue Jay Irrigation. We are fully insured and certified for irrigation and working at heights, and we only hire the best and brightest to be part of our team. We will always leave your property exactly as we found it.
Our products are energy-efficient and cost-effective. We aim to make your life easier and make your lawn look its best at the same time. Set your built-in timer to have your lawn sprinkler system turn on and off when you want it to. Your Oakville lawn will be the envy of the neighbourhood in no time.
Serving the Oakland community has been wonderful for so many years, so if you want a free estimate, give us a call or fill out our form today!
Why Oakville Residents Choose Blue Jay as Their Sprinkler System Installation Experts
The benefits of choosing Blue Jay include:
Our expert irrigation services are backed by 35+ years of experience and over 5,000 projects.
Get a comprehensive project plan and custom proposal for free.
Blue Jay is recognized as a Rain Bird Select Contractor, Hunter Industries Preferred Contractor, Landscape Ontario Green for Life Company and over a dozen other accreditations.
Over 50 customer reviews online and have an average score of 4.7/5
What Customers Say About Blue Jay Irrigation
Was working on modifying an existing irrigation system at home. Wasn't sure what size of pump should use. Trevor recommended a pump based on his professional knowledge. It turns out great result! Texted him many times night & weekend - Trevor answered every single question! Much appreciate Trevor! Would definitely recommend Blue Jay to anyone.
- Jerry Ju
Everyone we dealt with on the Blue Jay staff were very professional and patient with inquiries throughout the entire process. The installation team was prompt and very efficient in navigating around our yard and implementing our irrigation system. Great job. Thank you Blue Jay.
- Richard Kim
I have always been very satisfied with the service from Blue Jay. From pricing to installation to maintenance they are superior.All of the personnel from the office to the field staff are very professional.I would highly recommend them for all our your Irrigation needs.
- Kelly Cahill