Hamilton Lawn Sprinkler System Experts
Proudly serving Hamilton & area
About Hamilton, Ontario
Hamilton is located in the Southwest of Ontario. Known for its spectacular waterfalls and hikes, the area has a population of 747 000 people. It is close by to Burlington, Toronto, and Niagara Falls. Each of these cities are about a 1-2 hour drive away, depending on traffic.

Like many other areas in and around the Niagara Peninsula, Hamilton has a rich history - particularly involving the War of 1812. The Battle of Stoney Creek was fought in eastern Hamilton. The exact location is now a park. Following the War of 1812, George Hamilton purchased farmland in the area. He later offered this land to the Crown for development of the town.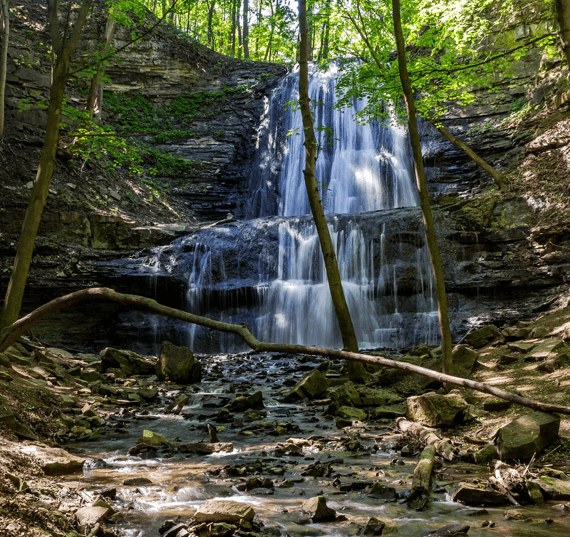 In 1832, Hamilton became a major port with the creation of a canal nearby. A jail was constructed, followed by an expansion with roadways and more.

In 1930, McMaster University opened its doors in Hamilton. This furthered the city's growth and the following decades saw the opening of various stores and businesses. Today, Hamilton's economic growth comes from transportation, health, and educational services. Yet, 60% of Canada's steel industry has origins in the Hamilton region. The area is highly industrialized, especially compared to other parts of the province.

However, the residents of Hamilton enjoy a wide variety of cultural events and activities. The city has a many museums, including the Canadian Warplane Heritage Museum, the Art Gallery of Hamilton, the Canadian Football Hall of Fame, Dundurn Castle, and the HMCS Haida National Historic Site. Further attractions include the African Lion Safari and the Royal Botanical Gardens.

With arts and culture a major draw for residents, Hamilton also hosts Supercrawl - an arts and music festival. In 2015, the city further had the honor of hosting the national JUNO awards.

Surrounded by water and various trails, the residents of Hamilton enjoy their natural environment. And with owning any property comes the upkeep. At Blue Jay Irrigation, we strive to help you maintain your land. Lawn Sprinkler Systems in Hamilton ensures your lawn gets the necessary attention it needs.
Lawn Sprinkler Systems by Blue Jay Irrigation
At Blue Jay Irrigation, our team has been servicing Hamilton and surrounding areas for over 30 years. Privately owned and operated out of London, Ontario, we strive to provide the highest quality and latest technology irrigation services.

Our Blue Jay Irrigation team handles everything. We plan and design your lawn sprinkler system in Hamilton. From there, we install the system and regularly maintain it. All our services are fully guaranteed. We offer repairs when needed and ensure that each and every customer walks away happy and satisfied.

Our team is fully certified with Irrigation Association Certification. We further protect our own employees with Working at Heights Certification and proper insurance
A correctly installed lawn sprinkler system in Hamilton can reduce your water consumption. It's another step forward toward taking the appropriate care regarding our environment and our planet. The built-in timer further optimizes water usage by watering your lawn or property at the best time of day.

At Blue Jay Irrigation, we offer lawn sprinkler systems in Hamilton to residential, commercial, golfing, and sporting properties. Get your free quote today. Call us or fill out our form.
Why Hamilton Residents Choose Blue Jay as Their Sprinkler System Installation Experts
The benefits of choosing Blue Jay include:
Our expert irrigation services are backed by 35+ years of experience and over 5,000 projects.
Get a comprehensive project plan and custom proposal for free.
Blue Jay is recognized as a Rain Bird Select Contractor, Hunter Industries Preferred Contractor, Landscape Ontario Green for Life Company and over a dozen other accreditations.
Over 50 customer reviews online and have an average score of 4.7/5
What Customers Say About Blue Jay Irrigation
Was working on modifying an existing irrigation system at home. Wasn't sure what size of pump should use. Trevor recommended a pump based on his professional knowledge. It turns out great result! Texted him many times night & weekend - Trevor answered every single question! Much appreciate Trevor! Would definitely recommend Blue Jay to anyone.
- Jerry Ju
Everyone we dealt with on the Blue Jay staff were very professional and patient with inquiries throughout the entire process. The installation team was prompt and very efficient in navigating around our yard and implementing our irrigation system. Great job. Thank you Blue Jay.
- Richard Kim
I have always been very satisfied with the service from Blue Jay. From pricing to installation to maintenance they are superior.All of the personnel from the office to the field staff are very professional.I would highly recommend them for all our your Irrigation needs.
- Kelly Cahill