Thorold Lawn Sprinkler System Experts
Proudly serving Thorold & area
About Thorold, Ontario
Thorold, Ontario is located just south of St. Catherines and just west of the Niagara region. The well-known Welland Canal and Twin Flight Locks are located right in this small but idyllic town.
The town of Thorold arose from the construction and opening of the Welland Canal. Less than 20 years after the opening of the canal, the tiny community was already home to over 1000 people. A church and post office were constructed. Many tradesmen also made their money and livelihoods in this area. Mills, breweries, and wagon makers were a few of the other early industries in Thorold.
In 1850, it was incorporated as a village. A couple of decades later, it was incorporated as a town.
Thorold further has deep roots stemming into the War of 1812. Many battles took place in the region.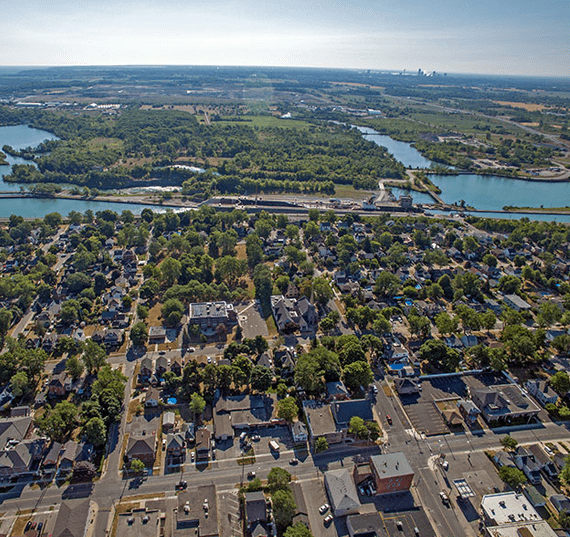 The Thorold community celebrates a variety of annual events and festivals. These include:
The Mountain Top Ceremony held in late March.
The Thorold Arts and Crafts Show during the last weekend of May.
Italia-in-Festa on the last weekend in June.
The Thorold Antique Car Show at the end of July.
The Canal Bank Shuffle.
The Santa Clause Parade.
Thorold's Christmas Arts and Crafts Festival.
The Thorold area also has many parks and trails. The Welland Canal Parkway Trail has sections that go through Thorold. There are also an abundant of recreational parks and areas for residents and families to enjoy. Parks featured in Thorold include Mel Swart Conservation Park, Short Hills Provincial Park, Battle of Beaverdams Park, McMillan Park, Sullivan Park, and more.

Residents of Thorold further enjoy the immense amount of history still present via a variety of historical buildings that mark areas throughout the town.

With a vast number of outdoor spaces, residents in Thorold evidently place their natural environment as a top priority. At Blue Jay Irrigation, we are thrilled to provide lawn sprinkler systems to the Thorold town. We want to help your lawn flourish, and allow you the opportunity to truly enjoy all that mother nature has to offer.
Lawn Sprinkler Systems by Blue Jay Irrigation
Blue Jay Irrigation has over 30 years experience with providing lawn sprinkler system services to the Thorold and surrounding areas. Our team has installed over 5000 irrigation systems in Windsor, London, St. Catharines, Guelph, Oakville, Niagara, Kitchener, and more.

The Blue Jay Irrigation team is committed to offering the best in lawn sprinkler systems to Thorold. As such, our team only uses the best of the best. We utilize high-quality materials and the latest technology. This guarantees each and every customer is receiving the best care and service possible.

Servicing residential and commercial properties, our team does everything from planning and design to install and maintenance. We cover all phases of irrigation so that you can rest assured that your lawn is taken care of, especially if something goes wrong.
Our lawn sprinkler systems in Lincoln save you time and money. They are energy-efficient and cost-effective. The built-in timer ensures your lawn gets watered at the optimal time of day. This further saves on water consumption by only giving your lawn the water it needs. No more dragging that old water hose across your lawn!

Our team further is WSIB ensure and we hold a working at heights certificate. We put safety first, and can guarantee that all our specialists and experts have their full certification.

At Blue Jay Irrigation, we are thrilled to provide lawn sprinkler systems to the Thorold community. Call us or fill out our form for your free quote today!
Why Thorold Residents Choose Blue Jay as Their Sprinkler System Installation Experts
The benefits of choosing Blue Jay include:
Our expert irrigation services are backed by 35+ years of experience and over 5,000 projects.
Get a comprehensive project plan and custom proposal for free.
Blue Jay is recognized as a Rain Bird Select Contractor, Hunter Industries Preferred Contractor, Landscape Ontario Green for Life Company and over a dozen other accreditations.
Over 50 customer reviews online and have an average score of 4.7/5
What Customers Say About Blue Jay Irrigation
Was working on modifying an existing irrigation system at home. Wasn't sure what size of pump should use. Trevor recommended a pump based on his professional knowledge. It turns out great result! Texted him many times night & weekend - Trevor answered every single question! Much appreciate Trevor! Would definitely recommend Blue Jay to anyone.
- Jerry Ju
Everyone we dealt with on the Blue Jay staff were very professional and patient with inquiries throughout the entire process. The installation team was prompt and very efficient in navigating around our yard and implementing our irrigation system. Great job. Thank you Blue Jay.
- Richard Kim
I have always been very satisfied with the service from Blue Jay. From pricing to installation to maintenance they are superior.All of the personnel from the office to the field staff are very professional.I would highly recommend them for all our your Irrigation needs.
- Kelly Cahill