West Elgin Lawn Sprinkler System Experts
Proudly serving Elgin & area
About West Elgin, Ontario
Located at the west end of Elgin County, West Elgin lies south-west of London. Toronto, Hamilton, and other major cities lie to the north-east.
West Elgin is a municipality formed by the amalgamation of the former township of Aldborough with the village of West Lorne, and is home to over 5,000 people.
West Elgin Secondary School is the only high school in western Elgin County, while Rodney's jailhouse, the smallest in Ontario, draws visitors.
Agriculture is a major part of West Elgin, with tobacco, dairy, fruit, and mixed farming providing a sizeable amount of the area's economic activity. Another economic activity in West Lorne is some light manufacturing.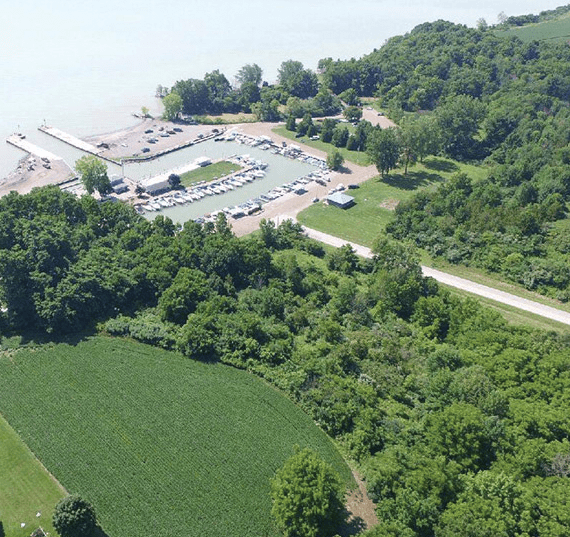 West Elgin includes the population centres of Rodney and West Lorne, as well as the smaller communities of Churchville, Clachan, Crinan, Eagle, Kintyre, New Glasgow, Port Glasgow and Twin Valleys. Other surrounding communities are Dutton, Newbury, Glencoe, Chatham-Kent, and more.
Residents of West Elgin enjoy all the opportunities, experiences, and activities that the shores of Lake Erie have to offer, as well as the entertainment and amenity zones of surrounding towns and cities. It's not far from London, with residents able to drive from West Elgin to downtown London in less than an hour.
Chatham-Kent is well under an hour's drive, while Windsor and the Detroit border crossings are an hour and a half away. Also, the cities making up the GTA are less than two and a half hours' drive, making them easily accessible for a weekend getaway or a day trip.
Containing many residential properties, West Elgin takes pride in their properties and outdoor spaces. And Blue Jay Irrigation is ready to meet their needs. Our trusted, experienced team is pleased to offer lawn sprinkler systems to West Elgin and surrounding areas.
Lawn Sprinkler Systems by Blue Jay Irrigation
At Blue Jay Irrigation, our team has been servicing Elgin County, West Elgin, and surrounding areas for over 30 years. Privately owned and operated out of London, Ontario, we strive to provide the very highest quality and the latest technology in irrigation services.
We absolutely provide the best customer service possible. We have installed over 5000 irrigation systems, and further consider ourselves to be the stewards of your property and your environment.
Our Blue Jay Irrigation team handles everything. We plan and design your lawn sprinkler system for West Elgin. From there, we install the system and regularly maintain it. All our services are fully guaranteed. We offer repairs when needed and ensure that each and every customer is entirely happy and satisfied.
Our team is fully certified with the Irrigation Association Certification. We further protect our own employees with Working at Heights Certification and proper insurance. Our top priority, at the end of the day, is the safety of our crew and your property.
A correctly installed lawn sprinkler system in West Elgin can reduce your water consumption. It's another step toward taking appropriate care for our environment and our planet. The built-in timer also further optimizes water usage by watering your lawn or property at the best time of day.
We aim to provide you with a hands-off, no-fuss, easy-to-use system that just works and puts your mind at ease. No more dragging that hose to those hard to reach spots. No more wondering if you've watered too much, or too little.
At Blue Jay Irrigation, we are proud to interact with and to serve the West Elgin community, offering lawn sprinkler systems for residential, commercial, golf, and sports facilities.
Get your free quote today. Call us or fill out our form.
Why West Elgin Residents Choose Blue Jay as Their Sprinkler System Installation Experts
The benefits of choosing Blue Jay include:
Our expert irrigation services are backed by 35+ years of experience and over 5,000 projects.
Get a comprehensive project plan and custom proposal for free.
Blue Jay is recognized as a Rain Bird Select Contractor, Hunter Industries Preferred Contractor, Landscape Ontario Green for Life Company and over a dozen other accreditations.
Over 50 customer reviews online and have an average score of 4.7/5
What Customers Say About Blue Jay Irrigation
Was working on modifying an existing irrigation system at home. Wasn't sure what size of pump should use. Trevor recommended a pump based on his professional knowledge. It turns out great result! Texted him many times night & weekend - Trevor answered every single question! Much appreciate Trevor! Would definitely recommend Blue Jay to anyone.
- Jerry Ju
Everyone we dealt with on the Blue Jay staff were very professional and patient with inquiries throughout the entire process. The installation team was prompt and very efficient in navigating around our yard and implementing our irrigation system. Great job. Thank you Blue Jay.
- Richard Kim
I have always been very satisfied with the service from Blue Jay. From pricing to installation to maintenance they are superior.All of the personnel from the office to the field staff are very professional.I would highly recommend them for all our your Irrigation needs.
- Kelly Cahill