Niagara Lawn Sprinkler System Experts
Proudly serving Niagara & area
About Niagara, Ontario
The Niagara region continues to thrive and grow. It's not surprising with Niagara Falls and the beautiful wine country, Niagara-on-the-Lake. Located in Southern Ontario, the Niagara Municipality is near Hamilton and just north of the border to Buffalo. Also to the north is Lake Ontario and to the south is Lake Erie.
Niagara is a hub for tourism activities and agricultural development. 12 million tourists visit the Niagara region every year. Wine making not only draws tourists, but is also one of the major agricultural productions in the area.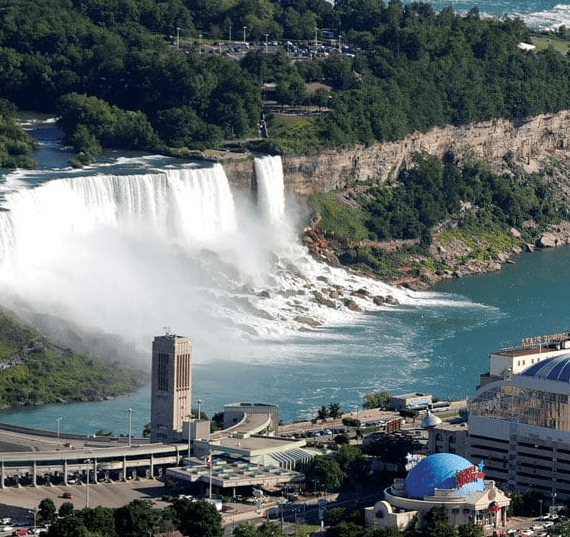 While Niagara is not growing at an accelerated rate, it is a pillar community and region. It contains vast history and an abundant of activities for residents and tourists to explore. Fort George stands in Niagara-on-the-Lake. This fort was home to many battles in the War of 1812 - which forever shaped our country's history.

The area also has many natural attractions. These scenic views include the 3 Niagara Falls, Horseshoe Falls, the American Falls, and the Bridal Veil Falls. There are also an abundant of conservation areas that include hiking trails and more.
In addition, the Shaw Festival is held every year in Niagara-on-the-Lake. This festival showcases the theatre art from talents across Canada. The Welland Canal is part of the St. Lawrence Seaway - connecting Lake Ontario and Lake Erie. This is an important landmark since it allows many ships every year to bypass the giant Niagara Falls and safely carry cargo to Toronto and other major cities.
The Niagara region's proximity to the United States and other cities offers residents an array of weekend and day activities to explore. Residents can hop on over to Buffalo for a day shopping trip. Or they can make their way up to Hamilton to take in even more waterfalls and hikes. Toronto is only a 1-2 hour drive away, allowing many residents to attend a variety of festivals and events offered in the big city.
Niagara is a beautiful region that is desirable place to live. The atmosphere, the variety in activities, and scenery have made the region what it is today. With hot summer days and so many activities to enjoy, the last thing you want to be thinking about is watering your lawn or yard. Blue Jay Irrigation can give you the peace of mind you crave. We want you to enjoy all that Niagara has to offer - without the worry of lawn care.
Lawn Sprinkler Systems by Blue Jay Irrigation
Blue Jay Irrigation offers commercial and residential lawn sprinkler systems in Niagara. We service areas across Southwestern Ontario, including Niagara, Guelph, Cambridge, Kitchener, Sarnia, St. Catherines, Waterloo, Windsor, and more.
We aim to provide irrigation solutions for all our customers. We take care of the project from the planning stage, design stage, through to completion and maintenance.
Our team has installed irrigation systems for over 5000 customers. Our history says it all. Operating out of London, Ontario, Blue Jay Irrigation is proud to have served our clients for over 30 years. Our core values demonstrate our dedication to quality work and customer service. We put customers first. We value our reputation. And we conduct all our services with integrity and confidence.
Get your reliable lawn sprinkler system installed in Niagara today. A built-in timer ensures your lawn gets watered in a timely and efficient manner. No more worries or dragging the hose across your front and backyard. Lawn sprinkler systems in Niagara are also great for golf courses or sport fields.
At Blue Jay Irrigation, our team is fully certified and insured. We guarantee our services - giving you that peace of mind if anything goes wrong. Ensure your property is maintained. Trust in Blue Jay Irrigation to get you there. Fill out our form or call us today for your free quote.
Why Niagara Residents Choose Blue Jay as Their Sprinkler System Installation Experts
The benefits of choosing Blue Jay include:
Our expert irrigation services are backed by 35+ years of experience and over 5,000 projects.
Get a comprehensive project plan and custom proposal for free.
Blue Jay is recognized as a Rain Bird Select Contractor, Hunter Industries Preferred Contractor, Landscape Ontario Green for Life Company and over a dozen other accreditations.
Over 50 customer reviews online and have an average score of 4.7/5
What Customers Say About Blue Jay Irrigation
Was working on modifying an existing irrigation system at home. Wasn't sure what size of pump should use. Trevor recommended a pump based on his professional knowledge. It turns out great result! Texted him many times night & weekend - Trevor answered every single question! Much appreciate Trevor! Would definitely recommend Blue Jay to anyone.
- Jerry Ju
Everyone we dealt with on the Blue Jay staff were very professional and patient with inquiries throughout the entire process. The installation team was prompt and very efficient in navigating around our yard and implementing our irrigation system. Great job. Thank you Blue Jay.
- Richard Kim
I have always been very satisfied with the service from Blue Jay. From pricing to installation to maintenance they are superior.All of the personnel from the office to the field staff are very professional.I would highly recommend them for all our your Irrigation needs.
- Kelly Cahill