When the latest in technology is this easy to use, efficient systems save water and money, headache free. The system you currently own can be efficient and reliable with simple and easy to use upgrades.
Water is a precious resource that commands respect. Our team at Blue Jay Irrigation is dedicated to performing regular water efficiency audits, which will determine how evenly, how fast and how frequently water is used.
Water can be conserved in two ways, through:
Water Efficiency Products
Proper System Design
Proper Scheduling
Regular System Maintenance
Water Management
Weather Based Scheduling
Efficient system performance closely examines uniform water application. Key influencers are: sprinkler type, sprinkler spacing, water pressure, wind conditions and plant interference.

Water when you need it. Accurate scheduling means that the correct amount of water is applied for the appropriate amount of time. The most efficient system will be well designed, properly installed, and thoroughly maintained. A quality controller that is accurately programmed is the pulse of your irrigation system. You can rely on the team at Blue Jay Irrigation to make sure that your system is operating at it's highest efficiency.

With an efficient system in place, you will see:
Reduced water use and less money spent on water usage
Improved landscape appearance - fewer wet or dry spots
Reduced runoff
Reduced water loss below the root zone
Reduced fertilizer and chemical requirements
Audits are complimentary. Let's be water responsible together. Contact our office today and request a Water Efficiency Audit. All quotes are complimentary and suggested improvements are made by our on-staff Certified Landscape Irrigation Auditor (CLIA).

Upgrade the controller. Easy to program controllers are available to help you intelligently monitor the weather in your area so you can water when you need it.

A properly setup controller can save you 30-70% in water usage.
Don't let the pressure get to your heads. With the 5000 PRS Rotors and 1800 PRS Spray Heads, overspray from over-pressurized heads and rotors are a thing of the past.

A PRS system will reduce operating pressure to ensure optimal spray coverage. Rain Bird Flow Optimizer technology maintains the ideal flow rate.
A healthy landscape can be difficult and costly when problems go unnoticed. With water management, we can ensure your system is running both intelligent and problem free. Catch problems when they happen, and run the system when you need it.
Off-site Monitoring: The Rain Bird® IQ-Cloud v4.0 Central Control system is your safeguard that your irrigation system is running smooth and smart.
No need to worry and monitor from your end, we have it covered from our office. Ensuring water is used only when needed, adjusting to the changing conditions, and staying on top of any breaks or issues with the system.
This peace of mind? It's free. Once the system is installed, you can rely on the professionals at Blue Jay Irrigation to keep things running smoothly.
For Now and For the Future: The IQ-Cloud v4.0 and ESP-LX Series Controllers grow with you. The modular design enables us to add new features, stations, controllers and even sites as needed.
Concentrate on your needs today. We'll take care of your needs tomorrow.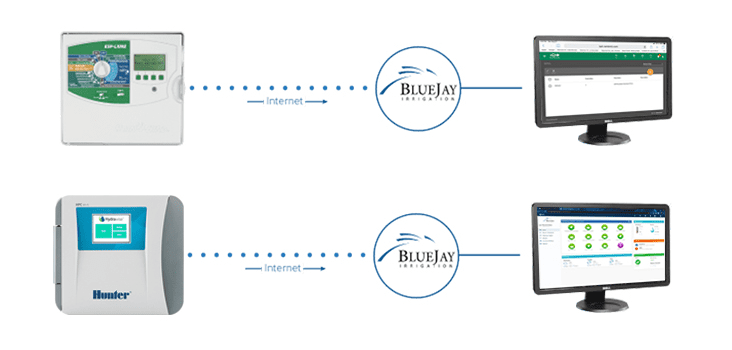 Worry-free monitoring from the team at Blue Jay Irrigation will give you peace-of-mind. We'll help you protect your investment by making adjustments to changing conditions, monitoring water usage, and troubleshooting issues as they arise. And again, it's FREE.
Simple Setup with Incredible Results
Simple and easy to use, our water management solution is affordable and user-friendly.
An irrigation controller, a network connection and Rain Bird® IQ-Cloud v4.0 are all that you need to connect every head and drip-line to our reliable and responsive network of irrigation professionals.
A Rain Bird® ESP-LXME Controller for traditionally wired control or the Rain Bird® ESP-LXD Controller for two-wire, decoder-based control connect to a command center that is closely monitoring your system 24/7.
Timely Repairs Line breaks, broken heads and any other leaks or issues costs money. With control center notifications, we can spot those problems and act immediately. Our team will schedule a repair crew as soon as the problem is noticed.
TA control centre will reduce your water waste and alleviate unnecessary headaches.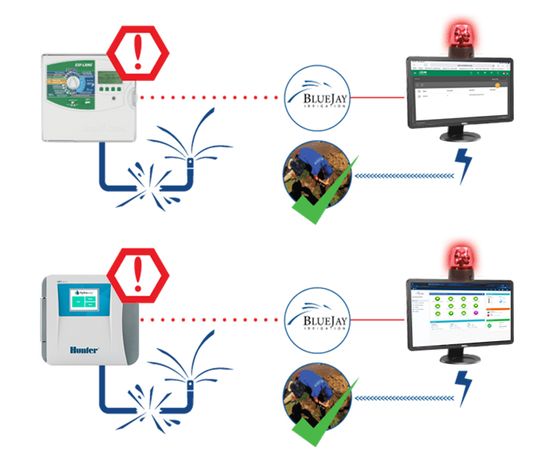 Technology Behind You: Such fast and reliable response surely comes from an impressive feature-set of technology.
With a full array of weather-based, Advanced ET features and hardware we can monitor and automatically react to those pipe breaks and system errors. Through Advanced Flow Sensing features nothing goes unnoticed.
Status Report: The intelligent IQ-Cloud v3.0 allows us to create detailed reports on your water use and savings.
Conveniently Off-Site: Unless a repair or adjustment needs your special attention, we can do everything for you off-site.
Receive the reports to your inbox or never hear about your system again — the choice is yours.
Either way, you know that the professionals have your system covered. Efficient and working perfectly, it's how we want your system working!
Monitor And Control On The Go
Promoting and maintaining a healthy landscape can be difficult and costly if problems go unnoticed. With water maintenance, we can ensure that your system is running smart and problem-free. Handle problems when they happen, and run your system when you need it.
Control at Your Fingertips: Control and schedule your irrigation system from any computer or smart phone.
With bluetooth, web interfaces, mobile apps, and 'Works with Nest' we make monitoring, controlling, and scheduling your irrigation system from your computer simple and easy.
Analytics and Reporting: Today's homes are smart centers. Your irrigation system is smart too.

Controllers can analyze water usage and provide detailed reports to help you manage your water consumption.
Local Monitoring and Adjustments: Local weather conditions can be very difficult to predict week-to-week. That's why having a system that adjusts to your specific area is incredibly important for accurate water usage. Nothing is more embarrassing or wasteful than your irrigation system coming on during the rain storm, and your irrigation system should be able to save your petunias during a sudden drought.

There is a vast array of intelligent and useful apps and services on the market that work seamlessly with your irrigation system. You can have a smart watering plan customized for your home based on hyper-local weather data — Automatically.
An Abundance of Options: From off-site water maintenance to an irrigation controller working with the latest Android and iPhone smart phones — the opportunities are endless..

Our experience has allowed us to usher in reams of changes in irrigation technology. These changes lead to more efficient and intelligent watering.
Do you want everything managed for you? Access at your fingertips? Water usage reports? With multiple options made available to you, we can manage every aspect of your system, review usage reports, and so much more. We'll work with you to help choose the right component for you.
We're here to help. Give us a call, send us an e-mail or stop by the office. The heart of your irrigation system and the protection of your investment are important to us. Let us help you make the right decision and manage your water sensibly.