Fort Erie Lawn Sprinkler System Experts
Proudly serving Fort Erie & area
About Fort Erie, Ontario
Located directly across the river from Buffalo, New York, For Erie is one of Niagara's fastest-growing communities that is rich in history. In the last few years, there has been considerable residential and commercial development happening in the small town.
This small town is home to Old Fort Erie, which was the first of many British forts that were constructed after the Seven Years War. Niagara Parks and the Ontario Government now own it.
From the spring to the fall, Fort Erie hosts numerous events that are full of family fun, history, and great local vendors. From weekly farmers' markets to beer festivals, there's something for everyone in Fort Erie.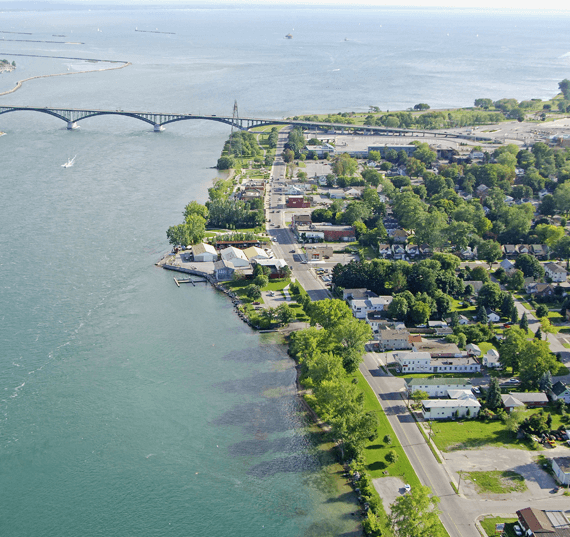 Residents and tourists alike have access to some great local shops and restaurants. The downtown area has a small-town atmosphere with vibrant businesses, including specialty shops, restaurants, spas and breweries. Because of the rich history, there are plenty of museums to check out around town.
At Blue Jay Irrigation, we know it's important to be proud of where you come from and live. Taking pride in your property and home has never been easier with our lawn sprinkler systems, available in Fort Erie. We offer an outstanding product and an unforgettable experience.
Lawn Sprinkler Systems by Blue Jay Irrigation
Blue Jay Irrigation has served Fort Erie, Windsor, Guelph, Oakville, Niagara, St. Catharines, London and Southern Ontario area for over 30 years. We've installed over 5,000 irrigation systems during that time, and we've always offered an excellent customer experience.
The Blue Jay Irrigation team uses the newest technology and best quality tools to ensure we maintain the natural state of your property to the best of our ability. Our efficient lawn sprinkler system services in Fort Erie is specialized for both residential and commercial irrigation systems.
When you hire us, we start the planning and design process. Once we've got that established, we can begin installing your brand new, professional system. We offer maintenance services to ensure your system is running correctly, providing peace of mind for your investment.
We offer a full guarantee on our entire line of Fort Erie lawn sprinkler system services. You can trust Blue Jay Irrigation to install your new system the right way, the first time. We are reliable and experienced, and our maintenance services mean you're covered for the lifetime of your system. We are certified in full irrigation and working at heights, WSIB insured, and we are serious about the safety of our team.
Blue Jay Irrigation strives to offer an energy-efficient and cost-effective solution for your lawn care needs. Maintain your property without needing to put in time and effort, and let our system do the work for you. A built-in timer allows your Fort Erie lawn to take care of itself.
We're excited to offer our services and be a part of the Fort Erie community. Get your free estimate today! Call us or fill out our secure online form.
Why Fort Erie Residents Choose Blue Jay as Their Sprinkler System Installation Experts
The benefits of choosing Blue Jay include:
Our expert irrigation services are backed by 35+ years of experience and over 5,000 projects.
Get a comprehensive project plan and custom proposal for free.
Blue Jay is recognized as a Rain Bird Select Contractor, Hunter Industries Preferred Contractor, Landscape Ontario Green for Life Company and over a dozen other accreditations.
Over 50 customer reviews online and have an average score of 4.7/5
What Customers Say About Blue Jay Irrigation
Was working on modifying an existing irrigation system at home. Wasn't sure what size of pump should use. Trevor recommended a pump based on his professional knowledge. It turns out great result! Texted him many times night & weekend - Trevor answered every single question! Much appreciate Trevor! Would definitely recommend Blue Jay to anyone.
- Jerry Ju
Everyone we dealt with on the Blue Jay staff were very professional and patient with inquiries throughout the entire process. The installation team was prompt and very efficient in navigating around our yard and implementing our irrigation system. Great job. Thank you Blue Jay.
- Richard Kim
I have always been very satisfied with the service from Blue Jay. From pricing to installation to maintenance they are superior.All of the personnel from the office to the field staff are very professional.I would highly recommend them for all our your Irrigation needs.
- Kelly Cahill