Chatham/Ken Lawn Sprinkler System Experts
Proudly serving Chatham/Kent & area
About Chatham/Kent, Ontario


Chatham/Kent is situated close to the Canada-U.S.A. Detroit border. Chatham was originally a naval dockyard in the late 1700s. The area was further part of the Underground Railroad, which is evident with the rich history the area holds in African-Canadian heritage. It was named after the Earl of Chatham.
Today, the area has a vibrant and diverse community due to its historic roots. This history also gives way to many interesting historical based events throughout the year. These events include the Battle of Longwoods Reenactment that occurs over Labour Day weekend.
The region is primarily driven by agricultural and automotive industries. It is further the headquarters for Union Gas and Enbridge company.
Residents in the Chatham/Kent region enjoy outdoor activities at various parks in the district.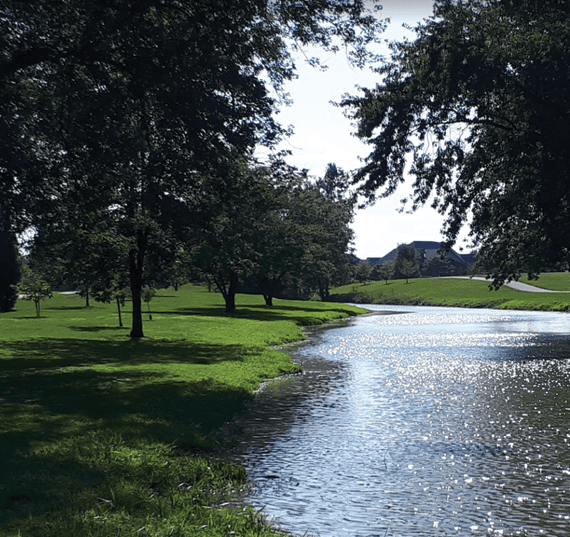 Parks in the Chatham/Kent region include Rondeau Provincial Park, Wheatley Provincial Park, and Point Pelee National Park. These parks and outdoor spaces have long beaches, hiking trails, and fishing areas.
Residents also enjoy Retrofest - a classic and vintage car festival where car enthusiasts can showcase their vehicles. Further, the area has many restaurants and entertainment venues. The Chatham Capitol Theatre runs various shows throughout the year, and is located in the downtown core. Visitors and residents are further close to the Great Lakes and the bigger American city of Detroit. Day trips and weekend trips are common to these outlying areas.
Blue Jay Irrigation is proud to be part of the diverse Chatham/Kent community. We know that the residents enjoy their various outdoor parks and adventures. To meet the needs of the community, Blue Jay Irrigation provides lawn sprinkler systems in Chatham/Kent for residential and commercial properties.
Lawn Sprinkler Systems by Blue Jay Irrigation
Blue Jay Irrigation opened in 1982. It is owned and operated out of London, Ontario. In addition to providing lawn sprinkler systems to Chatham/Kent, we also service, Aylmer, Burlington, Mississauga, Waterloo, Niagara Falls, Guelph, and more.
Our experienced field technicians have installed over 5000 lawn sprinkler systems in Chatham/Kent and surrounding areas. Our team provides full irrigation services. We cover the design and planning, as well as installation and maintenance.
Installing a lawn sprinkler system on your Chatham/Kent property has many benefits. It saves you time. You won't have to worry about watering your lawn as the system does the job for you. It also save you money on those monthly water bills. The system has a built-in timer which delivers water to your lawn at the optimal time and with just the right amount. In fact, these systems can save you 10-20% on your water consumption.
Our team consistently strives for customer satisfaction. We are transparent on what qualifications and certifications our company holds. Our team consists of Certified Irrigation Contractors, Certified Irrigation Designers, Certified Irrigation Technicians, and Certified Landscape Irrigation Auditors. We also consider safety a top priority and are fully insured.
At Blue Jay Irrigation, we will work with you to determine your lawn sprinkler system needs in Chatham/Kent. Simply, fill out our form or call us today to receive your free quote.
Why Chatham/Kent Residents Choose Blue Jay as Their Sprinkler System Installation Experts
The benefits of choosing Blue Jay include:
Our expert irrigation services are backed by 35+ years of experience and over 5,000 projects.
Get a comprehensive project plan and custom proposal for free.
Blue Jay is recognized as a Rain Bird Select Contractor, Hunter Industries Preferred Contractor, Landscape Ontario Green for Life Company and over a dozen other accreditations.
Over 50 customer reviews online and have an average score of 4.7/5
What Customers Say About Blue Jay Irrigation
Was working on modifying an existing irrigation system at home. Wasn't sure what size of pump should use. Trevor recommended a pump based on his professional knowledge. It turns out great result! Texted him many times night & weekend - Trevor answered every single question! Much appreciate Trevor! Would definitely recommend Blue Jay to anyone.
- Jerry Ju
Everyone we dealt with on the Blue Jay staff were very professional and patient with inquiries throughout the entire process. The installation team was prompt and very efficient in navigating around our yard and implementing our irrigation system. Great job. Thank you Blue Jay.
- Richard Kim
I have always been very satisfied with the service from Blue Jay. From pricing to installation to maintenance they are superior.All of the personnel from the office to the field staff are very professional.I would highly recommend them for all our your Irrigation needs.
- Kelly Cahill