Grimsby Lawn Sprinkler System Experts
Proudly serving Grimsby & area
About Grimsby, Ontario
Grimsby is a small town located on the south-west shores of Lake Ontario. Major cities around Grimsby include Hamilton to the north and St. Catharines and Niagara Falls to the south. The town of Grimsby is actually part of the Hamilton Census Metropolitan Area.
The town was founded in 1790, and major strategic tactics for the War of 1812 were planned in the streets of Grimsby. Traditionally, Grimsby was a small and rural village. However, this small area has seen vast change throughout the centuries and even in the past few decades.
It was once a major center for manufacturing, including farm machinery. It also experienced a major fruit-growing boom, and had a flourishing fishing industry that lasted until the 1960s. Today, Grimsby is home to many wineries and orchards. It's the beginning of the Niagara region's well-known wine district.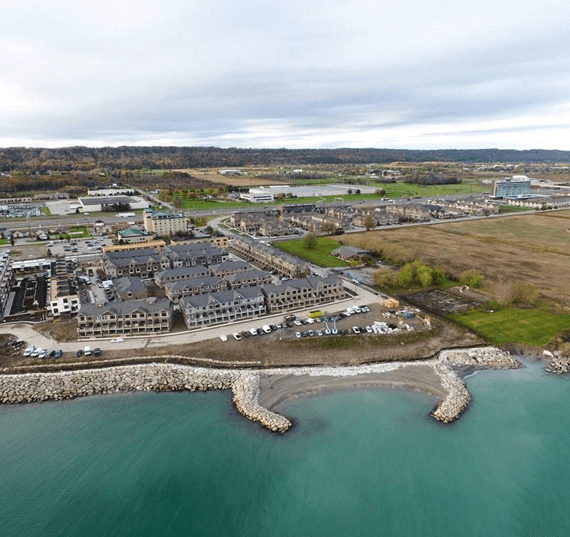 Grimsby beach even used to be a major holiday destination for many nearby towns. However between 1920 and 1950, this aspect that market Grimsby slowly declined. Today, many residents and visitors still enjoy the beach area, but it is no longer the great holiday destination it once was.

However, Grimsby and its residents enjoy the proximity to neighbouring cities and towns. The highway offers easy access. The GO Train transit system is further expected to connect to Grimsby by 2021.

Grimsby residents and visitors further enjoy annual Canada Day events, summer movie nights in the park, Grimsby's annual mutt show, Raptorfest, and more.

At Blue Jay Irrigation, we are thrilled to be part of the Grimsby community. Grimsby residents enjoy mild temperatures year-round mostly due to the location being close to the Great Lakes. And our team at Blue Jay Irrigation understands the importance of a well-kept property and beautiful natural surroundings. We want to help you improve yours. To meet the needs of the Grimsby community, our team offers lawn sprinkler systems and services to Grimsby and surrounding areas.
Lawn Sprinkler Systems by Blue Jay Irrigation
Owned and operated out of London, Ontario, Blue Jay Irrigation provides lawn sprinkler systems to Grimsby, Aylmer, Chatham/Kent, Burlington, Mississauga, Waterloo, Guelph, Niagara Falls, and more.

Since opening in 1982, Blue Jay Irrigation and team have installed over 5000 lawn sprinkler systems in Grimsby and surrounding areas. Our team provides lawn sprinkler system services in Grimsby that include design, planning, installation, and maintenance. We take care of the job from start to finish.

A lawn sprinkler system in Grimsby, Ontario can save your commercial or residential property money and time. It provides your property with the right amount of water it needed, no more or no less. Our systems further water the lawn at an optimal time of time to reduce water waste and to optimize water absorption. The system even has a built-in timer, so you don't have to worry about a thing.
At Blue Jay Irrigation, our team emphasizes the customer experience. We want all our customers to leave satisfied with a job well-done. As such, we offer transparency with our credentials and qualifications. Our team has Certified Irrigation Contractors, Certified Irrigation Designers, Certified Irrigation Technicians, and Certified Landscape Irrigation Auditors. In addition, we are fully insured and consider safety a top priority.

Contact Blue Jay Irrigation to purchase your new lawn sprinkler system in Grimsby, Ontario today. Fill out our form or call us to receive a free quote.
Why Grimsby Residents Choose Blue Jay as Their Sprinkler System Installation Experts
The benefits of choosing Blue Jay include:
Our expert irrigation services are backed by 35+ years of experience and over 5,000 projects.
Get a comprehensive project plan and custom proposal for free.
Blue Jay is recognized as a Rain Bird Select Contractor, Hunter Industries Preferred Contractor, Landscape Ontario Green for Life Company and over a dozen other accreditations.
Over 50 customer reviews online and have an average score of 4.7/5
What Customers Say About Blue Jay Irrigation
Was working on modifying an existing irrigation system at home. Wasn't sure what size of pump should use. Trevor recommended a pump based on his professional knowledge. It turns out great result! Texted him many times night & weekend - Trevor answered every single question! Much appreciate Trevor! Would definitely recommend Blue Jay to anyone.
- Jerry Ju
Everyone we dealt with on the Blue Jay staff were very professional and patient with inquiries throughout the entire process. The installation team was prompt and very efficient in navigating around our yard and implementing our irrigation system. Great job. Thank you Blue Jay.
- Richard Kim
I have always been very satisfied with the service from Blue Jay. From pricing to installation to maintenance they are superior.All of the personnel from the office to the field staff are very professional.I would highly recommend them for all our your Irrigation needs.
- Kelly Cahill