Stratford Lawn Sprinkler System Experts
Proudly serving Stratford & area
About Stratford, Ontario
Located to the west of Kitchener and southwest of Toronto, Stratford sits on Avon River. It is home to over 31 000 people.
Stratford is named after Stratford-upon-Avon in England. The area was settled in 1832 - eventually becoming a city in 1886. It has a very large senior population. This is due in part to in being considered one of the best places for Ontarians to retire.
The initial growth of the Stratford region was fairly slow until the 1850s. In the 1850s, the railway and transportation industry created jobs and connections for various towns and communities.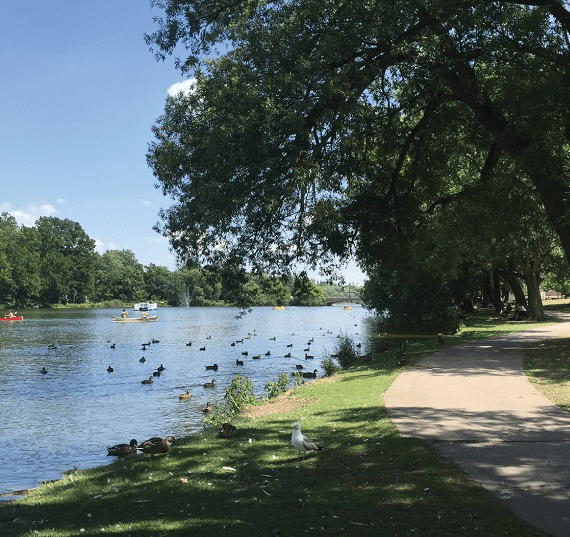 Stratford is well-known for its annual Shakespearean Festival. All kinds of Shakespearean performances take place over many weeks and months. In addition to Shakespeare plays, the festival also hosts Greek Tragedy theatre and Broadway works. It is one of the main attractions in Stratford bringing thousands of tourists into the city every year.
The city also has a thriving agricultural industry and auto parts manufacturing industry. However, tourism continues to be its main economic driver - generating over $140 million dollars every year.
Education is also a point of pride for Stratford residents. There are various elementary and secondary schools in the area. Further, the University of Waterloo has a campus located in the city as part of the Faculty of Arts.
In addition to the great Shakespearean Festival, Stratford also hosts a Summer Music Festival featuring both indoor and outdoor performances.
Residents in Stratford experience a warm and mild climate, with temperature rarely dropping below -10 in the winter and rarely reaching over +30 in the summer. Due to this fair temperature, residents enjoy the outdoors throughout the year. Lawns and yards in the area also see longer growing seasons than other Canadian cities. At Blue Jay Irrigation, we provide full irrigation services to the Stratford area. Allow your lawn sprinkler system in Stratford to take care of more than half the work of lawn care for you. And watch as your grass flourishes and grows.
Lawn Sprinkler Systems by Blue Jay Irrigation
Blue Jay Irrigation has over 30 years experience providing lawn sprinkler systems to Stratford and surrounding areas. Our team services Stratford, as well as London, Guelph, St. Catherines, Waterloo, Niagara Falls, Cambridge, Brantford, Windsor, Woodstock, and more.
Blue Jay Irrigation first opened its doors in 1982. Since then, we've maintained the highest standards of workmanship and customer service. We aim to offer each and every customer the best customer experience possible.
Our lawn sprinkler system services in Stratford and surrounding areas covers all the phases of irrigation. We receive your information and offer you a free quote. Upon your approval, we plan and design your irrigation system to suit your needs and property. From there, we install the irrigation system. In addition, we offer plans to help cover any maintenance that is required down the road. Whether you own a commercial or residential property, our team will work with you to ensure your irrigation system works at its best.
With over 5000 irrigation systems installed, our team of field technicians is confident that they can handle any job. Our staff work with only quality materials and use only the latest technology.
A lawn sprinkler system in Stratford can save you money and time. It reduces your water consumption by about 10-20%. It will only use the amount of water that your lawn needs.
Fill out our form or call us for a free quote. At Blue Jay Irrigation, we want you to start enjoying your life more and your natural surroundings. Start planning your irrigation installation today.
Why Stratford Residents Choose Blue Jay as Their Sprinkler System Installation Experts
The benefits of choosing Blue Jay include:
Our expert irrigation services are backed by 35+ years of experience and over 5,000 projects.
Get a comprehensive project plan and custom proposal for free.
Blue Jay is recognized as a Rain Bird Select Contractor, Hunter Industries Preferred Contractor, Landscape Ontario Green for Life Company and over a dozen other accreditations.
Over 50 customer reviews online and have an average score of 4.7/5
What Customers Say About Blue Jay Irrigation
Was working on modifying an existing irrigation system at home. Wasn't sure what size of pump should use. Trevor recommended a pump based on his professional knowledge. It turns out great result! Texted him many times night & weekend - Trevor answered every single question! Much appreciate Trevor! Would definitely recommend Blue Jay to anyone.
- Jerry Ju
Everyone we dealt with on the Blue Jay staff were very professional and patient with inquiries throughout the entire process. The installation team was prompt and very efficient in navigating around our yard and implementing our irrigation system. Great job. Thank you Blue Jay.
- Richard Kim
I have always been very satisfied with the service from Blue Jay. From pricing to installation to maintenance they are superior.All of the personnel from the office to the field staff are very professional.I would highly recommend them for all our your Irrigation needs.
- Kelly Cahill