Burlington Lawn Sprinkler System Experts
Proudly serving Burlington & area
About Burlington, Ontario
Burlington, Ontario is part of the west end of the Greater Toronto Area. The area was previously covered by the primeval forest and home to many First Nations people. Today, it is a busy city that connects to all other communities in Toronto through the Go Train and Bus system.
Located close to large industries and cities, Burlington reaps its economic growth from its automotive and manufacturing businesses. Employment is comprised of food processing companies, packaging companies, electronics companies, and more - with no major industry dominating.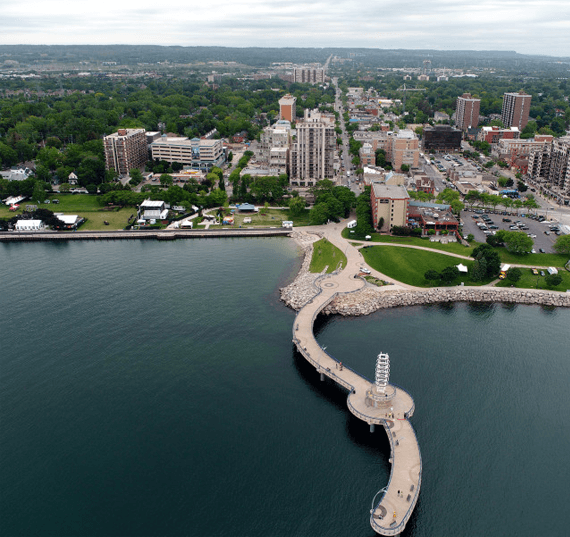 Burlington is further home to over 115 parks consisting of 580 hectares. Spencer Smith Park is situated on the shores of Lake Ontario. The park has a path that lines the beautiful banks and plays host to a number of festivals. The Ribfest, the Sound of Music Festival, Canada Day festivities, the Children's Festival, and the Festival of Lights are all held in Spencer Smith Park.

Burlington residents also enjoy a variety of entertainment and eats. The city has its own downtown area with an array of restaurants and activities. The Art Gallery of Burlington offers ever-changing exhibits close to Spencer Smith Park. The Royal Botanical Gardens are also located in Burlington. There is also plenty of malls for shopping, including Burlington Mall.

Trials and green space are in abundant in and around the city. Bruce Trial is a particular favourite of locals and tourists alike.

Situated close to Toronto and other major hubs, Burlington residents further enjoy festivals and events offered nearby. It's only a short commute to downtown Toronto, Oakville, and other GTA communities.

At Blue Jay Irrigation, we offer lawn sprinkler systems and services to the Burlington area. We are proud to be part of such a happening community and only want the best for Burlington and its residents. To meet the needs of Burlington and its residents, our services extend from residential to commercial properties.
Lawn Sprinkler Systems by Blue Jay Irrigation
At Blue Jay Irrigation, our expert team provides lawn sprinkler services to Burlington, Aylmer, Waterloo, Guelph, Niagara Falls, Fort Erie, Cambridge, Windsor, Woodstock, and many more cities across southwestern Ontario.

Our team has over 30 years experience, and have installed over 5000 lawn sprinkler systems in Burlington and surrounding areas. We provide all lawn sprinkler system services including planning, design, install, and maintenance.
Each lawn sprinkler system in Burlington comes with a built-in timer. You won't have to worry about dragging your water hose to those hard-to-reach spots anymore. Your irrigation system does the job for you. It waters your lawn at the optimal time with the optimal amount. You'll save time and money.
Blue Jay Irrigation also has various certifications and qualifications. Our team includes:
Certified Irrigation Contractors
Certified Irrigation Designers
Certified Irrigation Technicians
And Certified Landscape Irrigation Auditors.
We are also proudly part of the Irrigation Association. Our services are fully insured. We have our Working At Heights Certificate and consider safety a top priority.

At Blue Jay Irrigation, our team is committed to providing our clients with the best customer service experience. To get your lawn sprinkler system installed in Burlington, fill out our form or call us. Get your free quote today.
Why Burlington Residents Choose Blue Jay as Their Sprinkler System Installation Experts
The benefits of choosing Blue Jay include:
Our expert irrigation services are backed by 35+ years of experience and over 5,000 projects.
Get a comprehensive project plan and custom proposal for free.
Blue Jay is recognized as a Rain Bird Select Contractor, Hunter Industries Preferred Contractor, Landscape Ontario Green for Life Company and over a dozen other accreditations.
Over 50 customer reviews online and have an average score of 4.7/5
What Customers Say About Blue Jay Irrigation
Was working on modifying an existing irrigation system at home. Wasn't sure what size of pump should use. Trevor recommended a pump based on his professional knowledge. It turns out great result! Texted him many times night & weekend - Trevor answered every single question! Much appreciate Trevor! Would definitely recommend Blue Jay to anyone.
- Jerry Ju
Everyone we dealt with on the Blue Jay staff were very professional and patient with inquiries throughout the entire process. The installation team was prompt and very efficient in navigating around our yard and implementing our irrigation system. Great job. Thank you Blue Jay.
- Richard Kim
I have always been very satisfied with the service from Blue Jay. From pricing to installation to maintenance they are superior.All of the personnel from the office to the field staff are very professional.I would highly recommend them for all our your Irrigation needs.
- Kelly Cahill