Kitchener Lawn Sprinkler System Experts
Proudly serving Kitchener & area
About Kitchener, Ontario
Kitchener is a city located about an hour and a half west of Toronto. Regarded as the twin city to Waterloo, Ontario, the city has experienced moderate economic growth through the years.
The city's strong historic roots give way to the proud German heritage in the area. The biggest Oktoberfest outside of Germany is hosted in Kitchener, Ontario every year. Further, Kitchener was called the Town of Berlin up until 1912 - where it was then changed to the City of Berlin until 1916.
Kitchener's economy continues to grow at a steady pace. The city is noticed internationally for its financial, insurance, and manufacturing industries. More recently, digital media and health science industries have begun to develop in the area.
With the reconstruction of the main street in the downtown area, residents now flock to the central location for shopping and entertainment.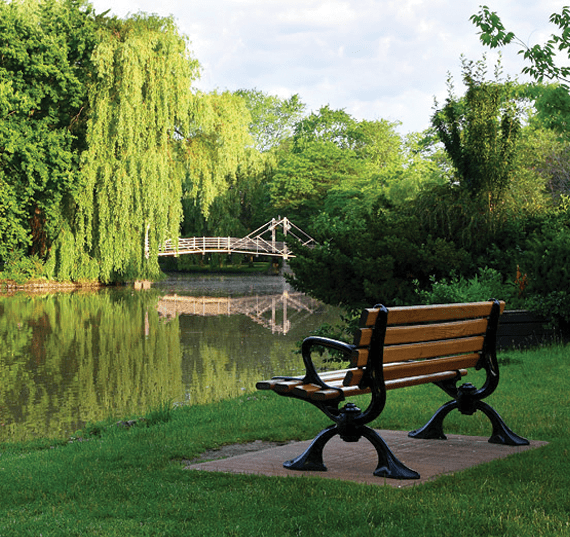 Following suit in 2011, Toronto even used Kitchener's pedestrian friendly model to redevelop Yonge Street - a major road in the big city's downtown.
And the Kitchener's main hub continues to expand and improve. In later 2017, there were 20 building permits granted for further development. The majority of the development is situated alongside the city's light rail transit system.
Kitchener, along with Waterloo, is home to many annual festival and events throughout the year. Residents and visitors alike enjoy events such as:
The Open Ears Festival
IMPACT Theatre Festival
The Kitchener Blues Festival
The Multicultural Festival
KOI Music Festival
Many of these events are held in the stunning Victoria Park - which also happens to be the oldest park in Kitchener. Rockway Gardens is another notable outdoor space in the city, which is a popular spot for weddings and gatherings. With a large trail system, the residents of Kitchener appreciate their outdoor spaces and are drawn to the city's natural elements (including the Grand River).
At Blue Jay Irrigation, we understand the importance of keeping your outdoor area looking its best. By installing a lawn sprinkler system, you guarantee your property's growth and prosperity. Our team at Blue Jay Irrigation is a leading provider in designing, planning, installing, and maintaining lawn sprinkler systems in Kitchener, Ontario. We are here to meet your needs.
Lawn Sprinkler Systems by Blue Jay Irrigation
The Blue Jay Irrigation team has installed over 5000 lawn sprinkler systems in Kitchener and surrounding areas. We service many cities in the Southwestern Ontario region, including Brantford, Kitchener, Cambridge, Guelph, Niagara Falls, St. Thomas. St. Catherines, and more.
For over 30 years, Blue Jay Irrigation has strived to put customers first. We take pride in our reputation and value each and every one of our clients. We are confident in our systems and that we can provide you with the best value for your money.
Our team offers lawn sprinkler systems in Kitchener for residential and commercial properties. A properly installed and maintained irrigation ensures your lawn receives the best watering possible. In addition, you'll save money and time. No more dragging that awful hose across your lawn. No more wasting water. You irrigation system comes with a built-in timer. This means your lawn gets watered at an optimal time to ensure less water consumption.
Our highly experienced technicians take care of the entire process for you - from design to installation and maintenance. You won't have to worry about a thing. Our team is further fully insured and holds the proper certification for installing and maintaining irrigation systems. We always put safety first.
For all your irrigation needs, choose a company you can trust. Choose Blue Jay Irrigation. We are proud to be part of a thriving community, such as the City of Kitchener. For more information, call us or fill out our form.
Why Kitchener Residents Choose Blue Jay as Their Sprinkler System Installation Experts
The benefits of choosing Blue Jay include:
Our expert irrigation services are backed by 35+ years of experience and over 5,000 projects.
Get a comprehensive project plan and custom proposal for free.
Blue Jay is recognized as a Rain Bird Select Contractor, Hunter Industries Preferred Contractor, Landscape Ontario Green for Life Company and over a dozen other accreditations.
Over 50 customer reviews online and have an average score of 4.7/5
What Customers Say About Blue Jay Irrigation
Was working on modifying an existing irrigation system at home. Wasn't sure what size of pump should use. Trevor recommended a pump based on his professional knowledge. It turns out great result! Texted him many times night & weekend - Trevor answered every single question! Much appreciate Trevor! Would definitely recommend Blue Jay to anyone.
- Jerry Ju
Everyone we dealt with on the Blue Jay staff were very professional and patient with inquiries throughout the entire process. The installation team was prompt and very efficient in navigating around our yard and implementing our irrigation system. Great job. Thank you Blue Jay.
- Richard Kim
I have always been very satisfied with the service from Blue Jay. From pricing to installation to maintenance they are superior.All of the personnel from the office to the field staff are very professional.I would highly recommend them for all our your Irrigation needs.
- Kelly Cahill