Port Colborne Lawn Sprinkler System Experts
Proudly serving Port Colborne & area
About Port Colborne, Ontario
Port Colborne, Ontario is a city situated right on the shores of Lake Erie, Southwest of Niagara Falls. The city marks the southern end of the Welland Canal. The area is named after Sir John Colborne, the Lieutenant Governor of Upper Canada during the opening of the Southern part of the Welland Canal.

During the 1880s, individuals and families from the American south began building homes around this region for vacationing. These tourists created contributed to the thriving economy and growth of the city.

Port Colborne's economy continued to grow throughout the industrial revolution. There were flour mills, a nickel refinery, a cement plant, and more. However, the last few decades have seen the closing of these industries, and a move toward modernization and more environmentally friendly industries.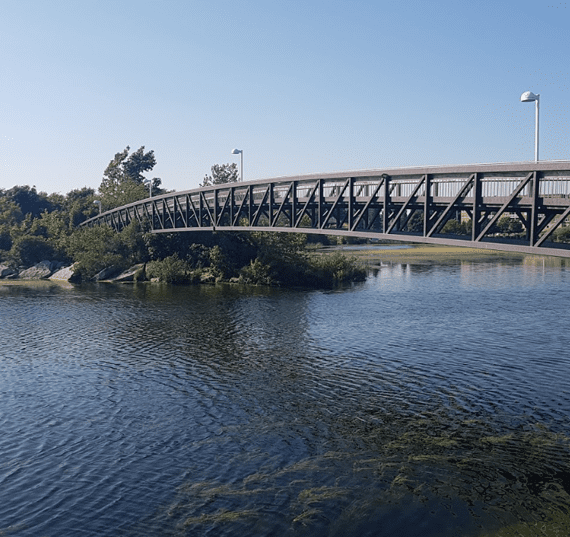 Today, residents and visitors to Port Colborne enjoy a vast number of annual events and festivals. The annual Canal Days celebrate the Welland Canal and is based around the rich history and construction of the Welland Canal that has allowed Port Colborne to become the city it is today. This event includes live music, fireworks, an antique car show, a kite festival, a variety of food, and more.
Other entertainment venues and draws in Port Colborne include the Port Colborne Historical and Marine Museum, many theatre venues and plays, Lions Club, and a variety of historical properties. Tourism is a huge part of the Port Colborne economy. With beaches and marinas nearby, residents and visitors have plenty of activities to enjoy throughout the year.

At Blue Jay Irrigation, we understand that Port Colborne residents consider their natural environment a top priority. After all, it is the source of a variety activities and events. Our team is thrilled to be part of an environmentally-conscious community like Port Colborne. As such, we strive to deliver the best lawn sprinkler systems and services to Port Colborne and surrounding areas.
Lawn Sprinkler Systems by Blue Jay Irrigation
Blue Jay Irrigation has been in business since 1982. Owned and operated out of London, Ontario, our team is proud to provide lawn sprinkler systems to Port Colborne, Aylmer, Grimsby, Burlington, Niagara Fall, St. Catherines, Mississauga, Waterloo, Guelph, and more.

The Blue Jay Irrigation and team has installed over 5000 lawn sprinkler systems in Port Colborne and nearby areas. Our lawn sprinkler systems and services include all phases of irrigation, including design, planning, install, and maintenance.

Installing a lawn sprinkler system in Port Colborne, Ontario may save you time and money, especially down the road. Our systems all come with built-in timers. These timers ensure your lawn is watered at the optimal time, guaranteeing as little water use as possible. You won't have to worry about dragging your water hose to those hard-to-reach spots, or making sure your lawn is watered on vacation. Your sprinkler system takes care of the job for you.
Our team further believes in putting all our clients first. We want each client to feel satisfied and feel as though they received the best customer experience possible. As such, we believe in transparency. Our team proudly displays certification for all experts online and in-office. We are also fully insured and hold a working at heights certificate.

Contact Blue Jay Irrigation to purchase your new lawn sprinkler system in Port Colborne, Ontario today. Fill out our form or call us to receive your free quote!
Why Port Colborne Residents Choose Blue Jay as Their Sprinkler System Installation Experts
The benefits of choosing Blue Jay include:
Our expert irrigation services are backed by 35+ years of experience and over 5,000 projects.
Get a comprehensive project plan and custom proposal for free.
Blue Jay is recognized as a Rain Bird Select Contractor, Hunter Industries Preferred Contractor, Landscape Ontario Green for Life Company and over a dozen other accreditations.
Over 50 customer reviews online and have an average score of 4.7/5
What Customers Say About Blue Jay Irrigation
Was working on modifying an existing irrigation system at home. Wasn't sure what size of pump should use. Trevor recommended a pump based on his professional knowledge. It turns out great result! Texted him many times night & weekend - Trevor answered every single question! Much appreciate Trevor! Would definitely recommend Blue Jay to anyone.
- Jerry Ju
Everyone we dealt with on the Blue Jay staff were very professional and patient with inquiries throughout the entire process. The installation team was prompt and very efficient in navigating around our yard and implementing our irrigation system. Great job. Thank you Blue Jay.
- Richard Kim
I have always been very satisfied with the service from Blue Jay. From pricing to installation to maintenance they are superior.All of the personnel from the office to the field staff are very professional.I would highly recommend them for all our your Irrigation needs.
- Kelly Cahill