Dutton Lawn Sprinkler System Experts
Proudly serving Dutton & area
About Dutton, Ontario
Dutton is a community in the Dutton/Dunwich municipality of western Elgin County, south-west of London, Ontario. The community is home to a little less than 4,000 people.
Dutton is known as a diverse farming community, both in crop yields and in the diversity of the people. Dutton residents include English, Scotch, Portuguese, and Dutch heritages, among others.
Residents enjoy easy access to neighbouring cities and towns. London is a short drive away, and bigger cities - like Detroit, Hamilton, and the GTA, are only a stone's throw away at one and a half to two and a half hours' drive. Residents and visitors enjoy the proximity to these neighbouring regions for a variety of activities and entertainment.
The Trans-Canada Trail makes its way through the Dutton municipality, passing through the John E. Pearce Provincial Park, and the Park itself, as a birding sanctuary, provides a beautiful getaway on the shores of Lake Erie.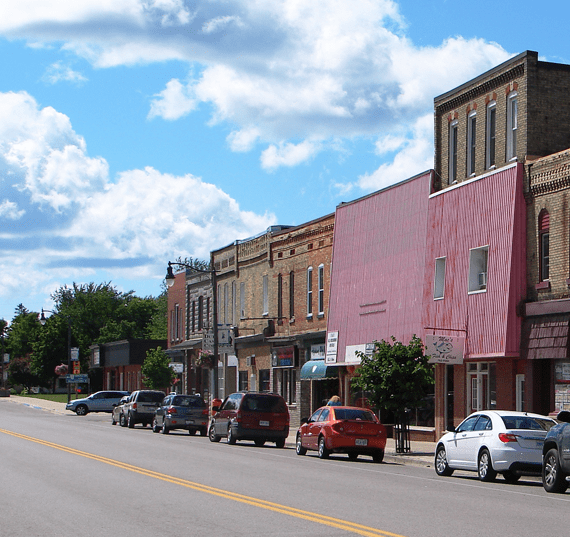 Residents and visitors of Dutton/Dunwich also are close to many other museums and attractions along the Lake Erie coast, all the way from Rondeau Park, through Dutton's own Duttona Beach and Port Talbot, to Port Stanley, Port Bruce, and Port Burwell.
At Blue Jay Irrigation, we understand residents need to continue to allow their outdoor space to flourish, making this area all that much more enjoyable. We are thrilled to service the Dutton community and region with all your lawn sprinkler system and service needs. We offer lawn sprinkler systems in Dutton for residential and commercial properties.
Lawn Sprinkler Systems by Blue Jay Irrigation
Blue Jay Irrigation provides lawn sprinkler system services to various communities, including Windsor, London, Guelph, Oakville, Niagara, St. Catherines, and more. We have been at your service for over 30 years, installing over 5000 irrigation systems in London and surrounding areas.
Our team is dedicated to using the latest technology and high-quality products, ensuring we help maintain your natural surroundings in the best way possible. Our professional lawn sprinkler system services in Dutton include residential and commercial irrigation systems.
We start at step 1, planning and designing your lawn sprinkler system for Dutton. Once this stage is finished, we install your new system. We also provide maintenance services during the warmer months, putting your mind at ease in case anything goes wrong.
At Blue Jay Irrigation, we also offer a full guarantee on all our Dutton lawn sprinkler system services. You really don't need to look further for a reliable, experienced company to install and maintain your lawn sprinkler system in Dutton or Elgin County.
We are WSIB insured and have full irrigation certification, along with a Working at Heights certificate. We firmly believe in guaranteeing the safety of all our crews, and ensuring your property is well protected in the process.
Blue Jay Irrigation aims to offer a cost-effective, energy efficient solution to your lawn care problems. Don't bother with finding time to water and maintain your property. Your irrigation system handles the job for you. With a built-in timer, your Dutton lawn sprinkler system provides an effective and efficient way to conserve water and help keep your lawn in tip-top shape.
Our system just works. It's hands-off, easy-to-use, and no-fuss. No more wondering if you've watered enough. No more fighting with the hose.
We couldn't be more thrilled to be part of the Dutton community. Call us or fill out our form for your free estimate today!
Why Dutton Residents Choose Blue Jay as Their Sprinkler System Installation Experts
The benefits of choosing Blue Jay include:
Our expert irrigation services are backed by 35+ years of experience and over 5,000 projects.
Get a comprehensive project plan and custom proposal for free.
Blue Jay is recognized as a Rain Bird Select Contractor, Hunter Industries Preferred Contractor, Landscape Ontario Green for Life Company and over a dozen other accreditations.
Over 50 customer reviews online and have an average score of 4.7/5
What Customers Say About Blue Jay Irrigation
Was working on modifying an existing irrigation system at home. Wasn't sure what size of pump should use. Trevor recommended a pump based on his professional knowledge. It turns out great result! Texted him many times night & weekend - Trevor answered every single question! Much appreciate Trevor! Would definitely recommend Blue Jay to anyone.
- Jerry Ju
Everyone we dealt with on the Blue Jay staff were very professional and patient with inquiries throughout the entire process. The installation team was prompt and very efficient in navigating around our yard and implementing our irrigation system. Great job. Thank you Blue Jay.
- Richard Kim
I have always been very satisfied with the service from Blue Jay. From pricing to installation to maintenance they are superior.All of the personnel from the office to the field staff are very professional.I would highly recommend them for all our your Irrigation needs.
- Kelly Cahill