Woodstock Lawn Sprinkler System Experts
Proudly serving Woodstock & area
About Woodstock, Ontario
The City of Woodstock sits at the top of the Thames River in Southwest Ontario. Located close to London, Woodstock is frequently regarded as the Dairy Capital of Canada.
In the city's early days, settlers came from America to occupy the land. With the building of a church and other structures, industries - including various mills, breweries, and a distillery - began to develop in the region.
Today, residents in the area take pride in the historical structures that remain and signify the city's past. The most notable structures include the jail, the public library, the court house, the old post office, and the old fire hall.
The weekly farmer's market is also a major draw for many residents and has become a pillar within the tight-knit community. The farmland in Oxford County further provides ample space and land to support local farmers (including an abundant of cow farms!). The city is also highly regarded as one of the friendliest towns. You'd only have to walk around the main areas to find out why.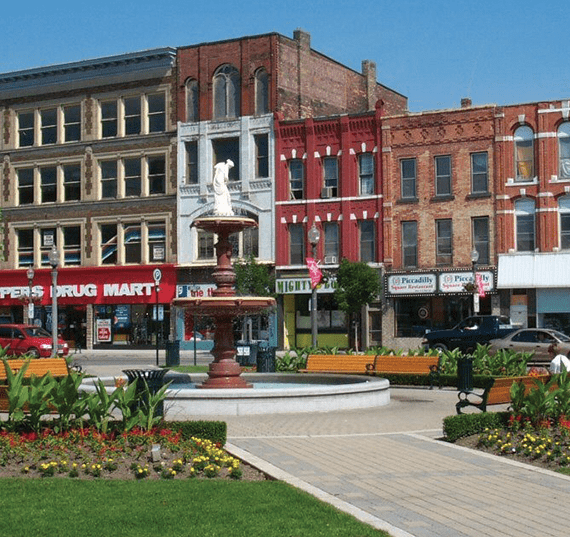 Woodstock is further home to many events and festivals, including:
The Woodstock Fair
The Woodstock Wood Show
Summer Streetfest
Cowapolooza
Woodstock Rotary Festival of Music
The Canadian Farm Show
And many more!
Residents also enjoy the variety of entertainment and museums available year-round. The OLG slots are appealing to both visitors and residents. The city also has the Woodstock Museum, the Woodstock Art Gallery, the Woodstock Theatre, and the Woodstock Peace Lighthouse.
Woodstock is a community that continues to thrive. And one that Blue Jay Irrigation could not be more happy to be a part of. With many residents taking pride in their greenery and outdoor spaces, Blue Jay Irrigation has filled the gap in providing quality and professional lawn sprinkler systems to the Woodstock area.
Lawn Sprinkler Systems by Blue Jay Irrigation
Since 1982, Blue Jay Irrigation is dedicated to offering the best customer experience possible, providing quality services using the latest technology, as well as upholding our role as environmental stewards. We offer lawn sprinkler system services to Woodstock, Kitchener, Sarnia, Guelph, Brantford, Niagara Falls, Windsor, and more.
We are fully certified, and maintain an irrigation association membership. Our team is further fully insured and emphasizes the importance of safety first. We rely on the latest technology and top quality products to meet your irrigation needs.
How does our process work? You fill out our form or give us a call. We then provide an estimate for your sprinkler system needs. Upon your approval, our team takes care of the entire process. We plan, design, install, and maintain your system.
In turn, you save money and time. A proper installed lawn sprinkler system provides your lawn with an efficient and effective watering at the optimal time of day. The built-in timer takes care of turning the system on and off, so you don't have to!
At Blue Jay Irrigation, we service commercial and residential lawn sprinkler systems in Woodstock and surrounding areas. Rest assured that your lawn is getting what it needs. Trust in us to help your lawn flourish. We look forward to serving you!
Why Woodstock Residents Choose Blue Jay as Their Sprinkler System Installation Experts
The benefits of choosing Blue Jay include:
Our expert irrigation services are backed by 35+ years of experience and over 5,000 projects.
Get a comprehensive project plan and custom proposal for free.
Blue Jay is recognized as a Rain Bird Select Contractor, Hunter Industries Preferred Contractor, Landscape Ontario Green for Life Company and over a dozen other accreditations.
Over 50 customer reviews online and have an average score of 4.7/5
What Customers Say About Blue Jay Irrigation
Was working on modifying an existing irrigation system at home. Wasn't sure what size of pump should use. Trevor recommended a pump based on his professional knowledge. It turns out great result! Texted him many times night & weekend - Trevor answered every single question! Much appreciate Trevor! Would definitely recommend Blue Jay to anyone.
- Jerry Ju
Everyone we dealt with on the Blue Jay staff were very professional and patient with inquiries throughout the entire process. The installation team was prompt and very efficient in navigating around our yard and implementing our irrigation system. Great job. Thank you Blue Jay.
- Richard Kim
I have always been very satisfied with the service from Blue Jay. From pricing to installation to maintenance they are superior.All of the personnel from the office to the field staff are very professional.I would highly recommend them for all our your Irrigation needs.
- Kelly Cahill