Have An Irrigation Emergency?
How to shut off the water to your irrigation sytem
To shut off the water to your irrigation system you can do one of two things:
(1) Shut the ball valve off at the backflow device; or (2) find the ball valve inside your house that is dedicated to shut the water off for the irrigation system. The ball valve inside the house will be labelled with our POC tag (see picture). When the ball valve is parallel with the pipe, the water is on; when the ball valve is perpendicular, the water is off. If you have a leak or sprinklers that won't turn off, the water will continue to run for 1-2 mins after turning off the water until the pipes have depressurized.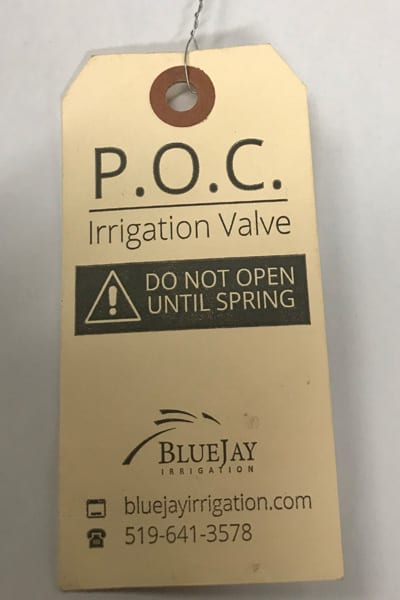 London Head Office
1478 Seagull Road
London Ontario N6H 5L9
Niagara Region Office
7868 Oakwood Drive Suite A
Niagara Falls, ON L2E 6S5
Kitchener Office
1282 Nafziger Road, Unit B
New Hamburg ON, N3A 3G8