West Lincoln Lawn Sprinkler System Experts
Proudly serving West Lincoln & area
About West Lincoln, Ontario
West Lincoln is located in the Niagara Region between Lake Ontario and Lake Erie. St. Catharines and Hamilton are to the south, with Niagara Falls and Buffalo to the east.
While mostly urban living, West Lincoln is committed to economic growth and prosperity. The town emphasizes connection, serving, and representing the beautiful and wondrous community that it is.
And despite the large number of residential properties, West Lincoln does have a downtown core area with various shops and restaurants, as well as a Village Square Mall. Near Smithville, residents enjoy Farmers Markets running every Saturday in the summer months. Vendors showcase and sell fresh and local produce, preserves, meat, honey, baked goods, and more.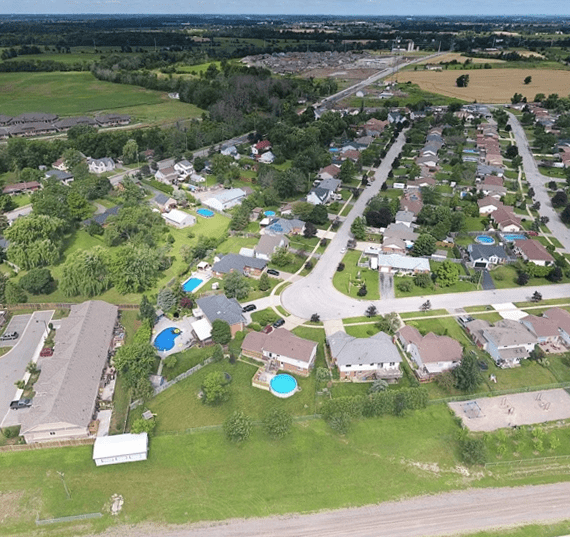 Residents further enjoy easy commutes to the Great Lakes and bigger cities. The community is less than 20 minutes away from a beach on both Lake Erie and Lake Ontario sides. Hamilton is only a 40 minute drive, and Niagara Falls is just over a 40 minute drive away.
The proximity to other areas and towns offers West Lincoln residents summer and winter activities galore. Residents may enjoy swimming, watersports, and wineries, along with other annual events and festivals in nearby towns, during the warmer seasons. In the winter months, snowshoeing, cross-country skiing, and more are available at local trails and outdoor spaces.
The community of West Lincoln is small and tight-knit with only 14 500 residents. However, West Lincoln is a beautiful area and a highly sought-after place to live. And Blue Jay Irrigation knows that community and its residents take pride in their residential properties. Our company and team is excited to be part of such a vibrant but quaint community. We offer the best in lawn sprinkler systems to the West Lincoln area.
Lawn Sprinkler Systems by Blue Jay Irrigation
Blue Jay Irrigation opened its doors over 30 years ago in London, Ontario. Since then, our team has expanded to cover most of Southwestern Ontario and its major cities and communities. Blue Jay Irrigation provides commercial and residential lawn sprinkler systems to West Lincoln, Cambridge, Niagara, St. Catherines, Oakville, Hamilton, Grimsby, Kitchener, Sarnia, Waterloo, Windsor, and more.

Our team takes pride in each project. We only use high-quality materials and the latest technology for all our irrigation services. Our team also takes care of all phases of irrigation. For lawn sprinkler systems in West Lincoln, we offer designing, planning, installing, and maintenance services. You won't have to worry about a single thing.

Each lawn sprinkler system in West Lincoln comes with a built-in timer. It does the job of watering your lawn for you, providing water to your property at the optimal time of day to ensure the most effective watering.
With over 5000 customers, our history and experience speaks for itself. Our core values indicate our commitment to quality work and delivering the best customer service experience. Our customers come first, and we perform all services with integrity and confidence.

A newly installed lawn sprinkler system in West Lincoln will save you time and money. You won't waste water. You won't have to drag that hose across the lawn anymore either.

Get your trusted and quality-proven lawn sprinkler system installed in West Lincoln today. Fill our our form or call us for your free quote.
Why West Lincoln Residents Choose Blue Jay as Their Sprinkler System Installation Experts
The benefits of choosing Blue Jay include:
Our expert irrigation services are backed by 35+ years of experience and over 5,000 projects.
Get a comprehensive project plan and custom proposal for free.
Blue Jay is recognized as a Rain Bird Select Contractor, Hunter Industries Preferred Contractor, Landscape Ontario Green for Life Company and over a dozen other accreditations.
Over 50 customer reviews online and have an average score of 4.7/5
What Customers Say About Blue Jay Irrigation
Was working on modifying an existing irrigation system at home. Wasn't sure what size of pump should use. Trevor recommended a pump based on his professional knowledge. It turns out great result! Texted him many times night & weekend - Trevor answered every single question! Much appreciate Trevor! Would definitely recommend Blue Jay to anyone.
- Jerry Ju
Everyone we dealt with on the Blue Jay staff were very professional and patient with inquiries throughout the entire process. The installation team was prompt and very efficient in navigating around our yard and implementing our irrigation system. Great job. Thank you Blue Jay.
- Richard Kim
I have always been very satisfied with the service from Blue Jay. From pricing to installation to maintenance they are superior.All of the personnel from the office to the field staff are very professional.I would highly recommend them for all our your Irrigation needs.
- Kelly Cahill