Cambridge Lawn Sprinkler System Experts
Proudly serving Cambridge & area
About Cambridge, Ontario
Cambridge, Ontario is nearby to Kitchener and Guelph located at the junction of Grand River and Speed River. The smaller communities of Galt, Preston, Blair, and others formed to create Cambridge. This land was developed in 1800s and has grown substantially since then to what it is today. The first hospital in the Waterloo County was even opened in the area formerly known as Galt.

Since 1988, the Toyota Motor Manufacturing Canada has claimed the name of the city's biggest employer. Other well-known businesses also reside in the area, including Loblaws Companies Limited, Dare Foods, Frito-Lay, and more.

The city is also a hotspot for filmmakers. The rivers provide ideal scenery and backgrounds for many movie ventures. Films that have been made in the area include John Q, Silent Hill: Revelation, and Flatliners. Notable shows filmed in Cambridge include Murdoch Mysteries and The Handmaid's Tale.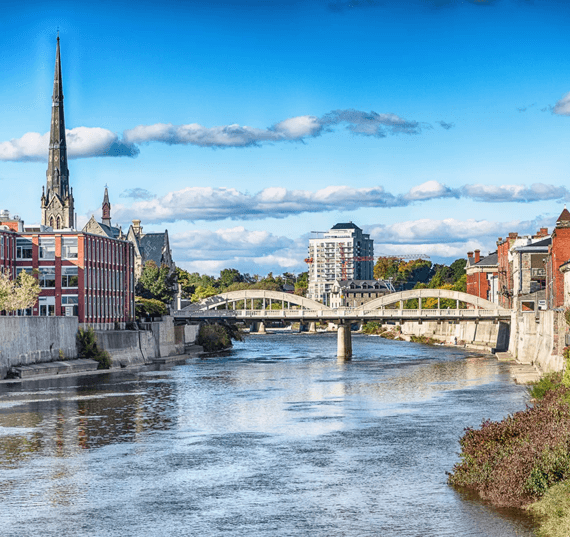 Despite its close proximity to other major cities, Cambridge itself hosts a variety of events and festivals. Some of the most popular of these include:
Mill Race Festival
Rock the Mill
Cambridge Highland Games
The Annual Dragon Boat Festival
The Cambridge Santa Claus Parade
And much more!
The city further has various farmers markets and theatre and art venues for residents to take in and enjoy.

Cambridge has seen vast growth throughout the last decade. And the population continues to grow. Located at the junction of 2 rivers, the city is proud of its outdoor areas and recreation. At Blue Jay Irrigation, we aim to help these green spaces thrive. We offer lawn sprinkler systems services to the Cambridge region and are thrilled to be part of an active and growing community.
Lawn Sprinkler Systems by Blue Jay Irrigation
Blue Jay Irrigation is committed to building a strong and trusted reputation based on customer satisfaction. With over 30 years of experience, our team has installed over 5000 lawn sprinkler systems in Cambridge and the surrounding area. In addition to Cambridge, Blue Jay Irrigation services Brantford, Guelph, Kitchener, Niagara Falls, St. Thomas, London, Waterloo, and more.


The Blue Jay Irrigation team provides full service irrigation - including planning, design, install, and maintenance. These services are available to commercial and residential properties.

Installing a lawn sprinkler system in your Cambridge property ensures your lawn gets the watering it needs - each and every time. In addition, these systems save you time, money, and water. Our systems are installed and designed using high quality materials and via the highest standards of workmanship.
Our regular maintenance services ensure that your system is well maintained and is always functioning its best. We believe everyone deserves to be surrounded by a beautiful, natural, and flourishing environment. Start taking pride in your lawn. Contact the Blue Jay Irrigation team to start your journey toward planning, designing, and installing your lawn sprinkler system in Cambridge. Fill out our form or call us today.
Why Cambridge Residents Choose Blue Jay as Their Sprinkler System Installation Experts
The benefits of choosing Blue Jay include:
Our expert irrigation services are backed by 35+ years of experience and over 5,000 projects.
Get a comprehensive project plan and custom proposal for free.
Blue Jay is recognized as a Rain Bird Select Contractor, Hunter Industries Preferred Contractor, Landscape Ontario Green for Life Company and over a dozen other accreditations.
Over 50 customer reviews online and have an average score of 4.7/5
What Customers Say About Blue Jay Irrigation
Was working on modifying an existing irrigation system at home. Wasn't sure what size of pump should use. Trevor recommended a pump based on his professional knowledge. It turns out great result! Texted him many times night & weekend - Trevor answered every single question! Much appreciate Trevor! Would definitely recommend Blue Jay to anyone.
- Jerry Ju
Everyone we dealt with on the Blue Jay staff were very professional and patient with inquiries throughout the entire process. The installation team was prompt and very efficient in navigating around our yard and implementing our irrigation system. Great job. Thank you Blue Jay.
- Richard Kim
I have always been very satisfied with the service from Blue Jay. From pricing to installation to maintenance they are superior.All of the personnel from the office to the field staff are very professional.I would highly recommend them for all our your Irrigation needs.
- Kelly Cahill