Niagara Falls Lawn Sprinkler System Experts
Proudly serving Niagara Falls & area
About Niagara Falls, Ontario
Niagara Falls is a well-known city in Southern Ontario. Sitting on the western bank of the Niagara River, almost 90 000 people call this community home.

Settled as early as the 17th century, Niagara Falls developed from its signature landmark: the 3 waterfalls that divide the U.S. and Canada. Horseshoe Falls is the largest of the 3 waterfalls and serves as the exact separation between the 2 countries. The falls are an international attraction, bringing millions of tourists into the city every year.

Tourism is one of the major thriving points for the Niagara Falls city. The city grew surrounding the falls, with skyscrapers, observation towers, casinos, theatres, shops, waterparks, and museums. The area is also a great site for individuals interested in the War of 1812. It has immense history and structures from this moment in time.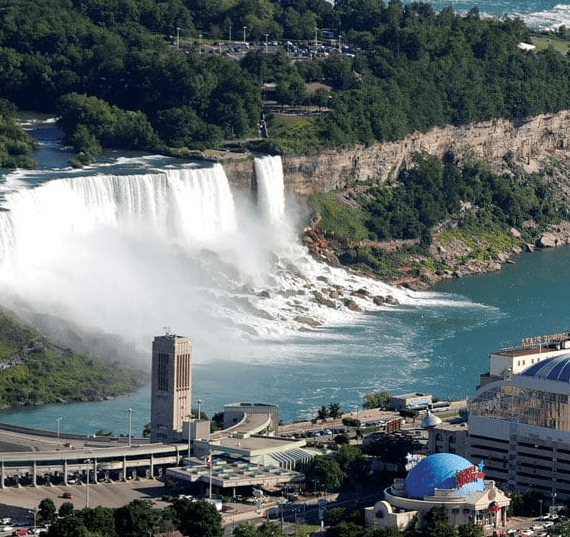 The falls further provide a hydroelectric power sources. Due to this, many companies staked their claim in Niagara Falls to take advantage of this natural resource. Yet, manufacturing slowly moved outward from the city in the 1970s and 1980s. In turn, tourism became Niagara Falls' primary revenue stream.
In 2012, the city saw the creation of the Queen Street Downtown Park. The park includes a playground, soft turf, benches, walking paths, and sculptures. The area further has many events, such as:
The Winter Festival of Lights
The Niagara Integrated Film Festival
The Niagara Icewine Festival
The Niagara Region Jazz Festival
Springlicious
Greater Niagara Home and Garden Show
Niagara Night of Art
And many more!
Niagara Falls is a major entertainment district in Southern Ontario. With an emphasis on cleanliness and various outdoor attractions, residents take pride in their properties.

Blue Jay Irrigation offers quality lawn sprinkler systems in Niagara Falls for residential and commercial properties. Our team takes care of the maintenance so you don't have to.
Lawn Sprinkler Systems by Blue Jay Irrigation
At Blue Jay Irrigation, our company is confident and ready to meet your commercial or residential irrigation needs. Operating out of the London area, our team services Niagara Falls, Sarnia, Waterloo, Hamilton, St. Catherines, Guelph, and more.

We have over 30 years experience and have installed and maintained over 5000 irrigation systems. Our team puts customers first and is committed to high quality products and environmental sustainability.

With your new lawn sprinkler system in Niagara Falls, you can rest assured that your lawn is well-maintained. The built-in timer automatically waters your lawn - covering those hard-to-reach spots and allowing your greenery to thrive. If anything goes wrong, Blue Jay Irrigation offers a full guarantee. This means we're there when you need us.
Our team takes care of the entire process - from planning, design, and install to maintenance and repairs. We are further fully certified and fully insured - giving you that additional peace of mind.

Looking to get your irrigation system installed? At Blue Jay Irrigation, our team is experienced and professional. We are a company you can rely on. Fill out our form or call us today to get your free quote.
Why Niagara Falls Residents Choose Blue Jay as Their Sprinkler System Installation Experts
The benefits of choosing Blue Jay include:
Our expert irrigation services are backed by 35+ years of experience and over 5,000 projects.
Get a comprehensive project plan and custom proposal for free.
Blue Jay is recognized as a Rain Bird Select Contractor, Hunter Industries Preferred Contractor, Landscape Ontario Green for Life Company and over a dozen other accreditations.
Over 50 customer reviews online and have an average score of 4.7/5
What Customers Say About Blue Jay Irrigation
Was working on modifying an existing irrigation system at home. Wasn't sure what size of pump should use. Trevor recommended a pump based on his professional knowledge. It turns out great result! Texted him many times night & weekend - Trevor answered every single question! Much appreciate Trevor! Would definitely recommend Blue Jay to anyone.
- Jerry Ju
Everyone we dealt with on the Blue Jay staff were very professional and patient with inquiries throughout the entire process. The installation team was prompt and very efficient in navigating around our yard and implementing our irrigation system. Great job. Thank you Blue Jay.
- Richard Kim
I have always been very satisfied with the service from Blue Jay. From pricing to installation to maintenance they are superior.All of the personnel from the office to the field staff are very professional.I would highly recommend them for all our your Irrigation needs.
- Kelly Cahill