Niagara on the lake Lawn Sprinkler System Experts
Proudly serving Niagara on the lake & area
About Niagara on the lake, Ontario
Located along the Niagara Peninsula where the Niagara River intersects with Lake Ontario, Niagara-on-the-Lake was interestingly the first capital in the Province of Upper Canada.

The area was settled as early as 1781. Originally called Newark, the area consists of many historic sites dating back to the War of 1812. There are various military buildings still standing including Fort George, the Navy Hall, and the Butler's Barracks. Laura Secord's name and claim to fame is even connected to this area and community.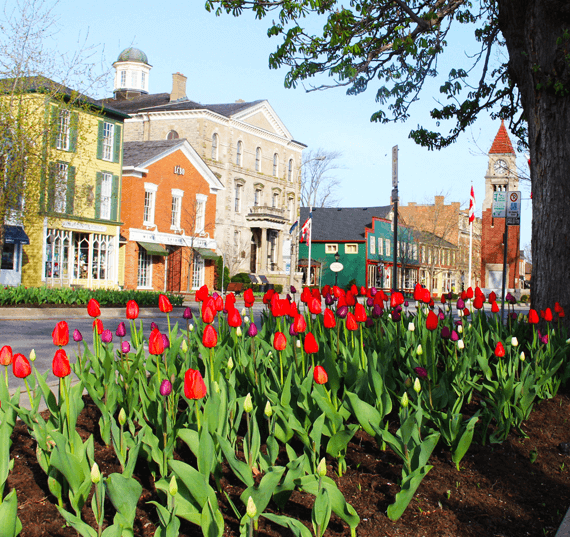 The region also has the oldest Catholic and Anglican Churches in Ontario. It is also home to the oldest golf course in North America, the Niagara Golf Club.

Niagara-on-the-Lake further served as a stop in the Underground Railroad System.


In present day, the area is a popular spot for tourism, retirees, and wine enthusiasts. It is a quintessential spot with older colonial buildings, situated close to the greater Niagara Falls area.

Niagara-on-the-Lake takes pride in their annual Shaw Festival. This festival consists of many theatrical productions from April to November every year. It runs out of three local theatres, including the Royal George, the Festival, and the Court House.

Art is also highly recognized in the community. Residents and visitors frequent the RiverBrink Art Museum, which has over 1400 artifacts and pieces of artwork. Many films have also been done in the area.

The residents in the area further take pride in their natural surroundings, including the Queen's Royal Park located on the shores on Lake Ontario. Residents enjoy the natural beauty, water sports, picnics, and other outdoor activities in this quaint and ideal spot.

At Blue Jay Irrigation, our team understands the importance of a well-maintained lawn and outdoor space. It provides an area for gatherings and relaxation. Thus, the Blue Jay Irrigation team is proud to provide lawn sprinkler systems to the Niagara-on-the-Lake community. A lawn sprinkler system ensures your lawn thrives and grows.
Lawn Sprinkler Systems by Blue Jay Irrigation
Blue Jay Irrigation first opened in 1982. Owned and operated out of London, Ontario, our team strives to deliver the best in all your lawn sprinkler system needs in Niagara-on-the-Lake. We service a variety of communities in Southwestern Ontario including Cambridge, Brantford, Guelph, Kitchener, St. Thomas, Stratford, Waterloo, Windsor, Niagara, Woodstock, and more.

At Blue Jay Irrigation, our team takes pride in their work. We maintain the highest standards regarding irrigation systems and customer service. Regarding lawn sprinkler systems in Niagara-on-the-Lake, we provide full irrigation services. We cover all phases, including planning, design, install, and maintenance. Our team further covers commercial and residential properties for lawn sprinkler systems in Niagara-on-the-Lake.

With over 30 years experience and 5000 irrigation systems installed, we are confident in our ability to provide the best irrigation services possible. We use only quality materials, the latest technology, and we maintain the highest standards of workmanship.
With each lawn sprinkler system installed in Niagara-on-the-Lake, a built-in timer ensures optimal watering at an optimal time. Our regular maintenance plans ensure your system is running its best always. Regular maintenance and a built-in timer also save you money and time. You won't have to worry about watering your lawn or property anymore, and you can rest assured knowing you aren't using more water than necessary.

At Blue Jay Irrigation, we firmly believe that everyone deserves to be surrounded by the natural beauty that this planet has to offer. We want you and your family to be able to enjoy your outdoor space. Contact us or fill out our form to get your lawn sprinkler system installed in Niagara-on-the-Lake today. Our team is ready to help you and meet your needs.
Why Niagara on the lake Residents Choose Blue Jay as Their Sprinkler System Installation Experts
The benefits of choosing Blue Jay include:
Our expert irrigation services are backed by 35+ years of experience and over 5,000 projects.
Get a comprehensive project plan and custom proposal for free.
Blue Jay is recognized as a Rain Bird Select Contractor, Hunter Industries Preferred Contractor, Landscape Ontario Green for Life Company and over a dozen other accreditations.
Over 50 customer reviews online and have an average score of 4.7/5
What Customers Say About Blue Jay Irrigation
Was working on modifying an existing irrigation system at home. Wasn't sure what size of pump should use. Trevor recommended a pump based on his professional knowledge. It turns out great result! Texted him many times night & weekend - Trevor answered every single question! Much appreciate Trevor! Would definitely recommend Blue Jay to anyone.
- Jerry Ju
Everyone we dealt with on the Blue Jay staff were very professional and patient with inquiries throughout the entire process. The installation team was prompt and very efficient in navigating around our yard and implementing our irrigation system. Great job. Thank you Blue Jay.
- Richard Kim
I have always been very satisfied with the service from Blue Jay. From pricing to installation to maintenance they are superior.All of the personnel from the office to the field staff are very professional.I would highly recommend them for all our your Irrigation needs.
- Kelly Cahill