Sarnia Lawn Sprinkler System Experts
Proudly serving Sarnia & area
About Sarnia, Ontario
Sarnia the biggest city located on Lake Huron in Southwestern Ontario. The city is well-known for its International Symphony Orchestra. The orchestra has put Sarnia on the map as an artistic focal point in Canada.
Sarnia was first established as a city in 1914. The area where Lake Huron meets the St.Clair River offered an ideal spot for settlement. Since then, it has grown significantly. The population of Sarnia sits just above 70 000 people. The port is now a critical location for big ships and freighters responsible for the transportation of petroleum and grain.
The petroleum industry was a huge contributor to Sarnia's growth in the late 1800s. Salt caverns and oil springs surround Sarnia. The city was the first place in North America to commercially drill oil.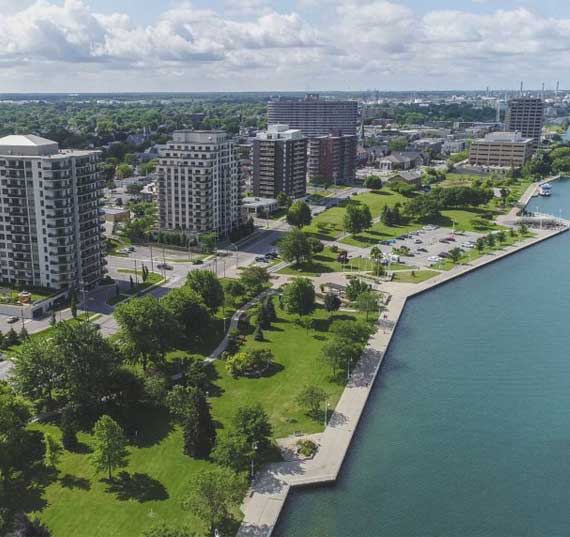 The city's proximity to Toronto and Detroit offers residents the opportunity to take advantage of events and entertainment options in bigger cities. However, Sarnia itself also has plenty of festivals and events.
From September to April, the International Symphony Orchestra plays at its home Imperial Theatre. Other entertainment in Sarnia includes the Sarnia Bayfest and the Celebration of Lights. The town also has over 6 museums, including various art galleries and historical monuments.
Sarnia has an abundant of outdoor sites. It's home to over 100 parks. Canatara Park is located along Lake Huron and covers over 200 acres. These parks are great for walking, hiking, birdwatching, and family picnics. The Great Lake Waterfront Trail runs through Sarnia and has many beaches, trails, wetlands, and forests.
At Blue Jay Irrigation, we understand the importance of maintaining your natural environment. Our trusted and experienced team offers lawn sprinkler systems to the Sarnia area. Choose a company that you can rely on.
Lawn Sprinkler Systems by Blue Jay Irrigation
Blue Jay Irrigation has been in business for over 30 years. Our experienced field technicians have planned, designed, installed, and maintained over 5000 lawn sprinkler systems in Sarnia and surrounding areas. Based in London, Ontario, Blue Jay Irrigation is privately owned and operated.
Our team aims to deliver the best customer experience possible. Our core values include putting each customer first. We place emphasis on our integrity and reputation. With our history, we are confident in our systems. We constantly are on the lookout for the best technology and quality products and tools so that we can do our job the best way possible.
Our lawn sprinkler systems in Sarnia are available for residential properties, commercial properties, and golf industry experts. A properly installed irrigation system can save you money and time. You can sit back and relax knowing your lawn is being properly taken care of. With a high quality system, you save on water consumption and ensure that your lawn receives the most effective watering each and every time.
At Blue Jay Irrigation, we have full irrigation certification and are fully insured. We offer a full guarantee on all our services, putting you - the customer - first. We consider ourselves environmental stewards. This means our goal is to help your lawn grow and prosper. Choose an experienced and trusted company. Contact us at Blue Jay Irrigation. Fill out our form or call us, and get your free quote today.
Why Sarnia Residents Choose Blue Jay as Their Sprinkler System Installation Experts
The benefits of choosing Blue Jay include:
Our expert irrigation services are backed by 35+ years of experience and over 5,000 projects.
Get a comprehensive project plan and custom proposal for free.
Blue Jay is recognized as a Rain Bird Select Contractor, Hunter Industries Preferred Contractor, Landscape Ontario Green for Life Company and over a dozen other accreditations.
Over 50 customer reviews online and have an average score of 4.7/5
What Customers Say About Blue Jay Irrigation
Was working on modifying an existing irrigation system at home. Wasn't sure what size of pump should use. Trevor recommended a pump based on his professional knowledge. It turns out great result! Texted him many times night & weekend - Trevor answered every single question! Much appreciate Trevor! Would definitely recommend Blue Jay to anyone.
- Jerry Ju
Everyone we dealt with on the Blue Jay staff were very professional and patient with inquiries throughout the entire process. The installation team was prompt and very efficient in navigating around our yard and implementing our irrigation system. Great job. Thank you Blue Jay.
- Richard Kim
I have always been very satisfied with the service from Blue Jay. From pricing to installation to maintenance they are superior.All of the personnel from the office to the field staff are very professional.I would highly recommend them for all our your Irrigation needs.
- Kelly Cahill