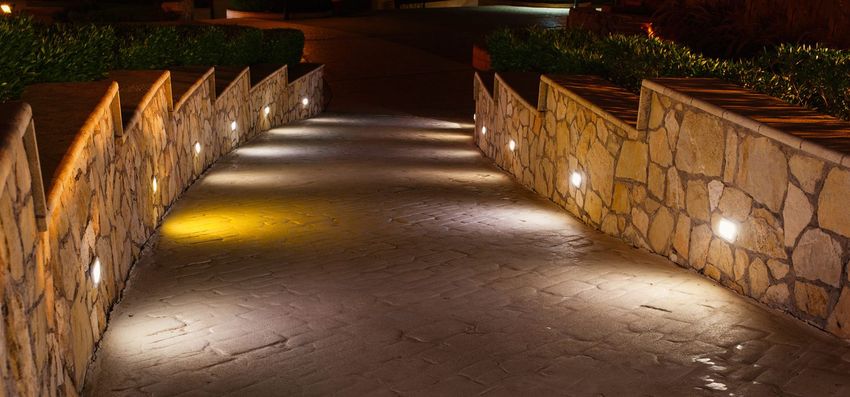 Lighting up your walkway is one of the best ways to add something extra to your yard that's incredibly functional. There are so many ways you can add some landscape lighting to your front or back yard that will accent any pathways that need to be illuminated. Let's have a look at 8 different ways you can light up the night. 
1. Inground lights
These are also sometimes called "well lights" and they're great for people who are looking for a long-lasting solution that looks very sophisticated. These can be found in various shapes and different brightnesses so look at where the lights will be installed before you choose which ones you like the best. They can be placed almost anywhere where you're able to dig into the ground a few inches. 
LED options are a great idea and they're relatively easy to install plus they can be easily found at most hardware stores. They're fairly inexpensive but provide you with a very crisp and clear light. If you're planning on lighting an area that might get run over by your car or other larger equipment then look for a light that has a proper weight limit. 
Inground lights can light a path very well if they're installed close enough together but they also work well for decorating a driveway or lighting up a gorgeous garden at night. 
2. Garden lights
Garden lights are the most commonly used lights to illuminate a path based on their availability and the amount of light they produce. These lights are typically made to be easily installed and user-friendly with many available on the market that doesn't require much maintenance at all. 
Solar garden lights are one of the best ways to light up your garden and path for a long time at a great price. They are available at most hardware stores and even some dollar stores and they use the sun's natural light to store up energy for the night. They usually don't require the user to turn them on or off every night as they're activated by the brightness outside, plus they are usually wireless. 
The lights can come in many different styles and sizes so try sticking to a set that's around a foot or so off the ground for the best coverage on a path. If your set requires wiring then try your best to hide the wires underground or in plastic tubing to keep off any critters and help with weather damage.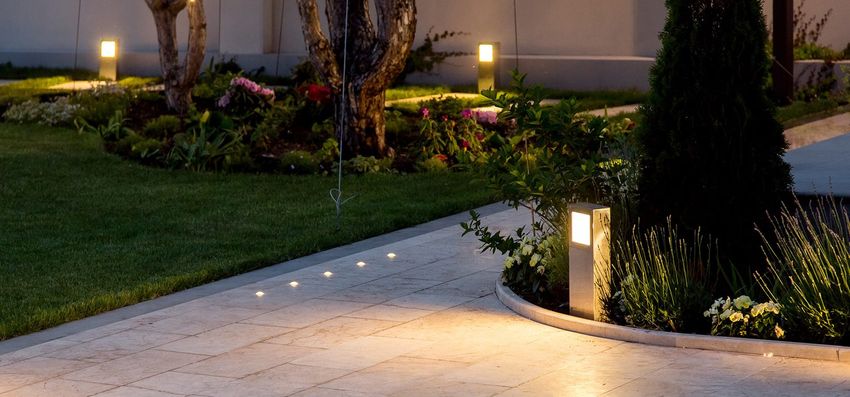 3. Downlights
If you're looking at lighting the path from above the downlights are your best bet. A path that's lined with trees or close to the side of the home can benefit from these easy-to-install lights. 
A downlight is a light that's focused on a specific spot from above, similar to a floodlight but without a large spread. They can be installed on trees, fences or your home and pointed to the area that needs to be illuminated. They're easy to set up and move if need be plus they're usually motion activated. 
A motion-activated light will help you out on your bills and help your mind stay at ease. These are perfect for anyone who wants your lights to double as a security feature.  
4. Step lights
Lighting up the path to your home is helpful for anyone coming to your front door but you can't forget to light those tricky stairs. Step lights are great for lighting up any stairs the other lights can't quite reach.
Most step lights are installed on a wall beside the stairs or on the front of the stairs underneath the lip so it doesn't get easily kicked. These little lights are often wireless and easy to install so you can make sure your stairs are safe to walk on at night. They can be found at many hardware stores and they're relatively inexpensive. 
Make sure to measure the area you're placing them and check the amount you need before you purchase. The lights should fit easily underneath the lip of the stair or be small enough that they're not getting in the way when you're using the steps.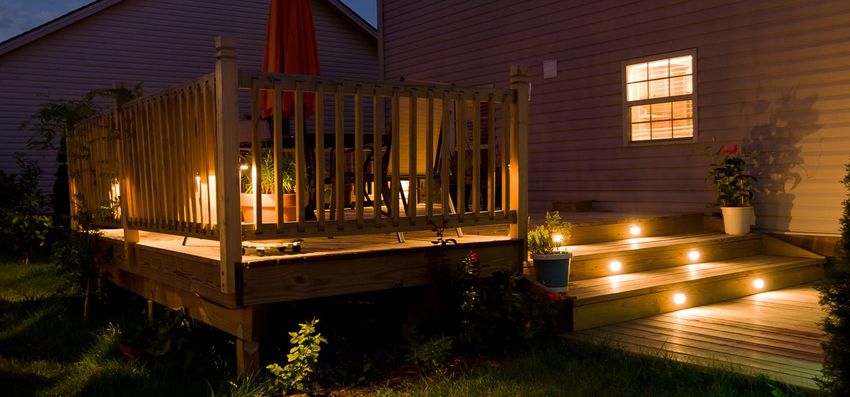 5. Bollard lights
A bollard light is a light where the beam is 360 degrees so it lights up the surrounding area as much as possible instead of focusing on one spotlight the downlights. These are great for large areas that need to be illuminated. They are often used as the beginning or end of a path because they provide so much light but you can use them any way you like. 
These are ideal for areas like driveways or wide paths because you don't need many to light up a large area. The only downside to bollard lights is that they may give off too much light and end up causing a glare instead of a glow. To keep your light focused in the right area, get a bollard light with a low wattage bulb or one that has a top so the light isn't focused upwards. 
Bollard lights come in so many different styles from rustic-looking to sleek and modern. If you're looking at installing bollard lights then stick with the same shape, colour and style of your home to make the lights look flawless. 
6. Floodlights
If you want to light up an entire yard or a very large area then floodlights are the answer. These are the biggest and brightest beam spread so you will be able to see as much as possible with these. For some yards, small lights just won't do the trick when it comes to lighting your path so installing a high-placed floodlight is the best option.
Because floodlights often take up more power than other low-wattage bulbs, it's a good idea to get one that has a motion sensor attached. This way your light can also act as added security for your home, garage or even just your garbage cans. 
These lights are easy to find at any hardware store and they're usually easy to install. If you choose a motion sensor option then be sure to test its effectiveness. Some can be adjusted to come on with more or less movement so make sure it's working properly before you rely on it.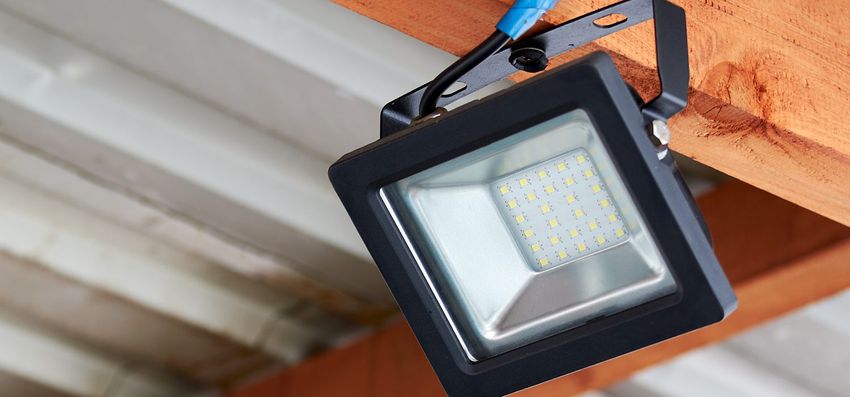 7. Use a combination
Lighting up your sidewalk is a great way to show off your home and keep everyone outside safe so make sure to use the right lights for the right areas. Using a combination that's suited to your yard is a great way to make sure to get the most out of your lights. 
Use something large like a bollard light for the beginning of your sidewalk or the edges of your yard, then light the path itself with low-level garden lights so you can see where you're stepping. At the front door, use a motion-activated floodlight or downlight, along with step lights for any stairs that you might have. 
The backyard is where well lights work the best (they're often darker as they are away from regular street lights) and they're perfect for lighting up paths into the garden or to the back door. If you want the backyard lit up entirely then skip the smaller lights and set up a few floodlights instead. 
8. Get a lighting system
If you want to go the extra mile and make sure your lights are going to last you as long as possible then install a smart lighting system that has wifi capabilities. The high-end systems used LED bulbs that are connected to your internet so you can adjust everything at the push of a button. You can adjust which lights are on, the brightness and sometimes even the colour from your phone. 
This is the best way to go for the best effect overall and it will likely last you longer than installing different lighting all over the yard. IF you entertain guests or take pride in your landscaping then you want to have lights that can be adjusted accordingly. It's also great for anyone who doesn't want the hassle of manually turning your outdoor lights off and on. 
Another great aspect of a lighting system that has coloured options is that it eliminates the need to put up holiday lights every year. Simply adjust the colour setting to whatever holiday colours you prefer and you won't need to worry about hanging up extra lights.  
All of these lighting styles are great for lighting up a path or even a driveway and they'll make your house look upgraded and sophisticated. . If you're looking at installing a larger lighting system then make sure to choose the right style of lights for the area you need to be lit up. If you choose the right light for the right area then you'll be happy with your yard and feel safe for years to come.