Mississauga Lawn Sprinkler System Experts
Proudly serving Mississauga & area
About Mississauga, Ontario
Located on the shores of Lake Ontario, Mississauga sits slightly south of the Greater Toronto Area. It offers a beautiful suburban area close to a major city full of life and entertainment.

Incorporated in 1974, Mississauga is a thriving city filled with its own prosperous businesses and activities. It's growth is primarily due to its close proximity with Toronto. Yet, 60 Mississauga companies made the Fortune 500. Main industries in the area include finance, pharmaceuticals, electronics, computers, transportation, and much more.

The area is named after First Nations called the Algonquian Mississaugas. The area grew in part due to the expansion and development of Toronto. The city grew even further with the development of the Pearson Airport, which soon became one of the busiest airports in Canada.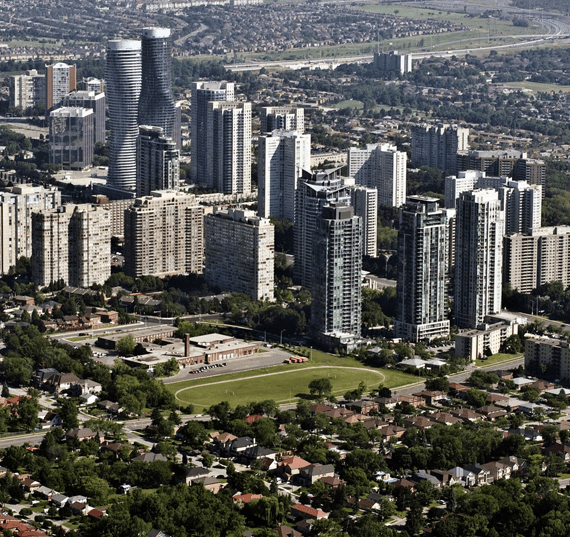 Mississauga is well-known for its multiculturalism. There are over 20 languages spoken throughout the area, with English spoken as a single mother tongue by about 47% of the general population.
Residents in the area look forward to various annual events and festivals throughout the year. The most notable of these include the following:
Canada Day Celebrations
Ribfest
New Year's Eve Bash
Tree Lighting Ceremony
Carassauga
Fiesta Ng Kalayaan
Summerfest
Muslimfest
Mosaic Festival
Bread and Honey Festival

Carassauga is the second largest cultural festival in the country. It typically takes place in mid-May, and displays various cultures from around the world. Mosaic Festival is also worth noting as it is the largest South Asian arts festival on the continent.

Residents and visitors further enjoy the festivals and events that take place in Toronto. It takes less than 40 minutes to commute between the 2 areas.

The area also sees a more mild climate - especially compared to other parts of Ontario. In the summer months, residents take pride in their lawns and greenspace. The conditions are ideal for lawn sprinkler systems, which ensure that your lawn is flourishing and green. At Blue Jay Irrigation, our team is proud to service the Mississauga area. We strive to meet the needs of each and every customer - giving you a lawn you can be proud of.
Lawn Sprinkler Systems by Blue Jay Irrigation
Blue Jay Irrigation opened its doors in 1982. Since then, our team has proudly installed over 5000 irrigation systems across Southwestern Ontario. Our company doesn't only offer service to the Mississauga area, but also provides lawn sprinkler system installation and maintenance to Brantford, Cambridge, Guelph, Goderich, Kitchener, Niagara Falls, London, Sarnia, St. Thomas, and more.

At Blue Jay Irrigation, our team sticks to the highest standards involved in irrigation system installation and maintenance. We place a high value on customer service and know that our customers are the reason behind our continual success.

Our team provides full service irrigation. We plan and design, as well as install and maintain current systems.
Lawn sprinkler systems in Mississauga are a popular choice for many residents. It takes care of watering your lawn - so you don't have to. We further provide services for commercial and residential properties using only quality materials and the highest standards of workmanship. We consider ourselves stewards of our environment.

Each lawn sprinkler system in Mississauga comes with a built-in timer. This gives you a peace of mind, even when you aren't at home. A sprinkler system can further reduce your water consumption and save you time and money.

Find out how we can help with your lawn sprinkler system design, install, or maintenance in Mississauga. Contact our expert team today. We are ready to help you!
Why Mississauga Residents Choose Blue Jay as Their Sprinkler System Installation Experts
The benefits of choosing Blue Jay include:
Our expert irrigation services are backed by 35+ years of experience and over 5,000 projects.
Get a comprehensive project plan and custom proposal for free.
Blue Jay is recognized as a Rain Bird Select Contractor, Hunter Industries Preferred Contractor, Landscape Ontario Green for Life Company and over a dozen other accreditations.
Over 50 customer reviews online and have an average score of 4.7/5
What Customers Say About Blue Jay Irrigation
Was working on modifying an existing irrigation system at home. Wasn't sure what size of pump should use. Trevor recommended a pump based on his professional knowledge. It turns out great result! Texted him many times night & weekend - Trevor answered every single question! Much appreciate Trevor! Would definitely recommend Blue Jay to anyone.
- Jerry Ju
Everyone we dealt with on the Blue Jay staff were very professional and patient with inquiries throughout the entire process. The installation team was prompt and very efficient in navigating around our yard and implementing our irrigation system. Great job. Thank you Blue Jay.
- Richard Kim
I have always been very satisfied with the service from Blue Jay. From pricing to installation to maintenance they are superior.All of the personnel from the office to the field staff are very professional.I would highly recommend them for all our your Irrigation needs.
- Kelly Cahill