St. Catharines Lawn Sprinkler System Specialists
Proudly serving St. Catharines & area
About St. Catharines, Ontario
Nicknamed 'The Garden City,' St. Catharines offers a variety of gardens, trails, and parks. Most notably, Montebello Park holds the biggest rose collection in the city. St. Catharines is positioned between Toronto and Hamilton in Southern Ontario. Lake Ontario borders the city to the North. It is the largest city in the Niagara region, and is the 6th largest city in Ontario. It covers a vast 96 square kilometres, and is home to over 130 000 residents.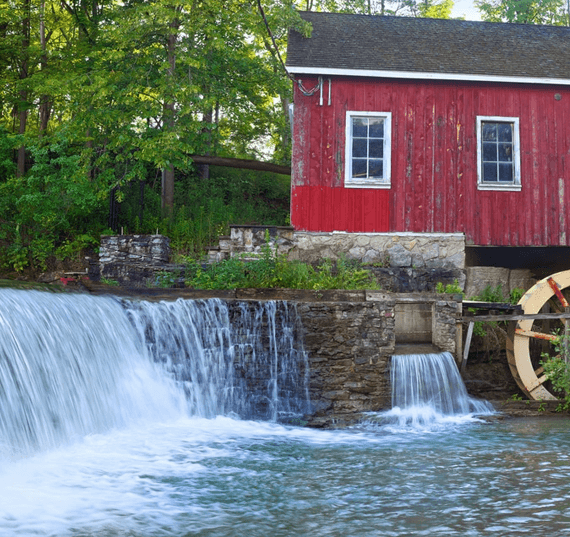 St. Catharines further has a thriving economy. This is attributed partially due to its development history. The building of the Welland Canal set the city as a major commercial hub. The canal passes directly through the city, with 4 locks situated within the city boundaries. Today, manufacturing continues to be the primary industry. General Motors, until recently, was the main employer of many the city's residents. Yet, manufacturing continues to play a big role in employment and development opportunities in the area. St. Catharines also has a wide telecommunications industry. In part, this is due to its proximity to the U.S.A-Canada border. Brock University was established in 1964. As a result, the city comes alive during the school months between September and April. The school also boasts about its cool-climate and wine research - which has established it as a major educational facility for future vineyard and wine specialists. Residents in St. Catharines enjoy many annual festivals and events. These include:
The Folk Arts Festival
The Art of Peace Festival
The Niagara Grape and Wine Festival
The Scene Music Festival
The International Chicken Chucking Championships
These events take place throughout the year offering variety and entertainment through all 4 seasons. Alongside exciting events, St. Catharines has many restaurants, sporting events, theatre shows, and more! It's not surprising that residents refer to themselves as St. Cathariners. Blue Jay Irrigation is proud to be part of the St. Catharines community. As part of this beautiful community, our team knows the importance that the city and people place on the gardens and green space. Lawn sprinkler systems in St. Catharines continue to allow the city's beauty to flourish. To meet these needs, our team at Blue Jay Irrigation has established ourselves as leaders in providing quality and efficient lawn sprinkler systems in St. Catharines and the surrounding areas.
Lawn Sprinkler Systems by Blue Jay Irrigation
Blue Jay Irrigation provides affordable, quality, and reliable lawn sprinkler systems to the St. Catharines community. Our services cover install, maintenance and repairs, irrigation supplies and tools, and much more. We've been servicing commercial and residential properties in Southern Ontario for over 30 years. Our vast experience and professionalism is tough to beat. Our team aims for the highest level of customer satisfaction. We offer a full guarantee on all our irrigation services - meaning if anything goes wrong, we've got you covered. Our company is fully insured and certified to meet your irrigation needs.
With a built-in irrigation system, you won't have to worry about watering those hard-to-reach spots. At Blue Jay Irrigation, our lawn sprinkler systems in St. Catharines are efficient and trustworthy. They have a timer that automatically waters your lawn when it needs it the most. We use the latest technology and the highest quality products to help your lawn flourish. For more information, contact us today. Or fill out our form for your free quote.
Why St. Catharines Residents Choose Blue Jay as Their Sprinkler System Installation Experts
The benefits of choosing Blue Jay include:
Our expert irrigation services are backed by 35+ years of experience and over 5,000 projects.
Get a comprehensive project plan and custom proposal for free.
Blue Jay is recognized as a Rain Bird Select Contractor, Hunter Industries Preferred Contractor, Landscape Ontario Green for Life Company and over a dozen other accreditations.
Over 50 customer reviews online and have an average score of 4.7/5
What Customers Say About Blue Jay Irrigation
Was working on modifying an existing irrigation system at home. Wasn't sure what size of pump should use. Trevor recommended a pump based on his professional knowledge. It turns out great result! Texted him many times night & weekend - Trevor answered every single question! Much appreciate Trevor! Would definitely recommend Blue Jay to anyone.
- Jerry Ju
Everyone we dealt with on the Blue Jay staff were very professional and patient with inquiries throughout the entire process. The installation team was prompt and very efficient in navigating around our yard and implementing our irrigation system. Great job. Thank you Blue Jay.
- Richard Kim
I have always been very satisfied with the service from Blue Jay. From pricing to installation to maintenance they are superior.All of the personnel from the office to the field staff are very professional.I would highly recommend them for all our your Irrigation needs.
- Kelly Cahill