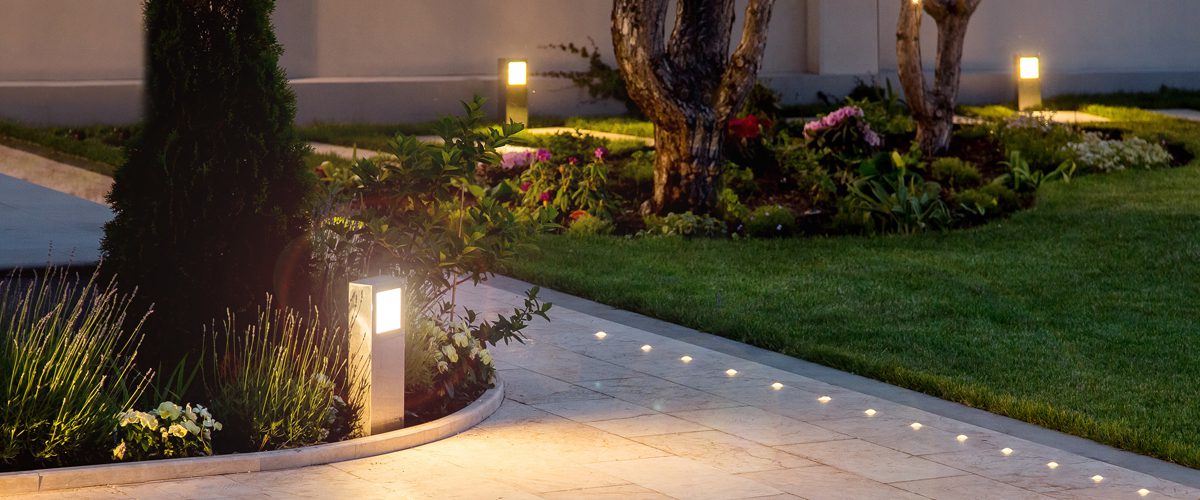 Adding some extra lighting to your yard is one of the best ways to highlight your favourite areas. It's also one of the easiest ways to provide some additional illumination to high-traffic areas to allow people to see where they are going. If you want to add some ground lights to your yard but don't know where to start, have a look at this great article to see the definitive guide to the best outdoor ground lights. 
Outdoor lights can be used in many ways, and you can even double up with varying styles of light in the same area if you want a good amount of illumination. First, we'll talk about the most common ground lights that have been popular in the last few years; then, we'll go through your yard and tell you which areas work best with specific lights. 
TIP: Make sure you look into the rules and regulations for your home before you start planning landscape lighting. Some areas have laws in place to ensure there is no light pollution, and others might have limitations from your HOA, so make sure you double-check the regulations in your area.
In-Ground Lights
There are many different names for these lights, and they have become incredibly popular for so many reasons. These lights sit flush or close to the ground, and they are designed to provide light upwards while remaining hidden from view. These lights are usually designed to be staked into the ground, and many of them are solar-powered. 
Try: The Fidelio Low Voltage Landscape Lights 12W Warm White Outdoor In-Ground Lights for a fantastic set of lights that give off a good amount of illumination. These lights are so versatile, and you can use them in various spots around your yard.
Spotlights
Spotlights are ideal for highlighting your amazing landscaping or focusing attention on your beautiful home. They're typically raised above the ground, and they have a shield that surrounds the bulb to aim the light into one specific area. These lights come in a variety of styles, so you can choose one that suits your yard without worrying it will be too distracting. 
Try: Hampton Bay 50 Lumen Solar Powered Integrated LED Outdoor Spotlight in Black is an incredible option that would suit many outdoor lighting schemes. These lights have a solar panel on the top, so you don't have to worry about batteries or annoying cords. 

Stake Lights
Many lights come with stakes on the bottom, so you can easily root them into the ground. The most common stake light is a small lantern that has a small spread of light. These lights are quite common, as they are very versatile. People also prefer these lights because they are often inexpensive and solar-powered, which means they are very low maintenance. 
Try: Cinoton Black Low Voltage Integrated LED Pathway Lights for a great set of lights that won't end up using too much energy. These lights are one of the best solar ground lights for the outdoors, and they look remarkable. 
Novelty Lights
People have started to step out of the box when it comes to outdoor lighting in the last few years. There are plenty of amazing ways you can use ground lights to give some whimsy and fun to your yard, while providing it with enough illumination to highlight the areas you enjoy. 
Try: Modern Home LED Glowing Sphere w/Infrared Remote Control (available at Walmart.ca) is a fun option that can be used in many ways. These lights can be placed in your garden for a fun effect, or you can even use them in your pool to create some extra ambiance. 

Uplights
A common trend is to use uplights for areas in their yards where you want the illusion of light coming upwards from the ground. These are great when they're used against the side of a home or when multiple are used to highlight a larger tree.
Try: Philips Hue White and Color Ambiance Lily Outdoor Spotlight Base Kit for a great adjustable option. You can mount the lights anywhere and adjust the colour in an instant. These are fantastic options for anyone who wants to adjust their lighting to match the holidays. 
Step Lights
Step lights are a cute and clever way to make sure your steps have enough light to make sure they are safe. These lights are often placed on the underside of the stair or on the sides so that they can light up the whole step. Many yards have dark spots that make it difficult to find your footing, and if stairs are involved, that's a recipe for a twisted ankle, so lighting them is a great way to prevent any issues. 
Try: MOONRAYS Wall Mount Round Solar Deck/Step Light (available at Home Hardware) is a gorgeous option that can be easily hidden under your stairs. They are solar-powered, which means you won't have to worry about their batteries running out when you really need to see them. 
Bollard Lights
Bollard lights are similar to stake lights, but they are typically taller and wider, which allows them to be used in areas that need more light. People usually use these lights on their driveways or at the beginning of a pathway to provide an extra layer of light that is slightly higher and wider than a standard stake light. 
Try: The inowel Metal Pathway Light (available on wayfair.ca) is a fantastic option for a sleek-looking bollard light that is perfect for pathways. They look great, and the design goes well with most modern homes' styles. 

What Lights Go Where?
Let's take a walk through your front and backyards so that we can get a good idea of which lights work best. If you have questions like "what are the best outdoor solar ground lights for sidewalks?" or "where should bollard lights be placed?" then you should do some research before buying your landscaping lighting. Check out some of these great ideas for each area of your yard so you can figure out what are the best ground lights for each space. 
Driveway
If you have a long driveway, lining it with bollard lights is going to be one of the easiest ways to make sure your drivers stay on the path. They are great for giving off quite a bit of light, and they look fantastic. If your driveway is a little shorter, using a set of twin bollard lights on either side of the entrance will also be helpful for guiding drivers into the space. 
Pathway
Many homes have a pathway from the driveway or sidewalk that leads to the home. The easiest way to provide people with a safe way up to your home is by using stake lights or flush lights to line the area. These lights are easily adjustable, so you can change them up if you end up redesigning your yard. For wider or longer pathways, look at a few bollard lights for a "less is more" approach.
Front Garden
Your front garden is a great place to use different lighting schemes to highlight different areas. Using different levels of light will add varying degrees of shadow, which creates a 3D look from every angle. You can use novelty lights to add some extra fun to the area, or bring in some uplights to highlight some of your larger plants.
Front Yard Trees
Uplights and spotlights are the best ways to make the trees in your yard look incredible. Using multiple lights will highlight your trees in the best way possible and create a dramatic look. It's a good idea to look at your lighting from every side to make sure you have your upward lighting placed in areas that are hitting the trees properly. 
Back Garden
The back garden is the perfect place to have a bit of fun with your lighting. You can use novelty lighting to add some whimsy to your garden, or line the whole area with smaller stake lights to highlight everything evenly. If you want to highlight taller areas, you can also consider placing spotlights for your trees.
Backyard Pathways/Stairs
Pathways and stairs will also need to be lit carefully, so you should make sure you are placing enough lights with a wide enough spread to cover the entire area. The backyard is the perfect place to go all out, as it's usually much darker than the front of your home, so you can get away with using a bit more.  
There are so many amazing ways you can use outdoor lighting to enhance some of the best areas in your yard. The best way to check your setup is to install it at night, so you can see where the lights are shining the best. Outdoor lighting can take your home from boring to beautiful if you choose which lights to use and where you should put them, so it's a good idea to make sure you figure out a few options for each area.