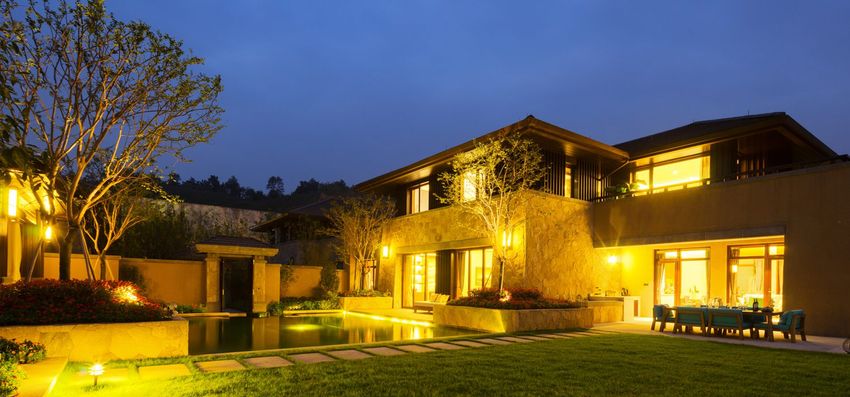 There are so many different reasons to add some amazing new landscape lighting to your backyard area. With so many options available, it can be difficult to figure out which lights will work the best for your yard. Whether you want it just to highlight your beautiful landscape or you're adding some lights to spend a few extra hours in your backyard at night, there's a lighting solution that will work for you but make sure to browse this list of things to consider before you start planning.
1. Consider the size of your yard
One of the first things to look at is the size of the area you'd like to light up and what you're looking to highlight. A small yard is easy to light up but a larger yard will require a bit more work.  You'll likely need different styles of lights for different areas so choose one place to work on first. 
You might want to start with an area like your porch or garden then expand on things afterward if you're looking to add lights just for aesthetics. If safety is your main concern then start with anything that needs to be seen such as pools, paths and stairs. Once these areas can be seen well at night, you can start working on other areas of the yard.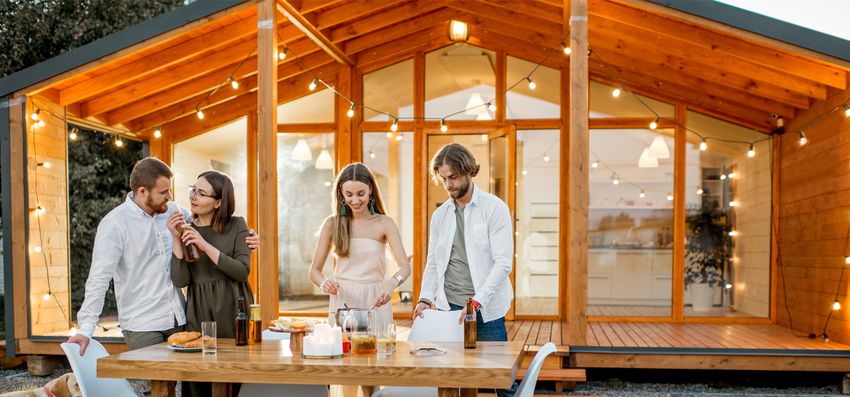 Different light styles will give off different amounts of light so look into what type of lights you'll need. A small yard can do well with some string lights and smaller stake lights for the garden but a large yard will need more lights in higher areas like floodlights or bollard lights to highlight areas a bit better. Having a plan in place before you start to purchase will save you money and time. sensor light is a great idea to keep away anything unwanted from your yard. Floodlights and spotlights are the most common lights used for these and they're relatively easy to install. Make sure it's pointed at the area you'd like illuminated and test it out yourself at night before you rely on it. 
If you just want lights to add something extra to your backyard then look for lights that will match the backyard's natural style. If you're in doubt, string lights with low wattage Edison bulbs are great for almost any yard and they can usually be plugged into an existing outlet for a quick and easy install. For gardens, solar-powered stake lights are great and they only take a few seconds to install. 
2. Consider the places you're able to install them
When you've decided what style of light you want for your yard, check out the places you're able to place them. Wireless lights can be placed almost anywhere that's close enough to the signal they need to be on but a wired set will need to be installed a little closer to the home to make sure it receives power. 
Also, try to avoid areas with settled water or areas that tend to get loose soil after rain, especially if you're using well lights to light up a path or garden.  Outdoor lights are made to withstand weather but any additional wear and tear will make their life a little shorter. If they're sitting in water for a long period then they won't work nearly as well as lights that were installed in dryer soil. 
If you're looking to light up the whole backyard with just a few lights then check out what trees and high areas are available for lighting to be attached to. The higher the lights are, the bigger the area they will light up. Floodlights placed low on trees will only light up what's below them so get out that ladder and place them as high as you need. 
3. Consider your budget
With so many different lighting options available, it can be easy to assume you need every style and function to make your backyard's lighting system work the best for you. This can become expensive very quickly but it can help your home's value in the long run.
If you don't want to invest in a whole system for your home then just work on one spot at a time or start with inexpensive lights and upgrade as you go. We talked already about making sure to get any safety issues taken care of before you start on adding lights for looks and investing in your safety lights is the best idea. This is more likely to add value to your home, especially in areas like pools.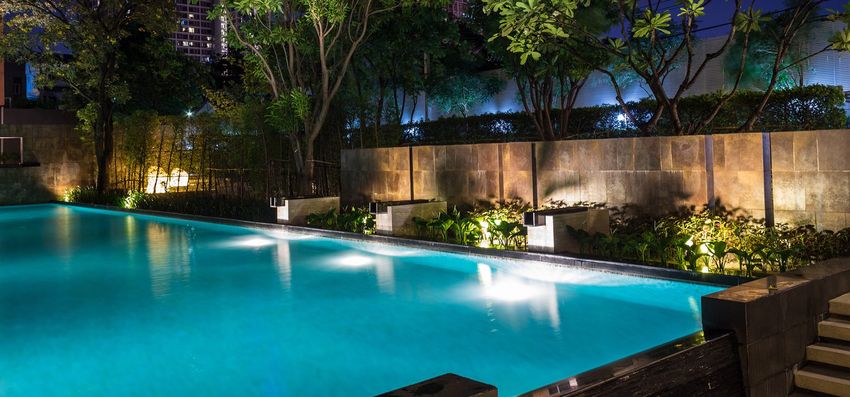 4. Look into a full lighting system 
If you want to go all out then look at getting a professionally installed system that's wifi enabled. With these systems, you can adjust your lights and sometimes even change the colour of the lights, just by using your phone. These almost always give you a return on your home's sale with the current popularity of "smart home" upgrades and they help the current homeowner reduce power usage by allowing the lights to be turned off and on easily whenever it's necessary.
If you do lots of entertaining, enjoy showcasing different parts of your yard or want to save some time decorating for the holidays then a colour-changing lighting system is a great idea. With the press of a button, you can switch up your lights to whatever holiday theme you prefer and save yourself the hassle of installing anything else. 
5. Consider your climate
If you live in an area that has a very warm or very cold climate then you should make sure your lighting can withstand whatever weather is going to be coming at it. Any lights that are mounted in trees or taller areas should be as secure as possible for areas with high wind and some string lights might need to be removed to avoid any damage. 
Most lights are weather guarded and will work properly if they're placed in the correct area but you should always check on any wired lights before starting them up after a cold season. 
6. Consider local building codes and placement 
Some cities and neighbourhoods have specific guidelines as far as lighting your yard goes. They might have a say in where you can place them, where they are pointed towards and possibly the brightness level so check it out before you start installing.
Also, be aware of where the lights are installed and how often those places are used. A great example is installing well lights in areas where the grass will need to be mowed often. Make sure you consider the whole space before you install anything that will take a long time to remove.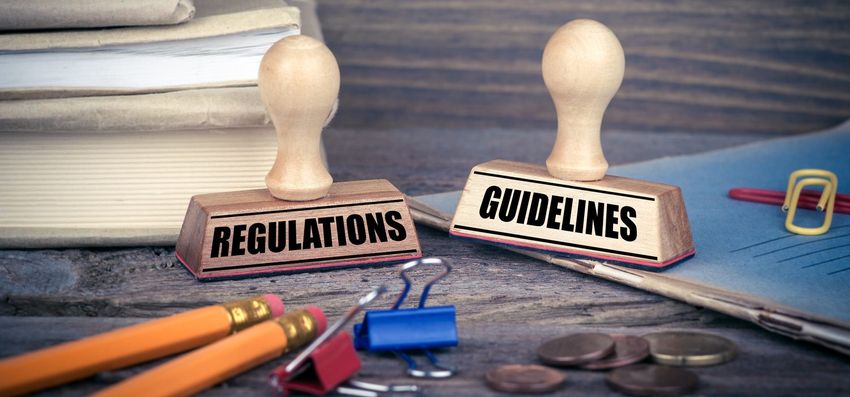 7. Keep it safe
When you're dealing with any sort of electricity outside, it's a good idea to keep safety in mind. Make sure that all of the equipment you're using is safe to be used outside and be aware of where you're placing any lights that might give off heat. 
If you're connecting a large light system with multiple different lights to your existing power then you might need to install a transformer to make it work properly and avoid any major issues. Some lighting kits will come with a converter box to help you so be sure to follow the instructions. 
If you're installing any lights that plug into an existing outlet outside then it's a good idea to keep them unplugged when they're not being used. If the outlet or the lights become faulty or damaged from the weather then they can spark.  
8. Factor in the existing decor
Once you decide on which lights are going to fit where it's time to decide the specific style that you're looking for. A modern-looking bollard light sitting in front of a farmhouse-style home will look strange so stick with a style that suits the decor well. 
Sticking with the same colour and theme for the whole yard will give a cohesive and sleek look. Black and silver are great ideas if you're stuck on colour but a copper finish is another fun idea if you want your lights to double as gorgeous garden decor.
There are also many different lights for the exterior that are considered "novelty" lighting (sphere lights and cleverly shaped fairy lights are a great example of these). While these lights might look amazing in photos or online, they usually won't provide you with much functionality. These can be fun for a small area such as a deck or small garden space but you might want something a little more powerful for larger areas.
There are so many things to consider when you're installing lights for your backyard. Take as many as you can into consideration before you start designing your lighting plan and you'll have more success in the long run. By the time you're finished, your yard will look just as good at night as it does in the daytime.
Ideas For Backyard Landscape Lighting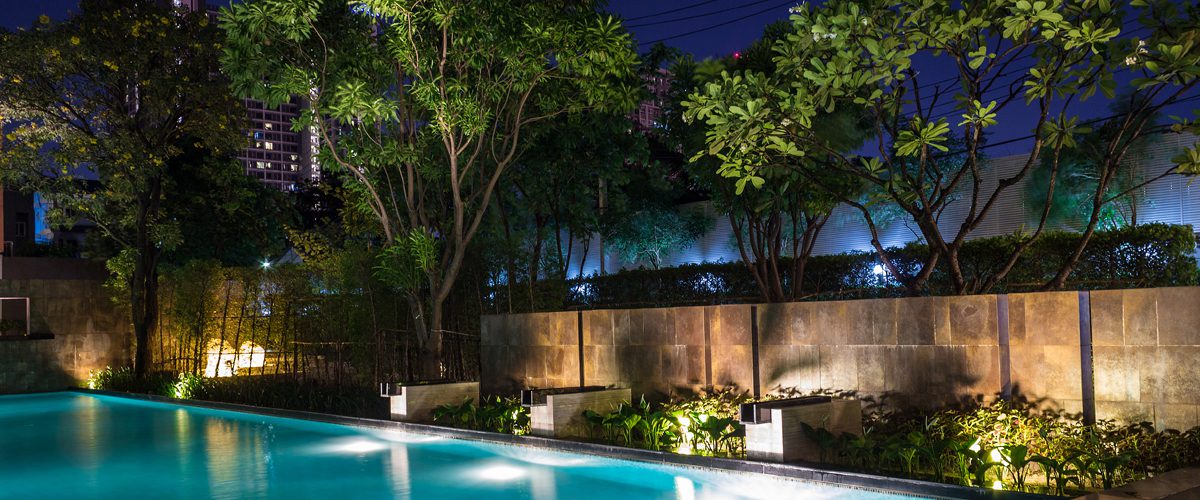 Adding light to your backyard is a great idea for so many different reasons. It will allow you to spend more time outside in the summer months, it will provide you with added security and they will be able to show off any existing gardens in a fun way. If you're thinking about adding some lighting to your backyard, have a look at some of these fun and fresh ideas.
1. Figure out what you want illuminated
The lighting you choose will depend on the area that you would light to be lit up. If you want to use your lighting for mostly security then using tiki torches or path lights is not going to be enough. Start by choosing the places in your yard that you want to be lit up as much as possible first. Let's look at a few ideas for backyard landscape lighting that apply to different spaces in your yard.
Garden: Gardens are great for lower spotlights, smaller landscape lights, and even path lights for lower plants. These lights give off less heat and they can be positioned in the perfect way to show off your gorgeous plants.
Social areas: If you have a spot of grass or a porch where people tend to gather in your backyard then make sure you give it some extra light to keep the party going longer. Tiki torches (you can even get electrical torches if you're worried about the flames) and hanging string lights are great ways to make your social area look a little brighter.
Unseen areas: For places in your yard where you don't get any lighting from your home's existing lights or the nearby street lights, a larger floodlight is a great idea. There are also motion sensor lights that will only activate when something moves in the area so you can have a bit of extra security without the lights being on all the time.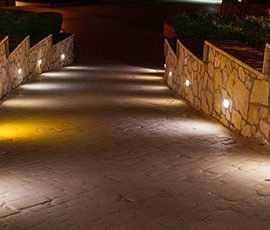 Related
8 Unique Sidewalk Lighting Ideas To Invest In Today
2. Spread around smaller lights
Large lights fit well in a smaller backyard but if you have a larger space then you might want to spread out the lighting a bit more. Check out a few of these smaller light ideas that will light up quaint spaces.
Stair lights: Stair lights are important for any stairs that you have outdoors to keep your friends and family safe from falls. These lights are often placed against the front side of the stairs to light up the area where you are stepping which is great for anyone with low vision or for stairs that are used often at night like porch stairs.
Wall sconces: If you have a wrap-around porch or you have an area near your garage that you want to brighten up then wall sconce lights are a fun idea. They are easy to install and they are up out of the way which makes them great for anyone who prefers higher lighting that's less likely to be broken.
Stake lights for plants: Stake lights are a fun idea to spread some light around your garden in a fun way. They are relatively simple to install and many versions are solar powered which means they are maintenance-free. Just stab them into the dirt and watch them glow!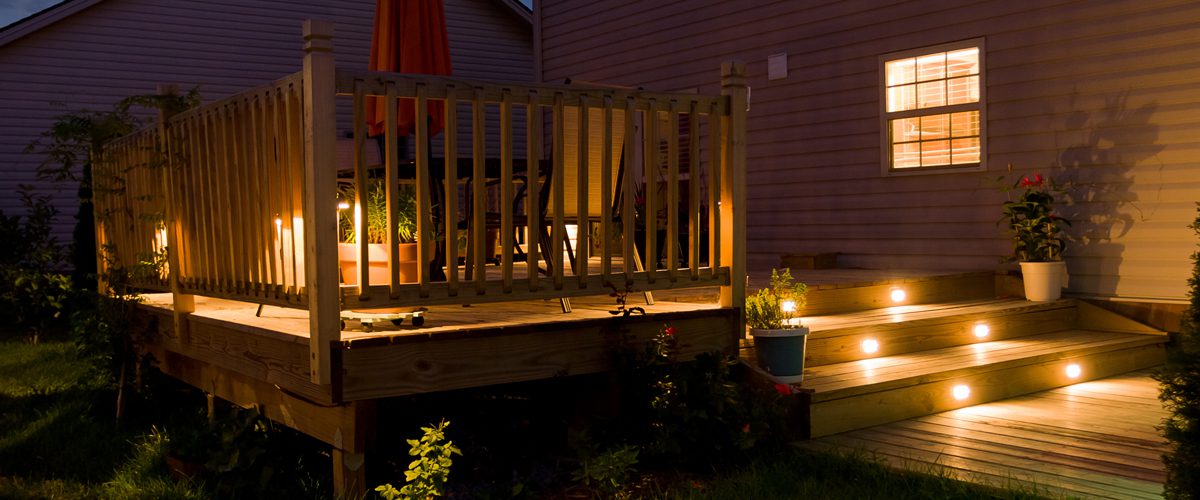 3. Make it a system
Many different lighting systems will provide you with all the lights you need to cover your yard completely. These systems are great for anyone who wants lots of control over their lights as they're usually able to be controlled remotely. Many newer systems use Bluetooth or a wifi network to allow you to control your lights from your phone or computer.
A lighting system that allows for remote control is perfect for anyone who is looking to conserve energy costs and control which lights are on at specific times. If you decide to take a week's vacation to the cabin and you accidentally leave your outdoor lights on, you can fix that mistake with the press of a few buttons.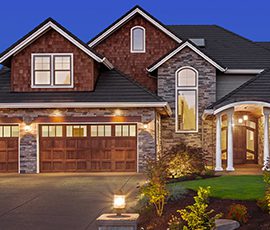 Related
Front Landscape Lighting: How It Could Increase The Value Of Your Home
4. Make it Eco friendly
If you don't want to use any energy at all then look into solar-powered lights. These come in all forms but stake lights are the most common. They can be found at most hardware stores and they come in a wide variety of fun looks. You can use them in many different places around your backyard.
Solar-powered stake lights are perfect for lining a pathway or brightening up your garden. They are very quick and easy to install and you will be able to use them after a few hours of being charged by the sunlight. Some lights have a solar panel that is separate from the light if you are planning on putting your lights in an area with little sunlight to charge them.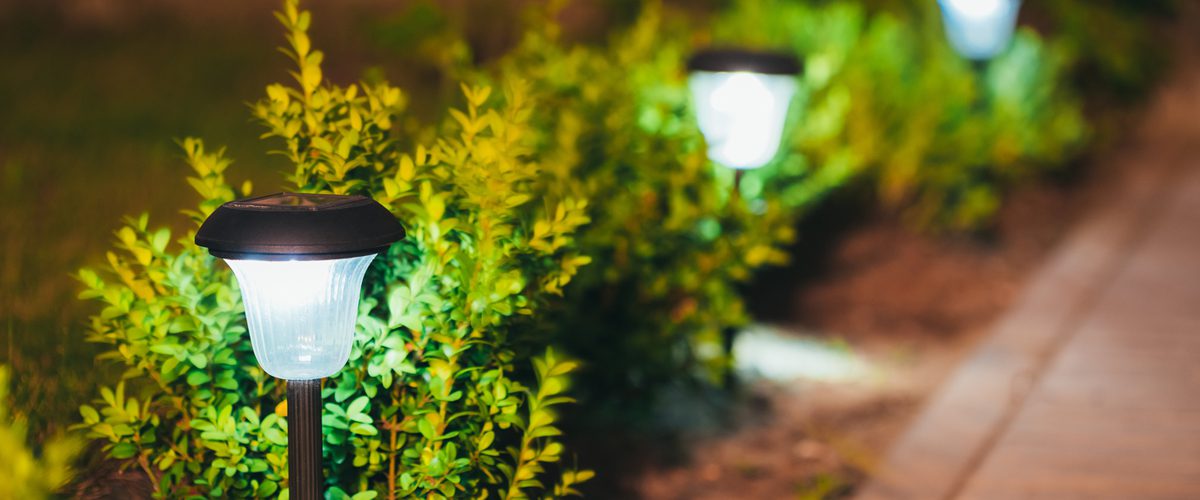 5. Have some fun with it
Once you've covered all the areas of your backyard that need to be lit for safety reasons, it's time to get a little wild with your lighting ideas. There are plenty of different styles on websites and in hardware stores so take a look at a few options before you start buying multiples.
You can go with a fun theme like fun fairy lights for a whimsical garden or get some coloured lights that will pulse along with your music if you have a backyard that ends up being the party zone. If you want to set a bit of mood lighting whenever you want then get a light system that has a dimmer so you can enjoy low lights at sunset and brighter lights in the evening hours.
There are so many different lighting ideas for backyard lighting that you can use to give your backyard a new look. Many of these lights are available online or at hardware stores but if you're looking into a lighting system, ask a local landscaping expert to help you figure out which one will work best for you. They will be able to guide you in the right direction for a lighting system that suits your needs and budget.