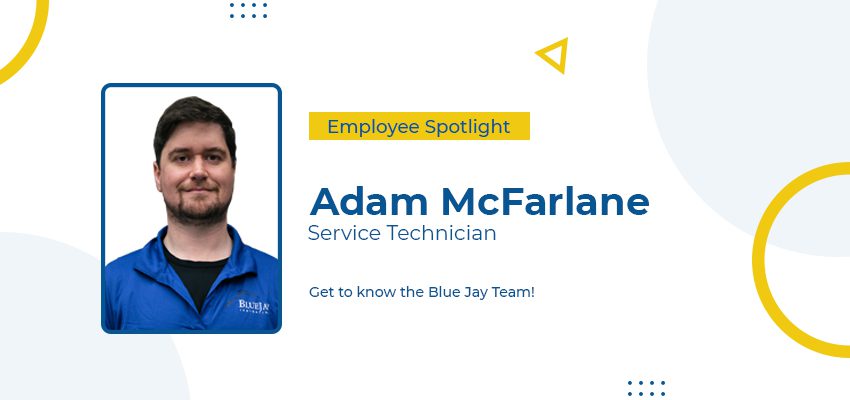 Blue Jay Irrigation is a team of professionals who work together to provide exceptional service for customers. With 40 years in the industry, it's no surprise that Blue Jay has built up an amazing reputation as one of London's most reliable irrigation companies! The staff are proud employees and take great pride when they know their hard work made a difference. Our team members are eager to put into practice what they have learned and are led by amazing managers and leaders who are always working toward success.
Meet the Blue Jay Team: Adam McFarlane
What is your role and how long have you been working at Blue Jay Irrigation?
I am currently a member of the service team and I have been at Blue Jay since March 2021 and will be moving to the Kitchener location when it opens in 2022.
Before working at Blue Jay Irrigation what was the most unusual or interesting job you've ever had?
Before starting at Blue Jay, I have always worked on golf courses. I have worked in Scotland, England, Sweden and Canada.
What are 3 words to describe Blue Jay Irrigation?
Professional, Organized, Rewarding
What is one of your proudest career moments?
Working at various pro golf tour events.
Where is your favourite place to vacation?
A weekend away to Copenhagen.
If you were stuck on an island what three things would you bring?
An axe, matches, coffee
Tell us something about yourself that might surprise us
I grew up on a small island in Scotland called The Isle of Bute.
What do you like to do on your days off?
Watch sports, play golf, spend time with my family
Would you describe yourself as messy or organized?
I feel that I am more organized than messy, but my wife would say otherwise.
If you could only eat one meal for the rest of your life, what would it be?
Lasagna.
Thank you for sharing these fun facts with us, Adam!
Every day, our employees come into work knowing their efforts will contribute positively towards a sense of purpose and satisfaction. We are thrilled to know that our business continues to grow because of the dedication of our employees and the commitment of our customers!
To learn more about the career opportunities available right now at Blue Jay Irrigation visit our Careers Page and apply online today!