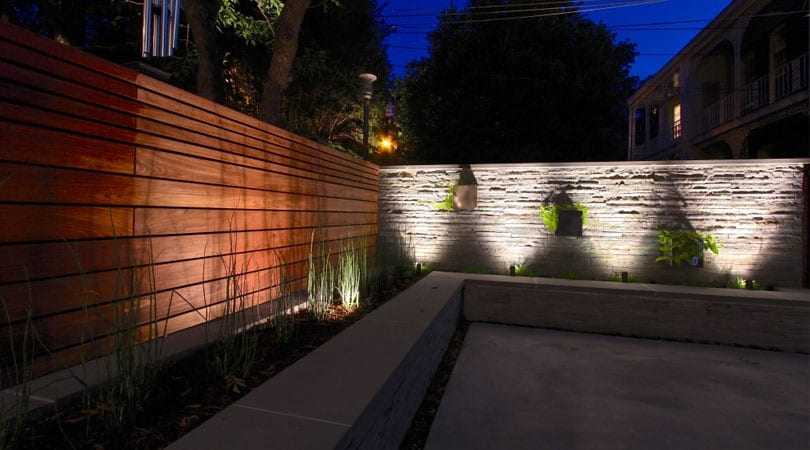 LED Landscape lighting is a fantastic way to show off your property while also reducing energy costs, revitalizing your yard, expanding usable space, and highlighting specific features of your home.
This blog will provide an in-depth breakdown of everything there is to know about LED landscape lighting including lighting design, planning, maintenance, and much, much more.
Properly designed and installed LED landscape lighting improves both the functionality and overall aesthetic of any outdoor space.
We are consistently impressed by the various systems and control units on the market today including path lighting, down lighting, up lighting, wall lighting, and specialty lights that are all controlled with just the touch of a button.
Before breaking down all the unique features of each specific outdoor LED lighting method, let's first learn a little bit about the technical information that goes into landscape lighting planning and installation.
Today, the majority of LED landscape lighting systems are low voltage to help keep energy use and installation costs down.
Many of the systems we install for our clients use between 10-15 volts, while LED technology ensures long-lasting life. Although low-voltage lights operate on about 1/10th the power of a standard 120V system, they are still able to achieve a full-range of stunning visual effects.
Much of what goes into creating a memorable LED landscape lighting scheme is about flow and artistry - there is much more that goes into this craft than just hardware and product specifications.
Typical LED Landscape Lighting System Components
A LED landscape light that is part of a low-voltage system usually consists of five basic components :
1. Transformer - reduces 120V household current to a safer and more efficient 10-15 volts.
2. Bulb - determines exact voltage usage while also being the output source for a light's specific brightness, beam width, and colour.
3. Fixture housing - usually made from premium materials (such as high grade base metals like stainless steel, aluminum alloy, copper, or brass), fixture housing helps to shape light beam while also protecting the bulb from getting damaged by the elements.
4. Stake - placed beneath the surface of the ground, the stake simply helps keep the fixture stay in place.
5. Cable - carries the current to the light from the lead wires of the fixture itself.
Maintaining LED landscape lighting once it has been properly installed is relatively straightforward. First, leaves and other debris should be kept well clear of all fixtures to prevent overheating.
Property owners should also be on the lookout for burned out bulbs, as this will help combat life-shortening voltage overloads.
Now that we've going over some of the basics in regards to LED landscape lighting properties and components, let's dive into a breakdown of just why this specific type of lighting offers users huge cost-savings without sacrificing performance when used in a typical residential outdoor space.
Bulb Characteristics - Why LEDs Are King
The working life of an LED bulb is second to none, as there is no filament to break or burn out. They are also extremely long lasting - clients routinely get around 35,000-40,000 hours or 20 years of regular use out of this particular type of bulb.
Aside from being durable, LEDs also are extremely cost-efficient and use 1 to 11 watts of power compared to 20 to 60 watts for halogens. On average, it is estimated that using LEDs typically saves up to 50% of the costs associated with halogen use.
There are also some common misconceptions about using LEDs that should be cleared up as well.
While it is true that the initial investment is much higher in terms of bulb price, as a standard LED bulb costs 8x as much as a halogen one ($40 per bulb compared to around $5 per bulb) - the extended life more than pays for itself since LEDs are also much safer, cheaper to run, and easier to maintain.
Another myth about LEDs is that they typically emit a much colder light, often with a blue-ish hue. It is still quite possible to find LEDs that give off a much warmer light, especially as client demand for them has greatly increased.
Ultimately, there are numerous reasons why Blue Jay Irrigation choses to use LEDs for all new installations and upgrades that we do. Apart from all the benefits outlined above, they also withstand shock, vibration, and extreme temperature change - perfect for those cold Canadian winters.
They are made using non-toxic materials and are considered recyclable, which is extremely important to us due to our commitment to environmental sustainability.
Different Types Of LED Landscape Lighting Setups
Garden lights: Typically between 18-24 inches tall, this type of LED lighting display uses canopies on top of metal posts to reflect light downwards - usually into flower beds or planters. Many of our clients also chose to use this type of lighting for pathway markers.
Wash lights: Usually manufactured in the shape of a miniature satellite dish, wash lights disperse a soft, diffuse glow that is perfect for lighting walls, fences, and other flat surfaces.
Bullet lights: Arguably the most precise type of LED landscape lighting - this technique is used to illuminate objects with a narrow beam. Standard use cases for bullet lighting include outdoor structures, trees, or building features.
Well lights : Designed to conceal the fixture as much as possible, well lights are usually slightly buried near the surface of the ground inside of a waterproof housing. They are perfect for lighting the underside of plants or to illuminate the base of a fence, facade, or wall.
Downlights: This type of light usually features a long, sleek high-grade metal fixture that is located relatively high above the ground. Downlights are typically installed on the trunks of trees or near the tops of larger man-made structures.
Our clients love to use this type of lighting to create a moonlit effect on paths, branches, foliage, or lawns. The bulb itself is often shrouded to eliminate side glare.
Flood lights: These are almost always wider than a typical bullet light while also being brighter than a wash light. We typically install these to illuminate taller trees and shrubs or wider property facades.
Power & Control Units - Remote/Wireless Adjustments for LED Lighting
The final LED landscape lighting component that is important to discuss is the power/control unit. Most of the new outdoor lighting products on the market try to ensure that controlling and operating a multi-fixture system is easily manageable.
Since many of our customers really value simplicity and 24/7 accessibility, we our proud to offer a wide range of LED bulbs that can be controlled with the touch of a button on your smartphone (iPhone or android). Once we have set up the entire system and synced it all with your chosen technology, complete remote oversight is at your fingertips.
Scheduled run times, brightness, themes, and even colours are able to be monitored and/or adjusted simply by opening up an app.
We advise all potential clients to start out by adding landscape lighting to accentuate the most expensive part of your property - the house itself. Highlighting walls and other large architectural features is a great way to instantly boost curb appeal while also ensuring security/safety.
Many people typically associate LED landscape lighting specifically with the illumination of plants, trees, and other vegetation first and foremost. However, a well-planned and professionally executed outdoor lighting system that spans your entire yard can accomplish the following :
Increased Safety: LED landscape lighting allows guests and family members to properly navigate your property after dark while also illuminating other potential dangers such as stairs or uneven terrain.
Increased Security: A properly lit yard and exterior makes your home less vulnerable to vandalism and burglary.
Functionality: A bright outdoor space allows you to entertain guests and get the most out of your yard 24/7. It can transform the amount of usable space on your property.
Dividing your yard or home into regions or zones will really simplify the entire process - it helps to split things up into smaller pieces en route to executing your large scale vision.
Up-lighting, down-lighting, and cross-lighting are all specific lighting methods that are commonly used in specific areas to truly accentuate the features of your particular yard.
Up-lighting creates bold shadows and puts an emphasis on dark shadows contrasting with bright light, while down-lighting creates a gentler, more "moonlit" effect.
Finally, cross-lighting puts an emphasis on both sides of a particular hardscape/softscape feature. It really helps show off non-uniform shaped features by drawing attention in a subtle, unobtrusive manner.
Now that you know a bit more about the numerous benefits associated with LED landscape lighting systems, that information can be used to help make a decision about what kind of LED lighting system might work best for your particular needs.