Fountains have been used in gardens, both public and private, for thousands of years. They add a pleasing, natural sound in even the smallest of outdoor spaces. Whether it's used as the focal point in a small courtyard or patio, as a poolside water feature, or in a larger landscape, a fountain is an easy way to add interest to your backyard!
The essence of a fountain is that falling water creates a pleasing picture and sound, but there are endless ways to combine those elements, depending on your budget, the size of your yard, personal style, and even safety concerns. Once you've established the location, water supply, and power source, you have many options open to you.
Many people have concerns about installing a water feature where there are young children, as water can present a safety risk. However, disappearing fountains give you all of the charms of a water feature with none of the risks. While you wouldn't want to have an open pond where children might be left unattended, a fountain where the water falls and then disappears into a hidden reservoir to be pumped back up to the top again will not present any drowning risks and can safely be used in any situation.
This stone ball set on a bed of river rock is an excellent example of a disappearing fountain; the water coats the surface of the ball continuously, running down the sides of the boulder to disappear into a hidden reservoir. It would be an effective focal point in a larger garden.
Where space is limited, either of these vertical pieces would fit in and still bring the beauty of moving water to the garden. Water walls are also a great option for an indoor water feature, as they take up little space and do not have any spray that would be a problem inside a house.
The wide band of water falling from the copper upright disappears into the pebbles at the base, making a bold and modern statement.
This stainless steel water wall features a steady skin of water covering the surface, silently and almost unobtrusively falling down the sides and into the reservoir beneath the pebbles.
Urn Fountains
The classic form of a tall, narrow urn lends itself beautifully to a fountain, and can easily be fitted into a small space such as a patio or courtyard. These fountains feature a bubbler set into the top of the urn, with the water either cascading down the outside of the vessel into a pebbled base, or remaining contained within the urn.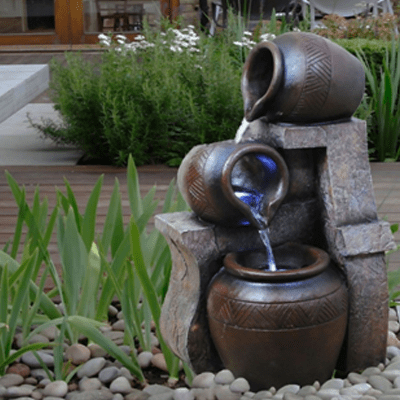 These polyresin urns are used to create a multi-level fountain, with the water falling in two separate cascades before disappearing into the bottom urn to recirculate back to the top in an endless loop.
In this country garden, a trio of striking cobalt-blue urns in different sizes sit in the middle of a larger landscape, drawing the eye.
This large, single urn sits at the center of a small patio on a base of pebbles, creating a striking focal point in a small space.
Bowl Fountains
Many fountains feature water falling into a bowl, from where it can be recirculated.
For instance, this retrofitted birdbath has a solar-powered fountain in its center, allowing the water to still be accessed by the birds, but since the water is moving, it will not be used by insects such as mosquitos for laying its eggs.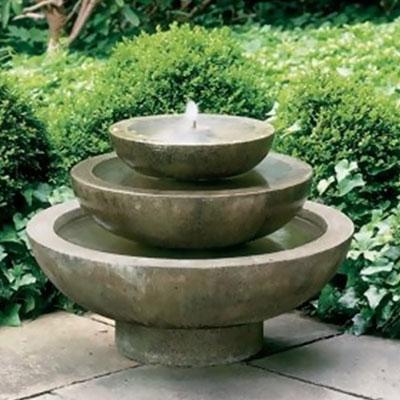 This classically simple 3-bowl fountain has a small jet at the top, and the water falls over the lips of the top two bowls before being collected and recirculated in the large bottom bowl. It's perfect in the corner of a large patio or at the center of a formal garden.
Fountains do not have to be large to make a statement! This small, bright blue fountain can easily be tucked in a raised flower bed or next to a pool.
Traditional Garden Fountains
In a traditional setting, a wall fountain like this majestic lion's head will create an immediate focal point. Thin streams of water cascade from the lion's mouth and from the upper basin into the lower bowl. While it will make a big splash, it can fit into a small patio, and even has an LED light in the bottom basin to illuminate evening gatherings outside.
Specialty and Novelty Garden Fountains
Fountains have long graced the gardens of the East in countries like Japan and China, and whether you have an Eastern-themed garden or not, you may appreciate the simplicity of a bamboo fountain such as this one, with a mere trickle of water falling onto a mossy rock.
Fountains are a great way to add a touch of elegance to any outdoor space. They have been loved for centuries because of the attraction of the moving water. Today, modern technologies such as solar power have made them even easier to incorporate into your landscape. Whatever your style, there's a fountain that will fit it!