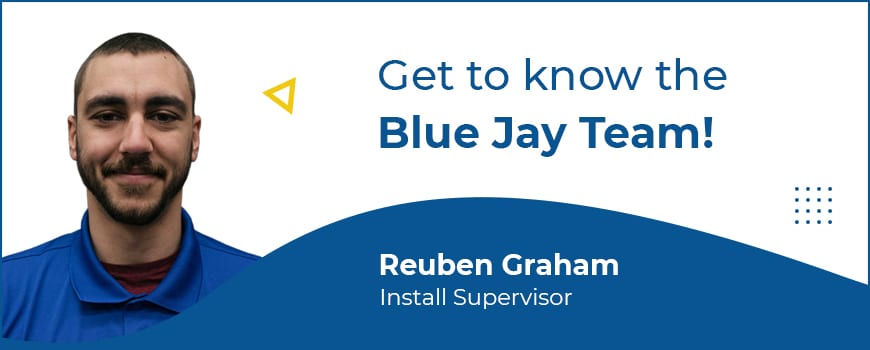 Blue Jay Irrigation is more than just a company, it's a close-knit community made up of hard-working individuals coming together as a team to provide exceptional service! This privately-owned operation has been providing the London residential, commercial, and golfing community with quality irrigation products for more than 35 years.
The dedicated staff at Blue Jay include Field Supervisors, Installation Team Members, Service Technicians, Customer Care Team Members, and Team Leaders. Each department takes great pride in their attitude and commitment to clientele, focusing on the ultimate satisfaction of each and every customer they serve.

Blue Jay has earned a fantastic reputation of pulling through for their clients and building a team of passionate employees who are ready and willing to get the job done, not shying away from a little hard work. Let's hear from Reuban Graham, one of the wonderful team members who works for Blue Jay Irrigation!
Meet the team: Reuban Graham
What is your role and how long have you been working at Blue Jay Irrigation?
My role at Blue jay is Install Supervisor. I've been working here for 7 years.
What is something that surprised you about working at Blue Jay Irrigation?
I was surprised by how great the people are and how the team works well together.
How do you define success?
Success to me means achieving your goals while learning along they way.
Are you an early-bird or a night-owl?
I am an early-bird and don't want to miss the sun.
What is the perfect way to start your day?
Fresh proper coffee, and a round of golf.
What was your first job?
McDonald's, I set the record for fastest Big Mac assembler.
Where is your favourite place to vacation?
Staying at my friend's cottage and taking the boat out.
What is one thing most people don't know about you?
I'm a massive Star Wars fan and I like anchovies on my pizza.
What would we most likely find you doing on the weekend?
Golfing and spending time with the girlfriend's family.
If you could only have three apps on your smartphone, which would you pick?
Weather network, Goggle maps, and amazon shopping.
It's clear to see that employees of Blue Jay Irrigation are down-to-earth, dedicated, and fun-loving individuals who thrive in a team-based work environment. Working for a company such as Blue Jay Irrigation gives employees a sense of purpose, satisfaction, and pride enviable of any hard-working individual! The chance to work with top-quality products, the latest irrigation technology, and the very highest standard of workmanship is definitely a coveted position within the workforce.
If any of the Blue Jay departments appeals to you and you're eager and willing to work in a fun, friendly, family-owned environment, consider a position among our team today! To learn more about the career opportunities available right now at Blue Jay Irrigation, give us a call or visit the Careers page for more information about joining this incredible, fast-growing company!