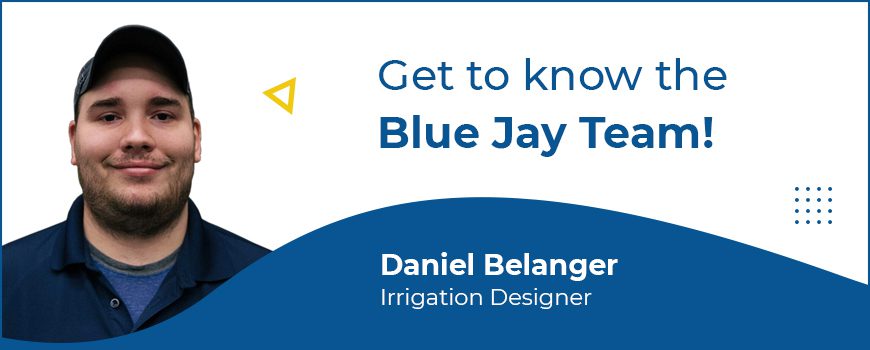 Blue Jay Irrigation is so much more than just a place to work; it's also an opportunity to discover a unique workplace that comes together daily to provide exceptional service! Blue Jay has been a staple of the industry for over 35 years and Londoners have relied on our reputable company for quality irrigation products for just as long.
The staff at Blue Jay, which is composed of exceptional Field Supervisors, Installation Team Members, Service Technicians, Customer Care Team Members and Team Leaders all take great pride in serving customers. With so many fantastic job opportunities, there's truly a place for all at Blue Jay! These dedicated employees focus on satisfying every customer they interact with.
Blue Jay has a fantastic reputation of always coming through for their clients and building a team of passionate employees eager to get the job done, not shying away from hard work. Keep reading to get to know one of our amazing team members!
Meet the team: Daniel Belanger
What is your role and how long have you been working at Blue Jay Irrigation?
I am the Irrigation Designer at Blue Jay. I also do some estimating as well as helping out on the retail counter. I have been with Blue Jay since April of 2017.
How did you first learn about Blue Jay Irrigation?
I learned about Blue Jay at the job fair I went to when I was at Fanshawe College.
What has been your favorite project at Blue Jay Irrigation?
RIM/Blackberry Campus – it was my first experience with any kind of irrigation system in-person!
If you could do another job for just one day, what would it be?
Maybe a tour guide somewhere in Europe, I can't decide where. Being able to see some of the most important cultural and historical sites throughout Europe is on my bucket list!
What are some of your hobbies?
Gardening, collecting houseplants, aquarium keeping, playing music
What is one of your favourite memories from the past year? 
Finally getting to see family after the January lockdown.
What is your favourite way to unwind after a busy day?  
Probably just sitting on the couch and binge-watching a sitcom episode that I have seen 10+ times before.
What three words would your friends use to describe you?
Quiet, funny, helpful.
Are you a dog person or a cat person (or neither)?
Both, although I currently don't have either.
What's one item you won't leave home without?
Aside from a face mask… definitely my phone.
Blue Jay Irrigation has a number of employees who express pride in their work and take great satisfaction working as part of a cohesive team. Working for a family-run, established business like Blue Jay Irrigation gives employees much to be proud of: a sense of purpose, a feeling of satisfaction in the work they do, and an enviable level of respect among other industry professionals.
With so many fantastic departments to choose from, anyone who is looking to join this welcoming, tight-knit community can certainly find the perfect fit to put their skills to work. To learn more about the career opportunities available right now at Blue Jay Irrigation, give us a call or visit our Careers page to find out more!