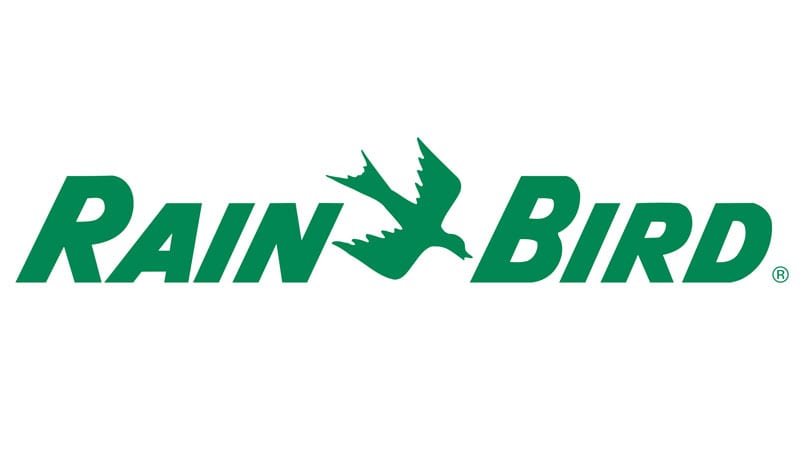 Today, we will be providing an in-depth breakdown of one of our top suppliers, Rain Bird Corporation.
Rain Bird products consistently provide some of the best value and performance available on the market today to consumers. Blue Jay Irrigation is very proud to be considered a Rain Bird® Select Contractor®, a huge honour in the irrigation/sprinkler installation community.
Before getting into exactly what that means – and why it is so important – let's first go over some facts and general information about Rain Bird before summarizing some of the fantastic irrigation products that they offer to the general public.
Rain Bird 5000 Sprinkler System Irrigation Rotor
A Brief History of Rain Bird
Here in South Western Ontario, Blue Jay Irrigation and Rain Bird have teamed up to provide the best customer service and lawn irrigation experience on the market today. In business for over 85 years and commonly recognized as the world's leading sprinkler/irrigation system manufacturer, Rain Bird offers the highest quality parts and equipment available.
When combined with our 30+ years of residential, commercial, and golf industry sprinkler experience, it is certainly very easy to see why this duo is a winning team. Blue Jay Irrigation is committed to being involved in all phases of irrigation, especially planning, design, installation, and maintenance of all Rain Bird sprinkler and irrigation equipment.
Originally founded in 1933, Rain Bird Corporation specializes in providing products and services that are designed to minimize water consumption while also helping customers get the most out of their lawn, field, golf course, garden, or any other plant-specific environment.
Orton Englehart, a citrus farmer, was the original inventor of the horizontal action impact-drive sprinkler head which he patented in 1935 at the urging of his friend and neighbor Clem LaFetra. Orton along with Clem and Mary Elizabeth LaFetra started the company in Glendora, California, but Orton was a farmer at heart and sold his interest to the LaFetras so he could return to his citrus groves.
Clem and Mary's descendants still own and operate the company today.
One of Rain Bird's offices
With offices and facilities in California, Arizona, Mexico, France, and China, Rain Bird is a global leader in irrigation that sells their products and services in over 130 countries. Rain Bird is perhaps best known for its horizontal action impact-drive sprinkler head, which was recognized as a historic landmark of agricultural engineering in 1990 by the American Society of Agricultural Engineers.
Rain Bird Products
One of the unique things about Rain Bird is that they tailor their products to a wide variety of different consumer needs and landscapes. It doesn't matter if you are trying to find an irrigation solution for a residential or commercial landscape, golf course, farm, or sports field, Rain Bird always has the perfect product or service option available.
With over 450 patents since its founding, Rain Bird remains one of the top innovators in the field of sprinkler/irrigation manufacturing. Rain Bird products are currently used to irrigate more than an estimated 50 million acres worldwide.
Investing in an automatic lawn sprinkler system is certainly a big decision. When installed properly using quality contractors and top of the line equipment, automated irrigation provides increased curb appeal, lower water consumption costs, precise watering, lush/healthy lawns and gardens, all while lowering the energy and effort costs of maintaining a green space manually.
Rain Bird manufactures a wide variety of irrigation systems and parts - everything from controllers and wireless sprinkler programs to rotors, impact sprinklers, and drip irrigation systems. The following section will give an in-depth look at some of the highest rated Rain Bird products in each category.
When it comes to controllers and central control units for sprinklers/irrigation, Rain Bird is tough to beat. They offer a wide variety of wireless, totally automated programs and units that ensure optimal water flow, timing, and overall water management.
Rain Bird also offers a wide variety of power options, including both AC and battery. The LNK WiFi module is an exciting new product that allows users to connect remotely to various Rain Bird controllers via Apple iOS or Android operating systems.
Other controllers include the ESP-ME Series, which provides programmable start times, advanced diagnostics, and WiFi connectivity. Finally, Rain Bird also offers high-quality computer software to make programming, scheduling, and maintaining an entire irrigation system a total breeze! The Rain Bird IQ system provides cost-effective irrigation control from a single computer. It virtually eliminates the need to make any manual adjustments on-site, as all adjustments and programming changes can be made from the comfort of your own home.
Rain Bird also offers a wide variety of rotors and nozzles, including the highly praised "Rain Curtain" nozzle which allows customizable spray pattern options to help you save water, maximize performance, and get the most out of your lawn. Rain Bird also manufactures an impressive range of impact sprinklers such as the "Maxi-Paw" Series that is specifically designed for automatic residential irrigation.
Superior Rain Curtain technology produces large water droplets to provide even distribution and resist wasteful windblown overspray
They also offer several unique options for drip irrigation systems with specific products like drip control zone kits, filters, valves, drippers, emitters, and low microsprays. The most impressive part of their drip irrigation product line just might be their wide variety of top-notch dripline, tubing, and distribution components.
Rain Bird XF Series Dripline is the most flexible and kink-resistant drip emitter tubing currently available. It is designed to irrigate ground cover, plantings, hedges, trees, and much more - perfect for residential areas in Ontario. It features extremely pliable tubing that allows for fast installation and a patent pending emitter feature for increased reliability. Rain Bird XCZ Drip Control Zone Kits are made specifically for low-volume irrigation systems. They deliver water at or near the root systems of plants, which provides greater efficiency and cuts cost substantially.
Another great Rain Bird product is the WR2 Wireless Sensor Series. The WR2 is a wireless sensor that exceeds industry standards while also saving time and improving overall system performance. It has both a rain and freeze sensor that prevents irrigation when it rains or freezes to conserve water and save money. By choosing set rain/freeze points, users are able to save up to 35% on water usage while also still promoting lush and beautiful landscapes.
On top of all their award-winning systems, and control units, Rain Bird also offers many great accessory products to really help consumers get the most out of their irrigation set-up. Pressure regulators, flow sensors, rain sensors, shut-off devices, and wire connectors are just a few of the fantastic options that provide added user control to an already impressive product line. Each accessory is custom built to work in conjunction with existing Rain Bird products.
Being A Rain Bird Select Contractor
As stated previously, Blue Jay Irrigation is extremely honored to be a Rain Bird Select Contractor. This prestigious title is awarded to a select group of independently owned irrigation contractors that are carefully hand-picked by Rain Bird for being the best in the business. All select contractors must meet and exceed the following standards :
Achieve and maintain a professional irrigation certification

Be in operation for a minimum of two full years
Train irrigation crews using the Rain Bird Factory Trained program
Blue Jay Irrigation has also been recognized by Rain Bird for adhering to the following code of conduct :
Treat all customers with respect and kindness

Conduct all business dealings in a legal and ethical manner
Be punctual to all appointments
Respond to job leads within 24-48 hours
Meet local and provincial licensing and insurance requirements
Provide each customer with a thorough proposal, including an explanation of all work and estimated installation time
Design premium quality systems and install professional-grade products that meet or exceed industry standards
Provide customers with a thorough walk-through of the new system upon completion of installation
Leave each job site in the best condition possible
Continue to pursue education and routine professional development
As you can see, being named as a Rain Bird Select Contractor requires a consistent track record of outstanding customer service, knowledge, and professionalism. Our team here at Blue Jay Irrigation can install, service, and maintain all Rain Bird products.
All of our technicians here at Blue Jay are Rain Bird Factory Trained, which means they have put in hours of hands-on training to learn the best practices for installing and operating every Rain Bird product offered here at Blue Jay Irrigation. Many of them have also taken extensive coursework at Rain Bird Academy, which are taught by industry-leading experts and specifically tailored for helping customers get the most out of their Rain Bird Irrigation system. This extra knowledge is definitely invaluable when customizing, installing, and maintaining Rain Bird products.
Keeping in line with our mission statement, which is to earn and maintain an incomparable reputation built on customer satisfaction, stay committed to using high-quality products, and focus on environmental stewardship - our role is to provide a fantastic irrigation system that is tailored to individual preferences.
We're confident that we are the right company for all of your irrigation needs - let our experienced and dedicated group of field technicians help you with all of your residential or commercial needs.
Focused on the city of London, Blue Jay also provides service to other parts of Southwestern Ontario including Brantford, Cambridge, Goderich, Guelph, Ingersoll, Kitchener, Niagara Falls, Stratford, Waterloo, Windsor, and many, many more. Contact us today!