Residential Irrigation Systems A Right Fit For You
A home irrigation system can be a life-changing investment for those who are obsessed with lawn care and keeping their yards in the best shape possible.
While the process of installing a system can potentially be done on your own and on a small scale, it's recommended to hire a professional to take care of your residential irrigation system installation.
If you're looking for a professional system that will take care of all your watering needs, keep your grass healthy and thriving, and be worth the investment, just keep reading this residential irrigation guide.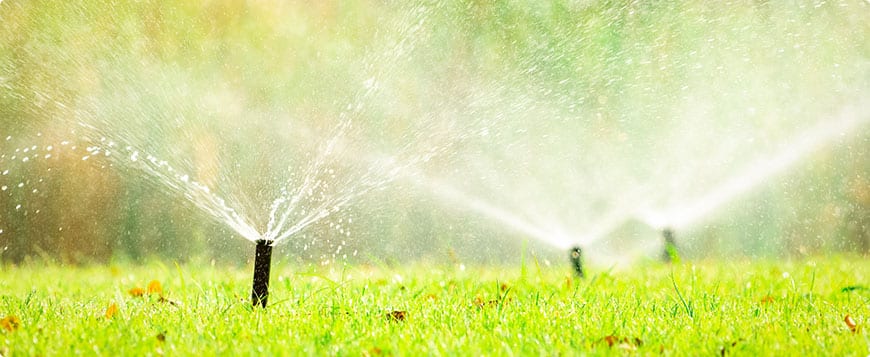 Researching Residential Irrigation Companies
Many great companies offer home irrigation system installation and residential irrigation services. Still, there's some research required in choosing your preferred company.
While an irrigation system can potentially be a DIY project for savvy homeowners, for those who aren't familiar with a comprehensive system's ins and outs or they have a large amount of land, hiring a professional is critical.
Your home irrigation system goes beyond in-ground lawn sprinklers, and it can be expensive if they're not installed properly or maintained with care.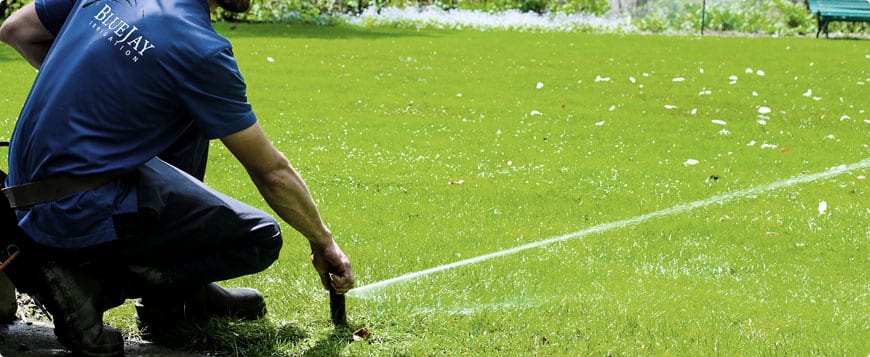 At Blue Jay Irrigation, we're equipped with the knowledge to complete your installation efficiently and adequately.
Our team of experts will provide you with our most professional opinions and can offer expertise based on Ontario weather conditions.
We've been working in the London, Ontario area for over 35 years, and we pride ourselves on our incredible track record of happy clients.
We only hire the best to be part of our team, and it shows in our attention to detail and excellence. Blue Jay Irrigation will install, maintain, and service your new investment.
We will help it work the very best and do so for the duration of its life, all based on your specific needs.
Whether you're looking for residential lawn irrigation systems or home garden irrigation systems, we have you covered.
Our full-service, locally-owned and operated company will be sure to impress you every step of the way.
We use only the best products for our clients and take just as much pride in your lawn as you do.
The Pros vs Cons of a Residential Irrigation System
Homeowners with residential lawn irrigation systems know that the pros vastly outweigh the cons of having a system installed, but there are cons to every decision.
When it comes to your lawn's health, fertilizer, sunlight, and water are the major factors that keep it healthy. If it's improperly watered, it can be time-consuming and costly if done wrong.
Whether you're overwatering or under watering, you can cause damage. A home irrigation system takes out the guesswork, saves you time, and can save you money.
If you want to have a full irrigation system installed, you can have a pressure reducer installed if you water comes out too fast.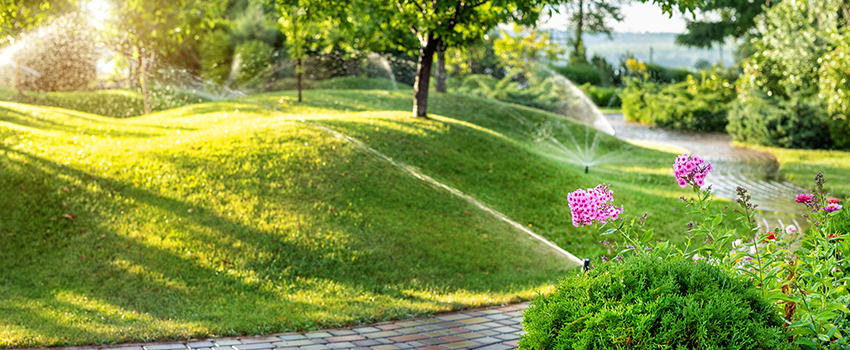 Pros
There are plenty of great reasons to invest in an automatic home irrigation system.

With in-ground lawn sprinklers, you're immediately saving yourself time. Hand watering your lawn or having to set up a manual sprinkler takes planning and organization. It's best to water your lawn early in the morning before the sun hits or in the evening, so depending on your schedule and your property's size, this can be difficult to manage.

Setting up a manual sprinkler and forgetting about it can also lead to damage to your lawn and an expensive water bill. Residential lawn irrigation systems can take the guesswork and planning out of watering your lawn, saving you time and allowing your lawn to be its healthiest.

Another benefit of a residential irrigation system installation is that it can be designed for your needs and positioned in the best way to allow for runoff. Most systems offer the function of responding to moisture levels in the soil, so they'll automatically turn off when it has been raining, or the grass is adequately watered. This is an excellent feature for keeping your grass healthy.

From a purely visual standpoint, having in-ground sprinklers helps reduce clutter and makes your lawn more appealing without hoses and manual sprinklers always out.

An automatic home irrigation system means that you can set it and forget it. You no longer have to plan your life around your watering schedule, and most systems allow for total control. If you travel a lot, it's ideal to have a system like this in place to take care of your lawn while you're away. Reputable companies will design and customize your system to make the most sense for your property for the best and most even coverage.

A home irrigation system can help you reduce your impact on the environment, it allows you to be worry-free about
water management
. There is plenty of evidence that suggests that improper watering can lead to as much as seven percent runoff, while an irrigation system can minimize that significantly.
Cons

An irrigation system requires a significant amount more maintenance than a traditional sprinkler and hose. For it to continue working at its peak performance, regular maintenance is required. Hiring a professional company to perform residential Irrigation services like maintenance and repairs is essential but is an additional cost. Professional
irrigation maintenance
should be performed on your system each spring and before winter. If your sprinkler heads become damaged, you will require a professional to repair them. Other components of the system will wear with time, so it's essential to be prepared.

Depending on where you live, the weather can have a significant impact on your irrigation system. If you live somewhere very windy during watering times, the wind can impact the direction of water flow, causing more water to reach a particular spot, potentially causing damage. One of the biggest concerns is the underground pests. They can wreak havoc on underground components like water lines and fixtures. A common way to prevent them or other animals from your plants would be a green rain gutter garden.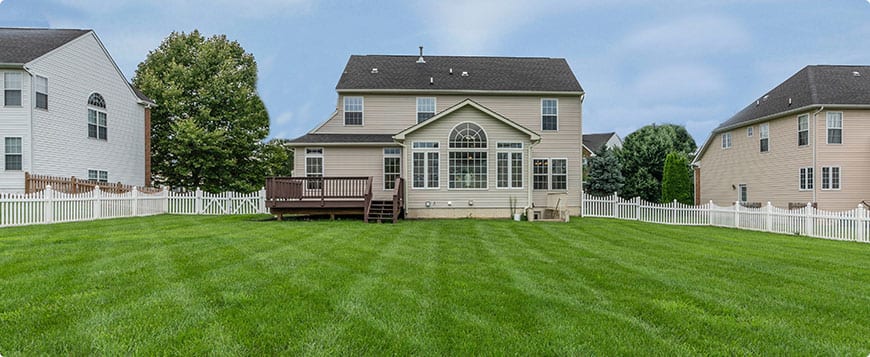 Residential Irrigation Systems Save Money
While the costs may be more considerable upfront, there are plenty of ways that the residential irrigation system cost can save you money in the long run.
If you're an avid traveler, or you are required to travel a lot for work, an irrigation system could be an excellent solution for you.
It's an automatic system that allows for total control, so it saves you time and the headache of either hiring someone to take care of your lawn or asking friends and family to help you out.
No matter where you are, you can feel confident knowing your lawn is being cared for.
Home garden irrigation systems can help save you money by keeping your gardens adequately watered and not destroying your plants, which can be costly to replace.
Your new irrigation system can not only save you time and money, but it will help you conserve water, using only what your lawn and garden need. This helps reduce your water usage, prevents overwatering to your property, and helps reduce your water bills.
When you set up a manual sprinkler, it can be easy to forget about, and it likely won't correctly water your lawn to get every spot.
Over and under watering is one of the main reasons plants and grass die, but a great system can help prevent that.
The initial residential irrigation system cost can be a bit daunting, but when homeowners take into account the money they'll be saving on their bills, how much time they'll be saving, and the curb appeal they'll be adding to their home, a system like this is an ideal solution for many.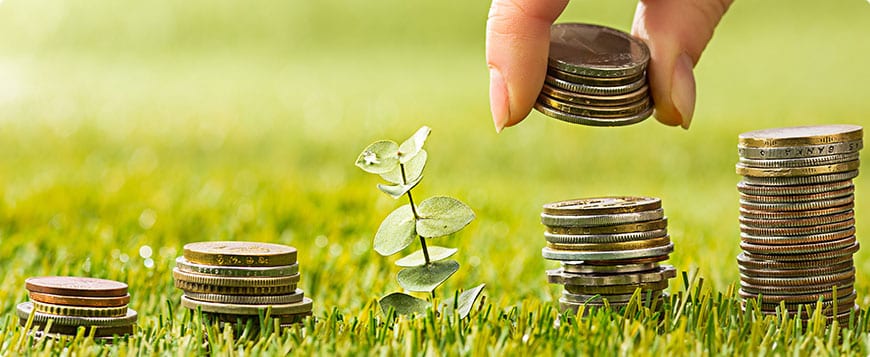 Residential Irrigation System Installation
Some homeowners choose to go the DIY route for their irrigation system installation, but hiring a professional who has years of experience will always be the best way to go.
An irrigation system can be costly if installed improperly, so it's best to hire professionals to do it correctly right from the start.
We offer free quotes for every job, so you'll know before committing how much the entire process will cost, and we will always give you all the information you need to make an informed decision.
Most systems can be quoted based on our designs and estimated on the same day.
The installation process starts before we even step foot on your property, as our streamlined process makes everything run as smoothly as possible.
We start by ensuring your utility lines are painted so we can avoid damage during the install.
We also determine where your valve boxes will go based on our designs and ensuring your property is ready to begin.
We focus on minimizing the damage to your property caused by the install by following our trusted guidelines and using the best tools for the job.
Typically, your system can be up and running within a day.
Once everything is up and running, we will provide an orientation to ensure you're comfortable with the system.
We offer a wide range of products, but we only offer the best and highest quality brands for our clients.
Our easy-to-use systems are user friendly and provide you with complete control over your new system.
We offer free training for the first year after installation so that you can understand the system entirely, including maintenance needs.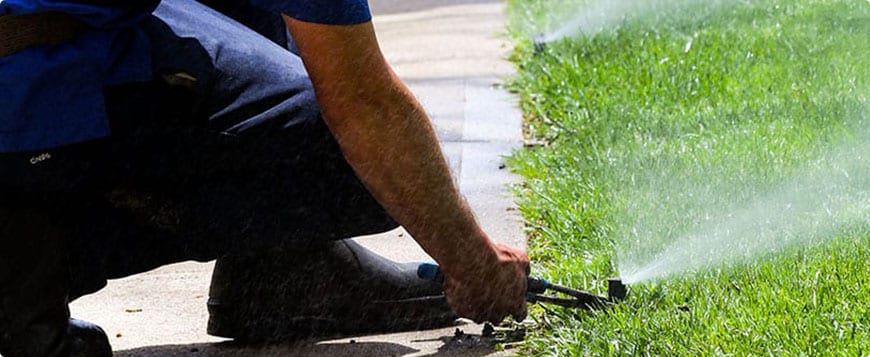 Residential Irrigation Maintenance
Any residential irrigation guide will inform you that while maintenance should be ongoing, there are two occasions where maintenance is critical.
Seasonal maintenance is the most important, so getting your irrigation ready for spring and winter is the most critical time that maintenance should not be skipped.
For your system to retain its maximum performance, it's ideal to hire a company that provides residential irrigation services and maintenance.
At Blue Jay Irrigation, we pay close attention to the small details of your irrigation system's health, preparing it to run its best during the spring and summer and prepare it to last the cold winter.
We always re-program your controller to reflect any new climate changes based on weather trends. We will double-check the settings and frequency you prefer.
We always check how the sprinklers function and if they are covering your property accurately. If there are any issues, we will adjust them to ensure your lawn is being covered uniformly.
We will always give our professional opinion on any recommendations or improvements to make your system better.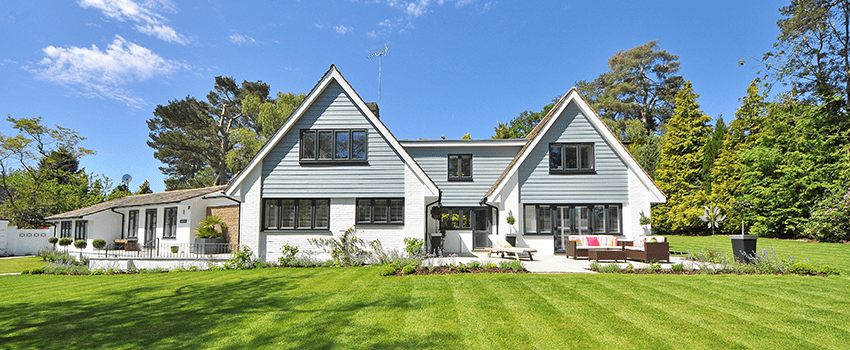 As a homeowner, it's essential to clean your sprinkler heads often to keep them in the best shape and ensure they are working correctly.
Grass and dirt often get stuck in them as they come up from the ground and retract. Once a month, give them a clean to ensure they're not stuck and functioning accurately. If they do happen to get stuck, it can cause them to become damaged by people walking on your lawn, the lawnmower, or extra debris getting in there.
Choosing our Spring Start-Up Irrigation Maintenance package is the perfect place to start when the weather gets warmer. This package includes checking the backflow, checking the entire system for leaks, turning on the water and doing zone tests, checking the overall coverage, making any sprinkler adjustments, checking the rain sensor, and system programming check.
Once we've done this thorough check, our professionals will recommend any necessary repairs or information about potential upgrades.
When the fall hits, it's time to winterize your system.
Leaving it to freeze without preparing it can cause costly damage that no homeowner wants to deal with. Turning off the water from the main valve, blowing out all the excess water through the lines, and draining the backflow are all necessary to winterize your system.
Typically, any repairs that are recognized at this time will be recommended to be fixed in the spring.
At Blue Jay Irrigation, we have the skills and expertise to ensure that your irrigation system is installed correctly, maintained, and repaired with the utmost pride.
We know what having a beautiful lawn means to our homeowners, and we're there every step of the way during your new investment.